Review By Derek Bomar
What a great way to spend Halloween, at a spooky old theater out on Staten Island. I took the ferry across got a great view of the New York skyline and walked one block up to the Saint George theater which is been completely remodeled and restored from its original 1929 design.
Met the guys from UFO out front as we walked up and then headed inside and looked around. UFO hit the stage with "Mother Mary" and didn't hold back. The sound was perfect and the band was very tight and in a great mood.
They rolled right into "We Belong To The Night" from the 1982 Mechanix album, and with the return of Neil Carter on keyboards and guitar, it was like 1982 all over again. Vinnie Moore was awesome on guitar though I would've preferred to hear him a little bit louder in the mix, but Andy Parker was just pounding the hell out of the drums and that was happy to see.
Phil Mogg sounded great and was telling a lot of jokes with the audience in between the songs and lamenting a little bit about his age that out of sex, drugs and rock 'n' roll the only bit left is the rock 'n' roll so they got on with the show. They played for about an hour and finished up with "Too Hot To Handle", "Rock Bottom" and "Doctor Doctor" and the crowd loved it knowing this will probably be the last chance to see the band. I was glad to see them in such fine form.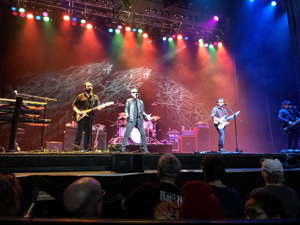 Next up was BLUE OYSTER CULT.
I'm always a little bit surprised at the set list from BLUE OYSTER CULT and not in a good way. I really wish they would stick more to their harder rock, better known material but the vocals were great with the opener Dr. Music and then they went right into the "Golden Age Of Leather".
Buck Dharma took over the vocals for the next song "Burning For You", probably their biggest hit ever and got a great response from the crowd. "ME 262" and "Shooting Shark" were next and we're both very good featuring Richie Costellano on keys and guitar. He was just brilliant and it was a good homecoming since he is from Staten Island.
BLUE OYSTER CULT finished up with "Godzilla" and "Don't Fear The Reaper" before we had to head back to the ferry. Overall a very fun Halloween, I'm glad that we went. If you get a chance to catch either band go ahead, you won't be sorry.