Review By John Noonan
Thrash metal titans SLAYER performed to a sold-out crowd at the MassMutual Center in Massachusetts as part of their last ever tour, dubbed The Final Campaign.
Founded in 1981, SLAYER has reached legend status in the heavy metal genre as one of the most extreme, controversial, and unapologetic bands in metal history. Their blistering style of thrash metal has spawned countless metal bands who found inspiration in SLAYER's heavy riffs, ungodly imagery, and dark themes covering war, religion, and human atrocities.
During an hour and a half main set, SLAYER ripped through 20 ferocious tracks with minimal amounts of stage banter in between, instead letting their music do the talking. Original members Tom Araya and Kerry King performed with newest members Gary Holt and Paul Bostaph, replacing the late guitarist Jeff Hanneman and original drummer Dave Lombardo, respectively.
Vocalist and bassist Tom Araya's voice was as frightening as ever as he screamed, barked, and sang a setlist covering SLAYER's career spanning over 35 years. Guitarists King and Holt riffed and headbanged their way through classic tracks like "War Ensemble", "South of Heaven", and "Mandatory Suicide" with Bostaph keeping time on the drums, an exhausting feat given the breakneck tempo of many of SLAYER's songs.
SLAYER's full catalog was well represented, including four tracks from their now legendary 1986 masterpiece Reign in Blood, a hellish 29-minute onslaught that remains a pinnacle of thrash metal and perhaps SLAYER's defining work. Four tracks were performed from their classic 1990 album Seasons In The Abyss including the epic title track, with King and Holt exchanging chaotic guitar solos.
Pyrotechnics blazed forth throughout the performance, the heat from the flames palpable for fans even towards the back of the arena. Not for the weak of heart, SLAYER's diabolical performance included inverted pyrotechnic crosses in front of a backdrop of macabre imagery. Araya's blood-curdling shouts of "God Hates Us All" during the raging "Disciple" could be enough to turn away all but the most devoted metalheads.
As the night grew late, the crowd knew that the time was nigh for "Raining Blood" and "Angel of Death", the immortal bookend tracks from Reign in Blood. The crushing breakdown in "Raining Blood", one of the greatest moments in all heavy metal, rocked the packed arena and gave the fans what they came for. After the grisly "Dead Skin Mask", the band closed the show with the harrowing "Angel of Death". As the crowd roared in appreciation at the conclusion, the band members stayed on stage waving to the appreciative crowd. Araya stayed on stage for several minutes, silently taking in the moment as the fans cheered, perhaps the realization setting in for the metal legend that this would be one of his last concerts with the band he helped found 38 years ago.
Given that The Final Campaign is SLAYER's last tour ever, any metalhead owes it to themselves to see this iconic band raise hell before the chance is gone forever.
PRIMUS provided a bizarre and colorful set of crowd-pleasing classics such as "Too Many Puppies", "Sgt. Baker", and "My Name is Mud". Les Claypool's astounding bass playing and wacky stage presence provided an intriguing detour from the heavier acts on the rest of the bill.
MINISTRY, led by frontman Al Jourgensen, performed an 8-song set of pulsating industrial techno metal spanning their career of over 35 years.
Phil Anselmo and his band THE ILLEGALS performed first on the bill, taking the stage at 6:00 local time. Anselmo thanked the crowd for getting to the show early as his band launched into an 8-song set of PANTERA classics, starting with the pummeling "Mouth for War" from PANTERA's fierce 1992 masterpiece Vulgar Display of Power. Anselmo's voice sounded strong and booming has he tore through "I'm Broken", "Goddamn Electric", and more, closing with perhaps PANTERA's most iconic song, the ultra-heavy groove of "Walk". Anselmo gave mention to the crowd of his deceased former bandmates from PANTERA, brothers Dimebag Darrel and Vinnie Paul, forever iconic in the annals of heavy metal history.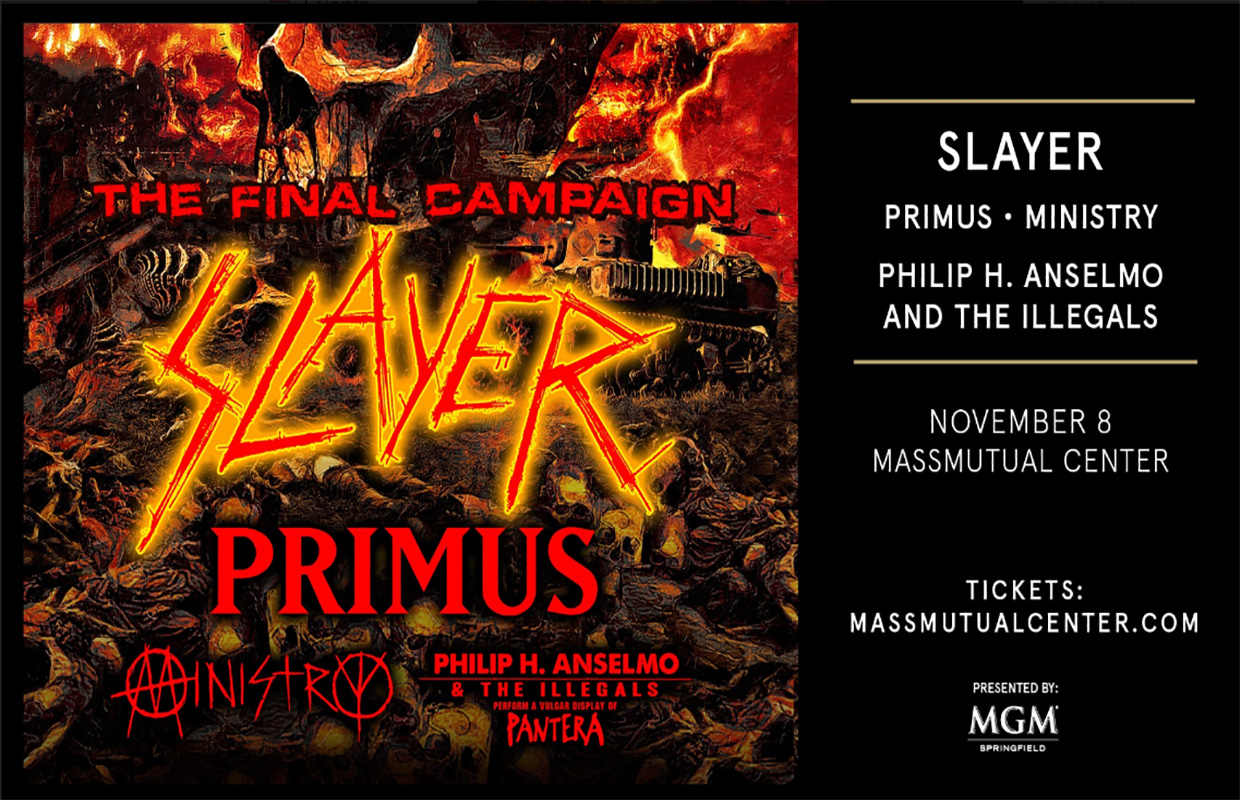 Setlist:
"Repentless"
"Mandatory Suicide"
"World Painted Blood"
"Postmortem"
"Hate Worldwide"
"War Ensemble"
"Stain of Mind"
"Disciple"
"When the Stillness Comes"
"Born of Fire"
"Payback"
"Seasons in the Abyss"
"Jesus Saves"
"Chemical Warfare"
"Hell Awaits"
"South of Heaven"
"Show No Mercy"
"Raining Blood"
"Dead Skin Mask"
"Angel of Death"