MACHINE HEAD Live in Dublin, Ireland


By Justin Ryan - Dublin, Ireland, Contributor
Thursday, November 14, 2019 @ 2:04 PM


| | | |
| --- | --- | --- |
| | | At The Olympia Theater, November 8th |
Photos By Justin Ryan
The twenty-five date European leg of MACHINE HEAD's present commemorative tour to mark the twenty-fifth anniversary of their flawless debut album Burn My Eyes concluded with a sold out show in Dublin tonight (Friday, 8th of November). Commemorative album/reunion tours are often the subject of derisory comments by critics who regard them as blatant cash-ins on former glories by has-been bands. In some, but not all cases, that may be true. The current status of a band and the level of work that is put into a commemorative show's contents by them does give some bands the opportunity to side step such criticism and deliver something really special for their fans. Tonight at The Olympia Theater on Dame Street, MACHINE HEAD not only delivered something very special, they raised the bar in live performances to a new level by playing an unforgettable show which was just twenty minutes short of four hours in duration.
Advance notification of an earlier than originally advertised doors opening time had been given to concert attendees by the promoter two weeks before tonight's show, which came as no surprise to those fans who had been monitoring the band's set lists on the web since the start of this tour. Although slight changes to set lists song choices were appearing from night to night, the same number of songs were being delivered from city to city. A regular format for commemorative shows for many bands is where a full album is performed in its entirety, along side a handful of standards. Not so with MACHINE HEAD. Their format for this tour was a full concert worth of material (two and a half hours approx) followed by the performance of Burn My Eyes in its entirety. Tickets were priced at a reasonable €45/$50, which is what you would expect to pay to see them live. In hindsight, given the show that was delivered, it was a remarkable gesture by the band to perform such an extensive amount of material each night, at no extra expense to their fans. It also went along way to make up for the disappointment of Dublin having been inexplicably skipped on their recent Catharsis European Tour.
Stated stage time for tonight's show was 8pm. The venue was completely full to its thirteen hundred capacity by 7:30pm and at 7:57pm, the house lights were cut. The title track from OZZY OSBOURNE's Diary Of a Madman record was played over the house PA system and at exactly 8pm, the Oakland four piece appeared from the stage side wings. The monstrous "Imperium" was selected to open tonight's show. Historically, the song marked the bands return to their original sound following their/the band's vested interests attempt to join in/cash in on the Nu metal fad in the mid nineties with the albums The Burning Red and Supercharger. As the lead single on their comeback album Through the Ashes Of Empires, "Imperium" gave an accurate indication as to the type of material on the album and as a live show opener, it's as dramatic as they come. An opening minute of quiet guitar notes is followed by an explosion of high quality, relentless drums and guitar riffs which quickly brought the atmosphere in the venue to boiling point. With the slightest of pauses, it was followed by the pounding, uptempo "Take My Scars", which is found on their impressive sophomore opus, The More Things Change.... Given the absolute chaos that broke out on the ground floor standing section during their previous visit to this venue in March 2016 , it was unsurprising that the venue had employed its "maximum safety" configuration for tonight's show, much to the irritation of Robb Flynn. At numerous times during the show, he attempted, with varying degrees of success, to orchestrate circle pits; at one point the bearded front man commented, "Some fucker has put in a fucking barrier on the floor tonight. Fuck it, let's try and get those circle pits going anyway."
"Now We Die" (whose guitar solo is always worth a specific mention) and "Beautiful Mourning" kept the show's early momentum at full throttle and the band's choice of opening numbers was exemplary in how to create an electrifying atmosphere in a live venue. Although not one of their better efforts, the fifth song of the night, "Do or Die" has unfortunately become memorable for all the wrong reasons for one fan who chose not to remain seated in the venue's Circle seated section on the night. Blocking the view of those fans seated behind him by repeatedly standing up during the show'sopening thirty minutes, he also ignored several warnings from security to remain seated. A fan directly behind him decided to give the song's title a literal dimension by issuing him with a warning of his own and when this was not heeded, several punches were landed to the back of his head plunging him over the people in the row in front. To add insult to injury, the attacked man was then hurriedly ejected from the venue by security without his personal items (jacket,bag), including the €110/$125 worth of merch he had purchased at the merch stand before the show. It was only much later on towards the end of the show that his belongings were gathered up by security. Whether he received his personal possessions or not is anyone's guess. Either way, it does raise questions about the venues policy towards overly excited fans in the seated sections. Most of the venues in Dublin operate a "three strikes and you're out" security policy which would have prevented such an avoidable problem such as this one tonight.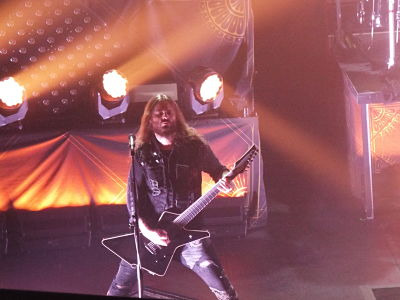 After the offstage distraction during "Do or Die", "Bulldozer" was played. Although not a bad track, it was unsurprisingly the only track performed on the night from the mostly dire Supercharger album. Three belters in a row followed, namely "Locust", "I Am Hell (Sonata in C#)" and "Aesthetics Of Hate", which was dedicated to Dimebag and Vinnie Paul. New guitarist Waclaw Kyletyka then delivered a guitar solo which brought the intensity in the venue down a couple of notches. Before "Darkness Within", Flynn addressed the audience. "I tell this story each time we come to Dublin because I think it's worth telling. Dublin, Ireland plays an important part in the history of MACHINE HEAD. It was the first place we ever played outside the U.S. The name of the venue was the S.F.X. Club and that show took place in support of the mighty, mighty SLAYER on November 6th, 1994. Today's date is November 8th, 2019. It's tripping me out to think that twenty-five years later, almost to the day that we first played Dublin, we're now performing the final show on our European Burn My Eyes 25th Anniversary Tour here. It's almost the same date as the 1994 show! I'll never forget that show, particularly the response we got to "Davidian". The crowd that night roared "Let freedom ring with the shotgun blast" back at us so loudly that it gave me goosebumps! In the last twenty-five years of this band, there have been a lot of ups and downs. Sometimes I don't know how I'm still here doing this. The only reason I think I'm still here is because anytime I've ever faced challenges in my life, I've always kept going, putting one foot in front of the other, no matter what. There's a lot of darkness in me and as I don't have a religion, music became my savior. The next song is called, "Darkness Within"."
The title track from their overall disappointing most recent studio album, Catharsis brought the concert past the hour mark. It was followed by a cut from their Nu metal days, "From This Day", which was inexplicably "dedicated to all the old schoolers here tonight". Maybe on their next visit, they could dedicate something that really is old school to the old schoolers in the crowd, like say the stunning, "Blood of the Zodiac"? The final four tracks that brought the first half of tonight's events to a close were "Ten Ton Hammer", "Is There Anybody Out There?", "Hallowed Be Thy Name" and the immense "Halo". "I was checking our records and I discovered that we've never played an IRON MAIDEN cover at one of our shows in Dublin before, so tonight we're doing one". An impressive full rendition of "Hallowed Be Thy Name" was they played with it's lyrics sung loudly by the audience. "Ok everybody, we're taking a quick break and when we come back out, it's Burn My Eyes in its entirety" were Flynn's final words of the first set.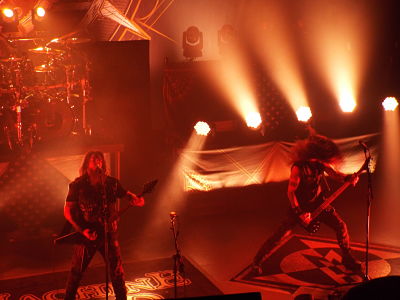 At 10pm, the house lights were once again cut and the PA system blasted out "Real Eyes, Realize, Real Lies". For this part of the concert, Chris Kontos replaced new drummer Matt Alston and original guitarist Logan Mader replaced Kyletyka. Both former members were given a huge reception when they appeared on stage. The band tore into the Burn My Eyes material and the atmosphere in the venue went into over drive. There was a lot less talk from Flynn in this part of the show, although he did fittingly alter the opening lyrics of "Old", changing the original from "1994....corruption, racism, hate" to "2019....corruption, racism, hate". The whole record was performed impeccably and in exact album track sequence up until the last song on the recording, "Block". Before it was played, the band performed a medley of seven covers book ended by "Fuck Her Gently" by TENACIOUS D and the SLAYER classics, "South of Heaven" and "Raining Blood", which were "dedicated to the band who first brought us to Dublin twenty-five years ago". As entertaining as most of the covers medley was, it really should have been placed at the very end of the set list, after the whole of the Burn My Eyes album had been played. Frankly, it just made no sense whatsoever to abruptly end the huge adrenaline rush which had been created and sustained throughout this part of the show from the opening bass notes of "Old" with a performance of "Fuck Her Gently". Some of the audience found that song humorous, although it got nowhere near the number of laughs that Flynn's sarcastic response got after he was flashed earlier in the show by a portly male fan. "Oh great, man boobs. Just great. Thanks dude, yeah[moving his head from left to right]......thanks".
The merit of any song's inclusion on any band's live set list will always be debated among fans, be they "old schoolers" or not. With that in mind, the position of the covers medley on the twenty-eight song set list was the only blemish on the night. The band concluded their highly impressive three hours and forty minutes performance with "Block" and deservedly received a prolonged ovation from their fans in a venue which had remained full until the very end of the show.
Setlist:
Set One:
"Diary of a Madman" (OZZY OSBOURNE cover. Intro Tape, Not Performed Live)
"Imperium"
"Take My Scars"
"Now We Die"
"Beautiful Mourning"
"Do Or Die"
"Bulldozer"
"Locust"
"I Am Hell"(Sonata in C#)
"Aesthetics Of Hate"
Guitar Solo(Vogg)
"Darkness Within"
"Catharsis"
"From This Day"
"Ten Ton Hammer"
"Is There Anybody Out There?"
"Hallowed Be Thy Name" (IRON MAIDEN cover)
"Run To The Hills" (Snippet) (IRON MAIDEN cover)
"Halo"
Set Two:
"Real Eyes, Realize, Real Lies" (Intro Tape, Not Performed Live)
"Davidian"
"Old"
"A Thousand Lies"
"None but My Own"
"The Rage to Overcome"
"Death Church"
"A Nation on Fire"
"Blood For Blood"
"I'mY our God Now"
Covers Medley:

"Fuck Her Gently" TENACIOUS D
"Seven Nation Army" THE WHITE STRIPES
"Thunder Kiss '65" WHITE ZOMBIE
"Master of Puppets" METALLICA
"Motorbreath" METALLICA
"South of Heaven" SLAYER
"Raining Blood" SLAYER

"Block"




Please log in to view RANTS

If you don't have a username, click here to create an account!