BELPHEGOR, SUFFOCATION, NECRONOMICON, ABIOTIC In Los Angeles With Photos!


By Francisco Zamudio, Metal X Candy 2.0
Tuesday, November 19, 2019 @ 6:58 AM


| | | |
| --- | --- | --- |
| | | At 1720 |
All Photos By Atreyu Jones
It was that time of year where the sham that is daylight savings time grants us another hour. And although it didn't quite feel like autumn, at least the A/C inside 1720 in Los Angeles was on full blast to go along with the chill that is Brutal Blackend Death Metal. Having only just recently visited us back in June for the DEVASTATION ON THE NATION Tour, co-headlining with DARK FUNERAL, BELPHEGOR was once again in town to destroy those last remained standing. This time around was the package labeled as A RELENTLESS ONSLAUGHT and had lived up to its name with a solid line-up of aggression consisting of Florida's (US) ABIOTIC, Canadian Black Metal by NECRONOMICON, and along with co-headliners, New York's own SUFFOCATION.
We have CHURCH OF THE 8th DAY to thank for bringing this package to us. The local production headed by Daniel Dismal and his outstanding team, going on 20 years strong now, they've strengthened the Underground Metal scene throughout Los Angeles and Orange County, bringing the great shows coming through on tour and have given some of the great locals a forum to shine in front of LA's and OC's cult following. This Sunday night was no different as the Los Angeles Underground was represented by LETUM ASCENSUS and STAGES OF DECOMPOSITION. The 2 were added just recently to warm up the crowd who stood in a cold chilled room. The trio of STAGES OF DECOMPOSITION was up first and they showed that they were having just as great a time as everyone else there. With dueling vocals between the drummer and bassist, these guys really brought their game which can only be described as their version of DYING FETUS. A great start to the night.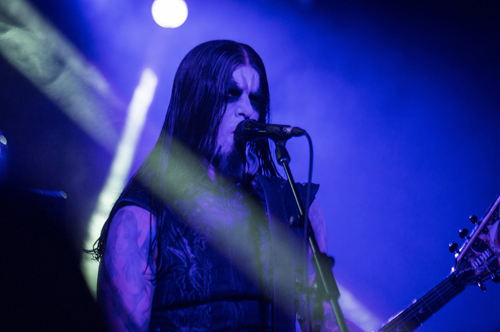 Following them was LETUM ASCENSUS, friends of mine who I have great respect for given the fact that they are STILL doing what they do best and have no end in sight. Their brand of Brutal Death Metal has been around since 1995 and says a lot about them. Many L.A. bands come and go, but lead vocalist and Venezuelan Boris and Guitarist Sam are still doing their part in representing Los Angeles Death Metal. They added to the already stacked package and did a great job in warming up the crowd who became more engaged at this point as they were piling in. Fist-bumps go out to the locals that come out early and support Local Death Metal.
Starting out the line-up for the tour and recently re-united after a 2 year break is Florida's ABIOTIC. Being the stand-out band, the Deathcore quartet was looking to attract some listeners who were there for some Brutal and Blackened good tunes, and not so much the 'core. What lacked in active stage presence was backed up with the technicality in their music. For their 20+ minutes, it was a great display of musicianship but not very much activity on stage although bassistKillan Duarte did demonstrate some good energy.
The Blackened power-trio that is NECRONOMICON was really well received this night. With their recent amazing release UNUS (SEASON OF MIST) still making its rounds, this band has come a long way in a short amount of time and is getting some good praise. Led by Rob "The Witch" on guitar and vocals along with the bassist who gave off a lot of energy and Jean-Philippe Bouchard on drums, the fans both new and old were really receptive on what NECRONOMICON was putting out and they returned the sentiment letting us know that they always appreciate the L.A. crowd.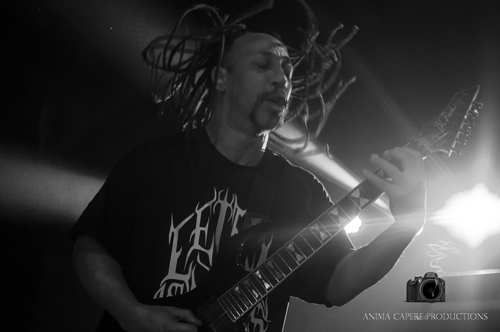 The first half of this co-headling tour was the great SUFFOCATION. I've always had a great experience watching them throughout the years and with guitarist Terrance Hobbs along with bassist and beast Derek Boyer, whose ground just trembles underneath him with his unmatchable and unmistakable playing and stage presence – these 2 are doing well in carrying on the name. A vastly noticeable difference with the missing Mike Smith, Guy Marchais and Frank "The Tank" Mullens Death Chops – the modern version of SUFFOCATION can still crush guts. Leading the set with "THRONES OF BLOOD", and lead by DISGORGE frontman Ricky Meyers who has been manning vocals for some time now, fills Frank's shoes as touring vocalist pretty damn well. Along with Charlie Errigo on the other side manning the guitar is very energetic himself and provided a good counter to the excellent leads Terrance was providing all night. Drummer Eric Morotti's man-bun and sticks-flips are barely a mild distraction considering the drumming in SUFFO's music has always been an integral aspect of the music but as hurried as he may push the songs, the rest of the band does well to keep the flow going. Was great to see Boris from LETUM ASCENSUS get back up there and provide back-up vocals on "FUNERAL INCEPTION", shouting the key lyrics "GOD GOD FORBID…. GOD FORBID!!" The pit was going full force nearly halfway into their set and showed that the crowd was really feeling this set of hits from SUFFO's great discography capped off with 1 of my favorites, the song "INFECTING THE CRYPTS".
Bringing an end to the night was the return of BELPEHGOR, who gave another outstandingly haunting show and significantly different set-list than their previous visit just months ago. Vocalist/guitarist Helmuth has horrific control over the crowd that is so unique. It seemed the crowd was even more excited this time around. There
was no sign of fatigue or inconvenience shown due to the change in daylight savings or that it was a Sunday. The show had even started at a decent and somewhat early time, so the crowd had plenty of energy to burn. With bones, inverted crosses and serpents adorning their stage, and a set-list of only a selection of a few albums from their amazing discography, they were quite particular on what to play this time around. With a good handful of songs from their recent 2017 release, TOTENRITUAL, as well as dipping into 2008's BONDAGE GOAT ZOMBIE, 2014's CONJURING THE DEAD, 2006's PESTAPOKALYPSE VI and only as far back as 2003's LUCIFER INCESTUS. As the blood dripped from Helmuth's eyes, BELPHEGOR knew they had to begin this evening's ritual with a neck breaker and that they did with a new song "SANCTUS DIABOLI CONFIDIMUS", a track that will be a part of their latest effort set for a 2020 release. They came for blood and they crowd willfully gave it to them, bringing a close to an outstanding tour line-up with local openers to warm-up the crowd.
SUFFOCATION setlist:
"Thrones of Blood"
"Funeral Inception"
"Clarity Through Deprivation"
"Jesus Wept"
"Cataclysmic Purification"
"Breeding the Spawn"
"Surgery of Impalement"
"Pierced from Within"
"Liege of Inveracity"
"Catatonia"
"Infecting the Crypts"
BELPHEGOR setlist:
"Sanctus Diaboli Confidimus"
"Swinefever - Regent of Pigs"
"The Devil's Son"
"Totenkult - Exegesis of Deterioration"
"Belphegor - Hell's Ambassador"
"Stigma Diabolicum"
"Conjuring the Dead" / "Pactum in Aeternum"
"Virtus Asinaria"
"Lucifer Incestus"
"Baphomet"
Encore: Check out some more photos from the show!
All Photos By Atreyu Jones




Please log in to view RANTS

If you don't have a username, click here to create an account!