FIT FOR AN AUTOPSY The Sea Of Tragic Beasts


By Nathan Dufour, Great White North
Tuesday, November 19, 2019 @ 10:51 AM


| | | |
| --- | --- | --- |
| | | |
FIT FOR AN AUTOPSY
The Sea Of Tragic Beasts
2019, Nuclear Blast




Hard to believe that FIT FOR AN AUTOPSY have been around for just over a decade, but it is true. Playing deathcore at the death knell of that genre's zenith is undoubtedly a bold move and, sure, FFAA released a couple of albums and had some lineup shuffles but for the most part, the band was homogenous. And then, in 2015, without any real rhyme or reason, FIT FOR AN AUTOPSY arrived with Absolute Hope, Absolute Hell, a deathcore record fit for a goddamn coronation. The album was, and is, a delightful riff monster, and if you don't want to scream along to it you're just doing it wrong. Equally as inexplicable, follow up The Great Collapse continued the upward momentum (really, "Heads Will Hang" hits so hard my brain still has bruises I am sure of it). Now, the band is asking us to dip our toes into The Sea Of Tragic Beasts. Learn to swim.

Morphing beyond mere deathcore, FIT FOR AN AUTOPSY have been consistently pushing their own limits compositionally and lyrically as well as treating their art like a balloon - careful to breathe just enough life into it that it expands but not so much that it bursts. On The Sea Of Tragic Beasts the band continues to punch up and impressively so. The production here is so bright you need to buy sunglasses, every riff and blast popping and crackling, with Joe Badolato's unique bark lording over proceedings. The interesting thing here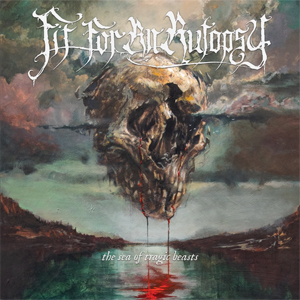 is the hooks, the melody, the sneaky leads and, yes, the clean singing - The Sea of Tragic Beasts continues the experimentation while being very conscious of the core sound - whirlwind riffs with more crunch than your favorite captain. But not boring.
It is hard to stand out from the pack and create something memorable within crowded sub genres that adhere to a strict formula (and yes all music is a formula, I know) and even harder to eschew those conventions. FIT FOR AN AUTOPSY have done the latter and become what one could plainly term an aggressive band - what I mean by that is that they just play heavy music and now are no longer in need of any validating genre tagging or "For Fans Of…" stickers on the album cover to entice a listener. If you get it then you get it.
The Sea Of Tragic Beasts is a great album, period. Each listen reveals something new, a nuance previously missed by the aural senses. Just don't call it deathcore.
4.5 Out Of 5.0

Please log in to view RANTS