AS I LAY DYING, AFTER THE BURIAL, FROST KOFFIN In Houston, TX With Photos!


By Krystiee Lee, Editor
Thursday, November 21, 2019 @ 11:44 AM


| | | |
| --- | --- | --- |
| | | At The House Of Blues On November 11th |
All Photos By Krystiee Lee Photography
On the chilly Tuesday night this week after a long work day for many, nothing was going to get in the way for Houston and surrounding areaís hardcore metal fans to attend the long awaited, sold out, back and better than everÖ AS I LAY DYING. I noticed most of the crowd attending this concert consisted generally of punky teenager metal-heads and men mainly in the mid-thirties age range. Though, at one point I did come across a little girl, which Iím guessing was around the age of 8 with her father and I thought it was the cutest thing ever but (as a mom myself) felt it was not a good idea with that kind of metal show due to the crazy fans.
Opening bands were FROST KOFFIN from Dallas, TX and AFTER THE BURIAL from Minneapolis, MN. Starting off with FROST KOFFIN the fans got pumped and prepared for craziness to come throughout the night and I can tell many attendees actually enjoyed this group which is still relatively a new band but certainly seemed to stick out on the lineup and start the night off just right. In my opinion, they arenít that bad of a band. I got the typical old school thrash feel as I was listening to the set after taking their photos.
Next up was AFTER THE BURIAL which I have seen and shot before and honestly canít even begin to explain how fantastic they are live. I already anticipated their set was going to be full of mosh pits, crowd surfers and pure craziness, but didnít expect it to be as intense and brutal as it was at times. At one point I witnessed a huge brawl between several dudes which lead to one of them ending up being forcefully slammed to the ground and wasnít moving for a while. Since I was already close to the stage security guys from just finishing their photos as well, I had to literally grab a security guard by his shirt and take him to the location (which was right by the barrier edge of the stage) to the fight to break it up. Look, Iím all for rocking out at shows as hardcore as you can and having a good time doing so, but to go to the extreme of turning little bumps or arguments into huge brawls is ridiculous. To all metal males out there reading this...Donít be that guy, you look like an ass and itís not attractive for the ladies either!
Finally after all the madness, the eagerly thrilled fans were prepared and ready with beers in hand as it was time for AS I LAY DYING. Instantly, the energy in the venue maxed beyond measurable and it was really time to get full-out crazy. It was amazing seeing how many metalheads filled the jam packed venue in support of the return of
San Diegoís AS I LAY DYING, especially due to the controversial history of vocalist Tim Lambesis. Holy shit you guys, I was impressed! Every member of the band brought their ĎAí game and put on one hell of a show. I personally will always remember and being able to photograph the energy that took place on stage was remarkable.
Overall, the whole set was absolutely insane and I mean that in every good way possible. My favorite moment was when they played "My Own Grave", the first song that brought back the return of the band.
Per Lambesisís request, the venue filled with lights and you can tell it was a sort-of emotional moment for not only the fans but the band as well. I noticed several times each member smiling from ear-to-ear with the powerful reaction of the audience singing along, moshing, crowd-surfing, and full on rocking out. Their performance was phenomenal but obviously the most insanely inspiring part of the whole show was the crowdís reaction. I have never seen a crowd go so insane for a band. Definitely an awesome experience and I know for a fact that every Houston metal fan that attended was immensely pleased and overjoyed with the return of AS I LAY DYING.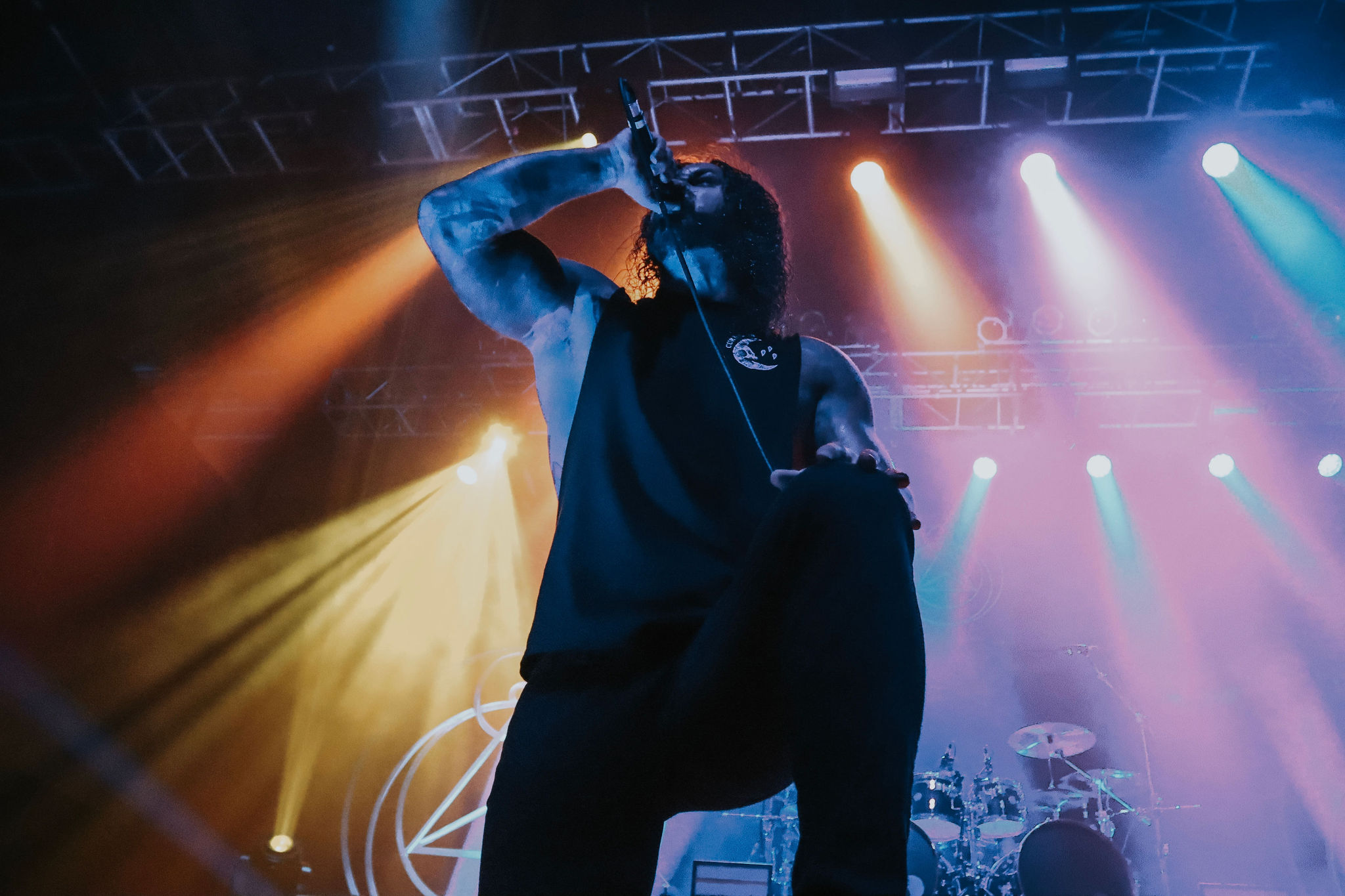 AS I LAY DYING Setlist:
"Blinded"
"Through Struggle"
"Within Destruction"
"Redefined"
"The Sound of Truth"
"Forsaken"
"Shaped by Fire"
"The Darkest Nights"
"An Ocean Between Us"
"Gatekeeper"
"A Greater Foundation"
"Parallels"
"My Own Grave"
"94 Hours"
Encore:
"Nothing Left"
"Confined"
Check out some more photos from the show!
All Photos By Krystiee Lee Photography




Please log in to view RANTS

If you don't have a username, click here to create an account!