Megadeth Killing Is My Business…And Business Is Good (Deluxe Edition)


By Frank Meyer, Contributing Editor
Thursday, January 31, 2002 @ 4:55 PM


| | | |
| --- | --- | --- |
| | | (Loud Records) |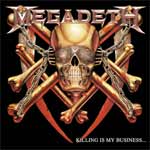 When Dave Mustaine parted ways with Metallica back in 1983 and word got out that he had formed new band that was even faster, meaner, and more brutal, anticipation was high to say the least. With Metallica's debut album, Kill 'Em All, already the toast of the underground, few thought that Mustaine's new band could possibly steal their thunder, but the release of Megadeth's debut effort Killing Is My Business…And Business Is Good made many headbangers do a neck-breaking double take. Was this guy everyone said was too fucked up on drugs and already washed up? Was this the guy who wrote half of Kill 'Em All? Was this the best debut album since Slayer's Show No Mercy? And so began Dave Mustaine's career in evil, one that has unfolded to a 20 year plus manifesto in metal mayhem.

Some referred to their music as thrash or speed, while other referred to them state of the art technical metal, but make no mistake about it Megadeth were definitely at the forefront of heavy music in the early '80s. Along with Metallica, Slayer, Anthrax and Exodus, Megadeth helped mold a revolutionary style of music that had few contemporaries at the time. Sure you had your Motor and Diamond Heads, but no one was playing music this fast and relentless back then and considering that Mustaine was the chief songwriter and lead guitarist in two of the primary influences on the genre, you could it easily consider him a forefather of this style. And Killing Is My Business… makes a damn good case that along with being amongst the first, Mustaine and crew were also one the best. Along with bassist David Ellefson, and jazz-trained Chris Poland (guitar) and Gar Samuelson (drums), Mustaine fused jazz chops and '70s rock boogie with classically -influenced heavy metal to create a unique sound that to this day is strikingly original.

Seventies boogie, you say??? Yup, it's all over the place. Listen to the Jeff Beck Group-style groove on the title track or the bluesy stomp of their brilliant take on Nancy Sinatra's cover of Lee Hazelwood's "These Boots Are Made For Walking" (unfortunately bleeped here due to legal entanglements) and you'll find that these heshers were listening to a lot of classic rock in their formative years. You can hear this all over the place later on Peace Sells cuts likes "Wake Up Dead" and their cover of "I Ain't Superstitious." But aside from the occasional hip skakin' guitar-boogie passage, this is pure, unadulterated, fast as lightning heavy friggin' metal. It's all here, folks, you get your fist pumpin' anthems like "Chosen Ones" to your creepy, evil tales of biblical vengeance like "Looking Down The Cross." From ominous piano intro that explodes into the blitzkrieg headbanger "Loved To Death to the blinding speed of "Rattlehead" to the teeth-grinding tension of "The Skull Beneath The Skin," this is textbook speed metal through and through…except at the time there was no such textbook, which makes this debut more astounding.

In addition, the Mega-crew were not afraid to slow things down to a mid-tempo just to make things even heavier sounding when they speed it back up, a technique they perfected by the time they recorded Peace Sells…But Who's Buying? a coupla years later. Check out the stop-start riffing on the verses of "Loved To Deth" or the tempo changes on the title track and "These Boots" for prime examples of this technique. Another thing that gets hinted at on this album that came into fruition later is Mustaine's vocal style. While he spends much of this record snarling and screaming in his Johnny Rotten meets early James Hetfield kinda way, every once and a while he uses that spoken word talk-sing method he employed later on "Peace Sells" and "Symphony of Destruction," and you can hear the seeds of Mustaine's patented sound being sown. You know, the one Axl Rose ripped off where it sounds like he double-tracked his vocals, one low and one high? Yeah, that one.

According to the band, when Killing Is My Business…And Business Is Good was released in 1985 on Combat Records it featured incomplete mixes and left out Mustaine's original artwork. Well, in addition to being re-mastered and remixed, this deluxe edition features a restoration of the original artwork and three ultra-cool bonus tracks, the demos of "Last Rites/Loved To Deth," "Mechanix," and "The Skull Beneath The Skin." All three sound as is if they were mastered right off of the cassette version but hold up remarkably well. "Last Rites" is interesting here as it is played on guitar by Mustiane and not paino like on the album. "Skull" is basically the same in fell and arrangement, but "Mechanix" is the real treat. This version sounds much closer to the one that appeared on Metallica original demo with Mustaine, No Life 'Till Leather.. except that the Mega-version is about twice as fast!

All in all, a damn good package, I must say. You get detailed liner notes on every tune (song by song notes by both Dave's and an intro by Anthrax's Scott Ian), the unreleased demos, restored original artwork and a re-mastering job that actually sounds better (for once). My only real complaint is likely the same one every other fan will surely register, that much of the lyrics are bleeped out on "These Boots" due that bastard Lee Hazelwood and his keepers. Look, I know he's just some old guy that probably shit his pants when he heard their deadly cover of his cute little novelty song, but gimme a break. As Mustaine shrewdly points out in his liner notes, he sure didn't have a problem collecting his royalty checks for the last twenty years, so why did he all of a sudden flip flop NOW???? Whatever... fuck 'im if he can't take a joke, right?

*****

Release Date: February 5, 2002




Please log in to view RANTS

If you don't have a username, click here to create an account!





ENTRAILS Obliteration

WHITESNAKE The Purple Album

ARTILLERY, STRIKER, VX36, POTENTIAL THREAT SF, DAHLMERS REALM And CREMATOR Live In Houston, TX With Photos!

EMPIRES OF EDEN Architect Of Hope

SAMMY HAGAR Live In Clearwater, Florida With Photos!

2015 WELCOME TO ROCKVILLE Photo Gallery

HELLYEAH, IMPENDING LIES Live In Cleveland, Ohio With Photos!

CAIN'S OFFERING Stormcrow

KROKUS Live In Houston, Texas With Photos!

SEETHER, OTHERWISE and SCREAMING FOR SILENCE Live In Columbus, Ohio With Photos!

SIX FEET UNDER Crypt Of The Devil

KAMELOT Haven

CAVALERA CONSPIRACY, DEATH ANGEL and CORROSION OF CONFORMITY–BLIND Live in Cleveland, Ohio With Photos!