DEEP PURPLE Live In Rome 2013


By Daniel Höhr, European Correspondent
Sunday, December 1, 2019 @ 2:00 PM


| | | |
| --- | --- | --- |
| | | |
DEEP PURPLE
Live In Rome 2013
earMUSIC, 2019




That DEEP PURPLE have always been a band that is best enjoyed live has been documented by countless live releases over the last five decades. In fact, Made in Japan is widely regarded as the mother of all live albums. Especially in recent years, DEEP PURPLE Mark VIII, i.e. Ian Gillan, Steve Morse, Don Airey, Roger Glover and Ian Paice, have released several live albums. Particularly the 2013 to 2015 Now What?! World Tour was well documented by the twin release From The Setting Sun… …To The Rising Sun (the former live in Wacken, the latter live in Tokyo) as well as the Now What ?! Live Tapes, a double live album that contained recordings of individual songs performed during different shows all over the place and that was exclusively released on vinyl. And now earMUSIC and DEEP PURPLE have released Live in Rome 2013, the second installment of a series of releases of "very rare" (says the infosheet) live recordings from the last three decades.

The present incarnation of DEEP PURPLE is not only the longest-serving but, and I know this opinion is not very popular with Mark II puritans, also the finest in terms of music and live performances. Far from being a nostalgia act, DEEP PURPLE have maintained and refined their creativity, energy and credibility and that despite increasing age – singer Ian Gillan was almost 68 years old when PURPLE played Rome on July 22, 2013.

The set list on Live In Rome 2013 is, little surprise, very similar to those on From The Setting Sun… and …To The Rising Sun. "Mars" from Gustav Holst's The Planets serves as a spectacular intro before PURPLE kick off their show with the high-octane "Fireball", followed by the classic "Into The Fire" from Deep Purple In Rock (1970). Here as well as on the other classic songs, Ian Gillan leaves little doubt that he's still up for it and on "Hard Loving Man" Don Airey's Hammond screams like a beast. The eery tongue-in-cheek rocker "Vincent Price" from the 2013 studio album Now What?! is next, then "Strange Kind of Woman" before Ian Gillan introduces "the incredible Steve Morse", who then takes over playing "Contact Lost" from the 2003 release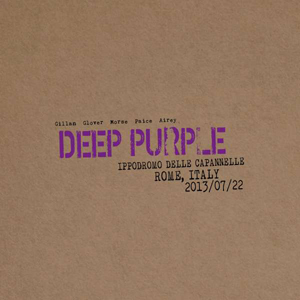 Bananas. And so it continues. The albums contains Mark II classics as well as material from recent albums, and the 22 tracks on Live In Rome 2013 leave no doubt that DEEP PURPLE played a great concert in the Eternal City that night.
As I said before, the outstanding live qualities of DEEP PURPLE on their 2013 to 2015 Now What?! tour are well documented, so quite why yet another live album from that tour has been released is a legit question to ask. On the one hand it would be an unforgivable sin of omission if the Now What?! era weren't included in earMUSIC's series of DEEP PURPLE live recordings. On the other hand, if one were nasty, one could easily accuse the record company of making some extra bucks with yet another live album. DEEP PURPLE fans would disagree to the latter proposition and, listening to the superb performance on Live In Rome, I am actually thankful for this release and maybe it is the abundance of DEEP PURPLE Mark VIII live albums that make the world a worthwhile place to live. And yet, there is nothing really new on it, nothing the die-hard DEEP PURPLE fan hasn't heard before but this is probably irrelevant when it comes down to collectors' items and a collectors' item Live In Rome 2013 is without a doubt. Still, I can't find an answer to the question whether the world really needs this and thus I dare to deduct 1 point and let others find an answer for themselves.
4.0 Out Of 5.0




Please log in to view RANTS

If you don't have a username, click here to create an account!