CATTLE DECAPITATION Death Atlas


By Francisco Zamudio, Metal X Candy 2.0
Thursday, December 5, 2019 @ 11:15 AM


| | | |
| --- | --- | --- |
| | | |
CATTLE DECAPITATION
Death Atlas
Metal Blade Records




I believe in the term Conscious Metal. It's not one sole style but while it makes up for maybe about 85% (arguably) of all Metal, it is essentially music that actually puts out a worthwhile message about not only about what we SHOULD be doing as a human race but also what we SHOULDN'T be doing for the sake of Humanity, as ugly or as beautiful as it is. San Diego band CATTLE DECAPITATION never made it a secret that they were looking to spread awareness in their own unique way. Simply demonstrated with past album titles like HUMANURE, KARAMA BLOODY KARMA, and THE HARVEST FLOOR, now 4 years later since THE ANTHROPOCENE EXTINCTION, the "Lo-Cal" Extreme Metal group puts out what will be considered a zenith to their outstanding discography. With METAL BLADE standing behind them for 17 years, making them one of the longest standing bands to date with the label, CATTLE DECAPITATION are now on their 8th full-length release to date entitled DEATH ATLAS.

Everything that could have gone right, did. As pointed out in Producer Dave Otero's and Vocalist Travis Ryan's candid discussion (on Otero's YouTube channel which I highly recommend). They achieved a collected common goal on this record with the outstanding songwriting that elevates CATTLE DECAP's trademark sound. "We had new blood, and that helped, plus we knew what we were going for, which very much was an 'epic' sound", goes Ryan's explanation on the new found help in Olivier Pinard on bass and Belisario Dimuzio on guitars. This album is a great example of what it means to be an Extreme Metal band (a label really poorly used these days by bands/musicians who don't fully understand it yet). CATTLE DECAP is at the head of the class, second to none. From the opening track it's a none-stop emotional rollercoaster. All the slam/breakdowns, grinding guitars, progressiveness and technicalities that has made up their style, are still there. Drummer David McGraw, who brings what's possibly his best performance to date, will have your heart beating out of your chest and gives him a definite nod for Drummer of the Year. It's difficult to pick and choose a favorite song or 2 or 3. The way the songs are presented in track order, transition so well. The opening for "THE GEOCIDE" is so massive and you have no clue how much farther they can go on this record. Then lead into blistering blast-beats on "BE STILL OUR BLEEDING HEARTS" and your like "F*CK!!" Another example, the slam-based track "ONE DAY CLOSER TO THE END OF THE WORLD", right into the blasts and guitars on "BRING BACK THE PLAGUE" will certainly impress you. "WITH ALL RESPECT" is another you'll enjoy in that respect. There's hardly a chance for a breather in this tornado of emotion, but that of "THE UNERASABLE PAST", a dialogue by Jon Fishman from PHISH that introduces the title track. But before you reach the end, you have "THE GREAT DYING I" and "II" with a bit of spoken word further expressing the message, "Annihilation is Necessary".

It has been proven that music frequencies create waves that can impact our emotions, physiology and affects us in ways you can't put into words. Not only musically but lyrically as well DEATH ATLAS will literally strike a chord in you. The outrageous combination of riffs, drumming and vocal styling will make your hair stand on end. While it is certainly heavy in terms of aggressive rhythms and constant fast-paced grind and blast-beats, it's not the heaviest album they've done in that respect (that would have to go to their pinnacle album, 2012's MONOLITH OF INHUMANITY).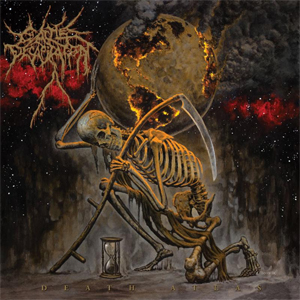 DEATH ATLAS is heavy in terms of emotion and on so many subconscious levels that makes this one so meaningful. Ryan's vocals are dark but in no way "goth", as Travis hesitates to admit in that interview with Otero, alluding to the dated banality of today's modern metal vocalists. Versus what Ryan successfully executes countering his "bear and snake" (as he dubs it) with "actual vocals". To write about all the lyrical content would be redundant because this is nothing new for CATTLE DECAP. DEATH ATLAS is more of an exclamation of our foreseeable end and regardless whether we accept or not, it's happening. "Us humans never learn our lessons". DEATH ATLAS further explores the (in)human nature that has plagued our world. Things over-looked in everyday life that we don't seem to realize negatively effects the world we live in. A topic not overtly spammed (pun) by Ryan who is a Vegan as well who has made it abundantly clear from previous controversial topics of animal cruelty and it's relation to consumption. "Everyone just seems to live in the now with no care for … Don't make tomorrow a cancelled check."
Let it be known that CATTLE DECAPITATION's lyrical influence and its message will fall on some deaf ears, those who "don't want a message in their Metal" (likely the same people are likely the ones spewing more ignorance on FB). Truth is, without bands like CATTLE DECAP and the tons that came before, who had a message in the music, many of us wouldn't be as intelligent and conscious as we are today. Humanity's disregard for the well-being of this earth is accelerating its extinction. While (too) many may not believe this makes for entertaining lyrical content, it absolutely does and delivers a serious message. A message that today's truly open-minded Metalhead fully understands and is proud in making it known. The new chapter in this evolution of CATTLE DECAPITATION is a darker version and much matured group from that band that started way back in 1996.
5.0 Out Of 5.0

Please log in to view RANTS