SLAYER's 2nd To Last Show In Los Angeles With Photos!


By Francisco Zamudio, Metal X Candy 2.0
Friday, December 6, 2019 @ 8:57 AM


| | | |
| --- | --- | --- |
| | | November 29th, 2019 At The Great Western Forum |
All Photos By Diego Gonzales
Uncle Al and company have always been entertaining to watch. With Sin Quirin on guitar these days, they have been a rejuvenated group whose name has been going strong for a long time as well. MINISTRY gave the crowd some good energy and played well known hits that would maintain their attention. Great to hear classics from 1988's THE LAND OF RAPE AND HONEY as the played "STIGMATA, DEITY" and "THE MISSING". Their cover of BLACK SABBATH's "SUPERNAUT" (originally covered in 2000) went over well. The second half of their set was made up of their songs that are more widely known and brought a great warm-up to the evening.
When PRIMUS came on, they brought a bit of melancholy to the night as probably the least "heavy" band of the night. Lest one would question why they were billed on this line-up, they are still a talented power-trio and had actually shared the stage with SLAYER since back in 1999 for the good old days of OZZFEST. So their psychedelia was definitely welcomed there. Les Claypool, The charismatic vocalist and amazing bassist who is so fun to watch, took the time to acknowledge that these 2 upcoming evenings were special moments to behold and that they were grateful to be there for the ride. Playing many great deep cuts from their legacy, they ended their set with a couple of their well-known hits to help bring up mood some more.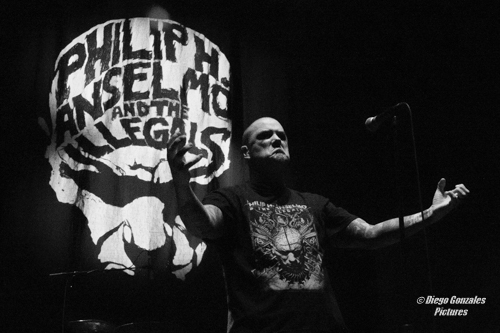 (Unfortunately our credentials didn't get to me in time to catch PHIL ANSELMO AND THE ILLEGALS' set but our photographer Diego Gonzales was able to get cleared in time to make it to the photo pit. Good job, brotha!)
Now we have arrived at another important moment in time of SLAYER's legacy and it could be viewed as the beginning of the end. Starting off the night with "South Of Heaven", its intro alone fueled people on the floor all the way up to the nosebleed seats. It was the beginning of the end and we were here to see it through. It's when the next song, "Die By The Sword" hit that literally got the fire going and the pit moving on the floor that was halfway restricted due to seats, unfortunately. Tom after then looked out into the crowd and asked "You guys ready?" preparing us for the State of the Union Address with the shout of "WWWAAARRR!!" introducing "War Ensemble". Having peaked at the setlist for the following and final night, I was in favor of the setlist picked out for our first night together, that included random favorites like "Gemini", "Evil Has No Boundaries", "Temptation" and "Black MAgic". The pyro show SLAYER had added for the past few years has grown to be one of the best (I mean, I was at 1 of IRON MAIDEN's show and was close enough to the pyro to feel the heat, so I should know).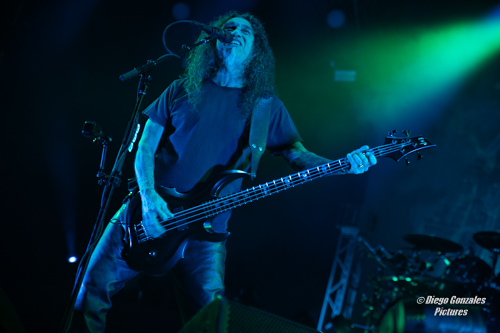 Of the many, many times I saw SLAYER, Kerry King was on his game and sounded the best he ever has, nailing his textbooks solos on every song. As for Gary Holt, I enjoy hearing his take as well as some original ideas he brings to the solos played by the late Jeff Hanneman. And as every second and every beat played along, we couldn't help but realize the countdown to the end. At least, for the 2nd to the last show. The crowd singing along practically all night as Tom would skip a part or 2 just to soak it in and let the crowd take over like in "Dead Skin Mask"'s chorus "… temptation's lost all control!!" As the final notes rang out in "Angel Of Death" we came to the realization that this chapter of SLAYER was over. At least for us who attended the first night it was. Seeing Tom and Kerry stand shoulder to shoulder on stage waving to fans, as King flicked out his guitar picks to the crowd – it was a beautiful sight to see these 2 icons stand before us as they said goodbye, absorbing back the power they gave to us all these years.
MINISTRY setlist:
"The Missing"
"Deity"
"Stigmata"
"Supernaut" (BLACK SABBATH cover)
"Just One Fix"
"N.W.O."
"Thieves"
"Jesus Built My Hotrod"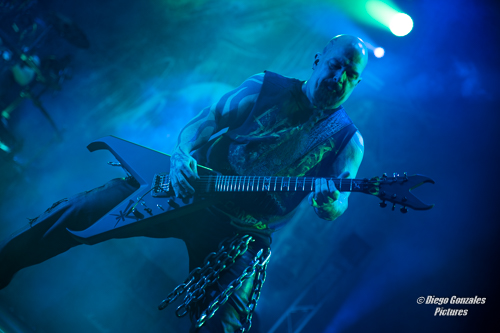 PRIMUS setlist:
"Those Damned Blue-Collar Tweekers"
"Professor Nutbutter's House of Treats"
"Too Many Puppies"
"Sgt. Baker"
"The Heckler"
"Frizzle Fry"
"Cygnus X-1" (RUSH cover)
"Pudding Time"
"Welcome to This World"
"My Name Is Mud"
"Jerry Was a Race Car Driver"
SLAYER setlist:
"South of Heaven"
"Die by the Sword"
"Evil Has No Boundaries"
"Show No Mercy"
"Black Magic"
"War Ensemble"
"Temptation"
"Disciple"
"Gemini"
"Born of Fire"
"Payback"
"Postmortem"
"Jesus Saves"
"Seasons in the Abyss"
"Hell Awaits"
"Dead Skin Mask"
"Repentless"
"Chemical Warfare"
"Raining Blood"
"Angel of Death"
A Photographer's Perspective of SLAYER's The Final Campaign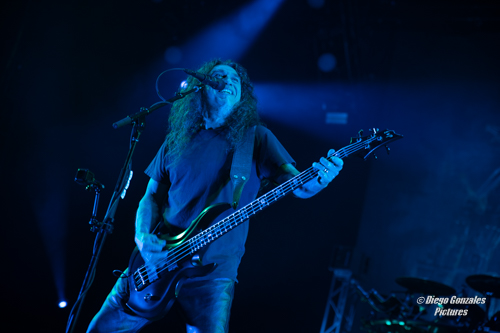 By Diego Gonzales
Los Angeles Photographer and Director
@diegogonzalespictures
When you are a SLAYER fan, and people tell you they went to a major concert, a little piece of you laughs inside. I am an not an elitist, and I don't enjoy feeling like I'm better than another person, but something about the pride in being a SLAYER fan seems to say it's okay just this once. I am a SLAYER fan and only other SLAYER fans know what that feels like. Once you go to a SLAYER concert, no other concert will ever match it. The intensity, the power, fear, excitement, and quality of music mixed with knowing that you survived a unique guilty pleasure allows you a measure of laughter toward anyone thinking they saw a major concert event.
The best way to describe a SLAYER concert is to say that you don't go to the concert to see and hear the music. You feel it. By that I mean, the music is so loud and heavy that you physically feel the sound waves impacting your entire body. Every riff, every pound of the drums, Tom Araya's screams, you actually feel them. I've seen SLAYER from assigned seats and that is impressive enough, but the feeling of terror, chaos, and the physicality of a general admission (pit) ticket takes things to another level. There were the impacts of other human beings slamming into me, waves of human masses running in circular patterns, someone's boot that hit me in the back of the head, a young man in his motorized chair being carried around the floor, burning heat from pyro, fog everywhere, and the relentless smoke of various burning substances pouring all over.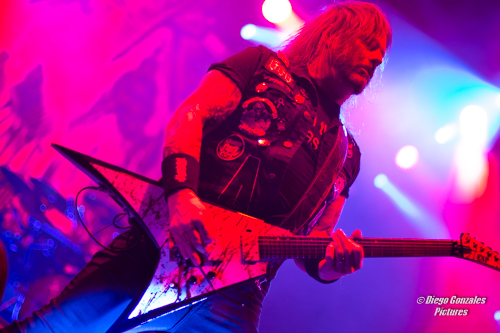 It took me eight mosh pits to get one SLAYER guitar pick. Two pits before, I saw a pick flying and stomped my foot over the top of it as it hit the floor. I pushed myself down to the floor from the people compressing me, but as I lifted my boot, someone managed to swipe the pick right before I could reach it. The pick I finally obtained was a black one. It was a double-wide, well-worn, obviously, just-played marvel. Kerry King plays aircraft carrier sized pics. I knew it was his and saw his signature on the back and Slayer Nation with the flag and skull on the front. I actually did it. Bruised every time, sore for days after every pit, I pulled a pick from the floor of a mosh pit at the SLAYER concert. This was about three years ago from the Great Western Forum. The place where they played their Final Campaign.
Flash forward to present, my friend and respected fellow journalist and Los Angeles musician Francisco Drumz contacted me about taking some photos and collaborating for KNAC.COM coverage. Dreams were coming true. He read me the lineup. He said, PHIL ANSELMO AND THE ILLEGALS, MINISTRY, PRIMUS, and SLAYER. Any single band merits a ticket purchase and mandatory attendance. This was an epic billing and I was touched by fate to go.
Walking to the Forum we took in the lit marquis, giant Christmas tree and a building engulfed in red light with the SLAYER logo lighting its face. Fans were blaring SLAYER songs from their cars and pre-gaming as if a ritual of gigantic proportions was going to explode. The excitement was palpable. There early, but only to be cleared with everyone near the last minute of stage time, I joined the group of photojournalists and photographers. We rushed into the building downstairs and straight into the photo pit. This area between the barricade of the floor concertgoers and the stage itself was wide and well stocked with security personnel. Most photo pits are narrow and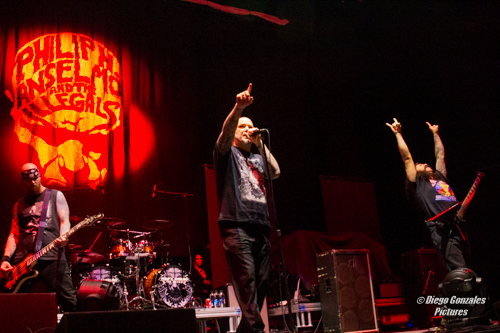 elbow room between photographer and security is scarce. This was ample. No time to adjust a setting or take some test shots. House lights pull up and there without time to realize, Phil Anselmo greets the crowd and pays tribute to Dimebag and Vince. They open with "Mouth for War". With generous light, I open the shutter and it starts to sink in that I am hearing songs I played to disturb my neighbors in my youth. These are the songs I dreamed of seeing performed. It sounded incredible! Derek Engemann was standout on bass and made for powerful performance, low-end, and pictures. Mike DeLeon was insanely awesome! I snapped away and took a brief moment to look at the screen and double-take the pictures I thought I was taking in the viewfinder. He was fully committed with all of his being. I thought, this is how one truly plays a Dimebag Darrell song. The entire band pulled their weight with precision for such sacred tunes. Phil Anselmo delivered powerful and truly passionate vocals. He commanded the crowd to participate and the response I saw was obedience, reverence, and appreciation.
MINISTRY was next in the lineup. I went to the front of the stage far stage right, looked up and out walks Sin Quirin. In that brief moment of silence before the storm, I yelled out at him and he looked up as if to say hello. Then, in the blink of an eye, his guitar, the whole band and forum lights exploded with energy! The blast made me turn around and realize there was an ocean of people behind me. Killer heavy guitar tones, massive bass, powerful keys, thundering drums, and that welcome voice were all delivered with massive energy and motion. An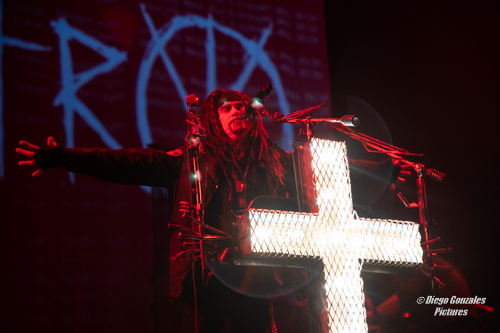 eclectic screen show was playing to the music and the stage arrangements were cool. I wanted more light, and less around the massive Derek Abrams drum kit, but life makes for interesting photos. As a fan, I understood and appreciated the visuals and the intended affect. Taking in the band and their sound was super impressive. Not a bad way to see them play live for the first time.
How does a band like PRIMUS fit in like a glove with some of the heaviest bands of all time? Simple, they are amazingly otherworldly super-talented musicians. They left no questions about commitment to their sound that night. Also, they may not be "according to Hoyle" Metal, but they are undeniably heavy. As our group of photographers cleared the last of our shots, we just sidestepped a guy that jumped from the first balcony down to the floor level. Security was on him instantly, and they did ultimately subdue and restrain him after he threw several blows their way.
As our photo group lines back up to reenter the photo pit, thick anticipation fills the air. A massive low rumble is circling the arena. Darkness with soft blue light adds a creepy effect. Our escort explains to me that we can't go and position ourselves until the area is safe. Turns out, a massive show of pyro and fire was about to erupt. Must be a SLAYER concert going on. Finally, they release the gate and we find our spots to take our shots. Everyone went to the closest epic character Kerry King. There is something about a Kerry King photo to a photographer. I would have to say that he basically guarantees you an iconic shot. Every music photographer I know, who knows who he is, wants that photo in their portfolio. I decided that I made it far enough to get this opportunity in my career. I can wait a half a song or so to let the crowd of lens and hands clear.
I looked left and this cobalt and purple light was pouring onto Tom Araya. It was like he was yelling into the cosmos onstage. I pulled my focus and blasted away. Chills ran down my arms as I felt the music hit my being. The reality of my view in the camera was causing a rush of emotion. Tom Araya was always this dichotomy of the most welcoming of humans singing about some of the greatest nightmares of life. In this instance, I felt nothing but welcome. I could see the joy in his face performing these songs.
Behind Tom was Paul Bostaph. Paul played amazing. He is a rock and he carried every tune with a divine ability. He showed off his undeniable talent to play the drums. He is a legendary member of the most legendary and heaviest thrash band of all time.
My self-created Law of Gary Holt states that, sure as the sun burns, Gary Holt will destroy. Everything about the energy, tone, voracity and violent intentions Gary gave when I saw him play before, burned like the sun that night. I was left with some interesting hot areas of overexposure battling low light and fast motion. I will treasure the art that Gary forced into my hand. In my own way, I saw Jeff Hanneman pass the torch to this man. He has carried it with the utmost class and respect. From the words he speaks, to the tribute art on his guitars, to the way he applies true reverence to his performances, I tip my hat to Gary for the way he always honors his friend.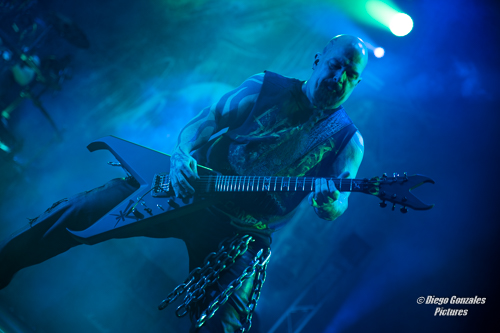 Finally, I made my way over to Kerry King. I took a moment without firing a picture to find a clear angle. As I released the shutter, flashes of years of taking photos at local shows passed through my mind. I felt present but part of me kept flashing back to what got me to point my actual camera at one of Metal's ultimate icons. He is one of the last true guitar heroes. This moment, all the music, all the concert tickets, my buddy Mike playing "Rain in Blood" for me and later taking me to my first SLAYER concert came full circle. Sometimes awesome dreams and songs about nightmares are real. When you see them and feel them you will never be the same. Take it from me, SLAYER will do that to you.
Check out some more photos ffrom the show!
All Photos By Diego Gonzales




Please log in to view RANTS

If you don't have a username, click here to create an account!