Motley Crue
Red, White & Crue


By Jeff Kerby, Contributor
Monday, February 7, 2005 @ 9:41 AM


| | | |
| --- | --- | --- |
| | | (Hip-O Records, Motley Records |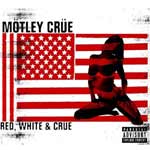 Ladies and Gentlemen:

We have a reunion tour…so now we need a disc to coincide with said tour.

This is it.

Yep kiddies, plastic surgery doesn't come cheap and neither does keeping up with the rock star lifestyle when all of your band's ancillary projects have crapped out in cataclysmic proportions. Please see: Methods of Mayhem (Yeeeeaah, boyyee! Foshizzle my nizzle, beeatch! ), Brides of Destruction--which should have been much better than it was--not to mention a lead singer's solo career which basically consisted of singing the exact same tunes he is about to croon with Motley only with the vocalist playing them in bars rather than amphitheatres. The poor guitarist -- he is probably the coolest guy in the band, yet he's saddled with health problems that appear to preclude him living anything resembling a normal, pain-free life. In any case, the tour promoting this release may actually be the last time Vince, Nikki, Tommy and Mick take the stage together—if this turns out to be the case, Red, White & Crue would mark the end for a truly legendary group bourn out the genuine havoc and chaos present on Sunset in the eighties. If the end of this road means that a new generation of metal heads ends up recognizing the Crue more for their roles on reality TV than their musical legacy, it may end up saying more about today's society than it does about the band.

Red, White & Crue is a two-disc collection that spans the entire career of the boys from southern Cal. Of course, you know this retrospective has to start off with "Live Wire"—that's a given. The other four songs from this period which represent the Too Fast For Love era--not necessarily the album, are "Piece of Your Action," "Toast of the Town," "Too Fast for Love" and "Black Widow." The inclusion of both "Toast of the Town" as well as "Black Widow" may be a surprising considering that neither tune is as strong as say "Merry-Go-Round" or "Public Enemy #1," but it does show that the band was at least trying to make this collection a bit more diverse than either Decade of Decadence or the previous Greatest Hits disc. The selections included here from Crue's masterpiece, Shout At the Devil, are "Looks That Kill," "Shout at the Devil," "Helter Skelter" and "Too Young To Fall in Love" (remix). Without a doubt, the material the band put out during Too Fast for Love/Shout at the Devil represents the group's seminal work. Nothing even comes close. Roughly one quarter of the material present on Red, White & Crue comes from this time and the argument could be made that an even higher percentage should have been placed here. Of course, any chronologically-based collection will at least pretend that a given band came out with quality work throughout the span of their run, but… without these two records, Motley's output would doubtlessly not have been that of which legends are made. Instead, the group would have just gone down as a better-than-average hair band of the era. Much respect is given though--both Too Fast For Love as well as Shout at the Devil sound as impressive right now as the day they were first snapped up as cassettes and tossed in Walkmans by longhairs everywhere.

The second half of disc one includes work from Theatre of Pain, Girls, Girls, Girls and Dr. Feelgood. Although none of these records is exactly abhorrent, most contain more undeniable filler than a greasy chalupa—it's a good thing they only needed one or two songs from each for this collection. Theatre of Pain's tracks include "Smokin' in the Boy's Room" and "Use It or Lose It"—"Home Sweet Home" is the lone major classic that appears on the next disc, and it's there because the version present here is the one first introduced on Decade of Decadence--not Theatre. Girls, Girls, Girls is represented by the title track as well as "Wild Side," "All in the Name Of…" and "You're All I Need". The latter is a ballad that shockingly enough didn't become as big as it should have and is definitely a welcome addition here. Disc one concludes with "Dr. Feelgood," "Kickstart My Heart," "S.O.S," "Don't Go Away Mad" and "Without You," a song that sucks on a level nearly as ball and cock deficient as Extreme's "More Than Words." How this pussy ballad made it bigger than "All I Need" is a complete and total mystery and it's just wrong. The same could be said for anyone who believes that Dr. Feelgood is Crue's best record. If you happen to be one of those people, it must be rough suffering from the type of debilitating mental retardation that results in someone being required to wipe the cream corn from your chin after every feeding. Face it, that record only sold as much as it did because by the time it was released, metal wasn't metal anymore—it was popular mall music and became the reason bands like White Lion and Danger Danger ever had a reason to exist. If Red, White & Crue had included "Home Sweet Home" on disc one, it could easily be argued that every single one of the group's essentials are present on the first half.

That being said, there is a disc two, and it is the definitive wild card here. It starts off predictably enough with three tracks from Decade of Decadence—"Anarchy In The U.K.," "Primal Scream" and the aforementioned "Home Sweet Home." "Hooligan's Holiday" and "Misunderstood" follow and come courtesy of the self-titled album Motley Crue—John Corabi's debut as vocalist and a record available in a cut out bin near you, despite the fact that the effort really isn't too bad—in fact, it is much better than Vince's return to the group, Generation Swine, would later prove to be. "Planet Boom" and "Bittersuite" come from the rarities record Supersonic and Demonic as well as the '94 E.P. Quaternary. Geez, "Planet Boom" sounds like what one could expect after Tommy Lee and Jay Z just got done taking off their FUBU jerseys and downed a couple of pitchers of gin and juice with their buddy Snoop. As bad as that truly is, "Beauty" from Generation Swine is almost as abhorrent. This song is awful. As a matter of fact, this tune is as bad as finding yourself singing backup to Corey Feldman. No, this song is as bad as getting your ass kicked by Corey Feldman. "Afraid" and the title track join "Beauty" from GS—and each are on par with having Corey screw your girlfriend on a pool table while Corey Haim video tapes it. That should come as no shock to anyone who knows anything though, since it's common knowledge that Generation Swine systematically ate and devoured putrefied monkey balls swathed in mayonnaise and limburger cheese. "Enslaved" and "Bitter Pill" are better than average efforts that come from the Greatest Hits record while "Hell on High Heels" and "New Tattoo" come from Crue's respectable 2000 release of the same name.

The second disc concludes with three new tracks that would comprise half the reason many die hard Motley fans would even considering purchasing this collection. Now, I couldn't believe it when I first heard that Nikki Sixx collaborated on "If I Die Tomorrow" with members of pop-shit band Simple Plan. I mean, what's next? A new record written with Good Charlotte? The whole concept of Nikki getting together with these guys to write seems akin to having Rembrandt collaborate with some dude named Pedro who specialized in finger paints back in the day. I'm not exactly sure what expertise Simple Plan lent to this endeavor, unless the popular perception is really true and that this track really was just a Simple Plan cast off, and I just can't bring myself to face that potential reality. All questions aside though, the song does rock. I don't want to admit it. You may disagree--you'd be wrong though. Sixx also pens the ditty entitled "Sick Love Song," which undoubtedly qualifies as something maybe just a half notch below a typical Crue masterpiece and in all actuality may be the best selection on the entire second disc. It simply possesses the same Motley attitude and charisma that made this group great from the very beginning. This triumvirate of new songs concludes with Crue's take on the Rolling Stones' "Street Fighting Man." It is an interesting selection since it certainly wouldn't be an obvious choice by anyone's standards, yet the band manages to place their own debauchery-laden mark on the track while still performing it in a way that the Stones themselves would have to find endearing. The rave up at this cover should prove interesting during the live show as well, and actually if the band plays any or all of these three tracks, which they are sure to do, you probably won't be seeing a mass exodus towards the booze and pisser lines. The new tracks should fit snuggly with the old faves--just please, please guys--DON'T PERFORM "PLANET BOOM"! EVER!

There are those cynics out there—never me—but some who else who might point out the obvious fact that the Crue intends to make a little money off of this record and tour before either riding off into the sunset or becoming completely irrelevant. Maybe the fact is that their primary interest here is financial. Mick has been quoted as saying recently that there is "greed" all around him. Or, still other people may be put off by the cartoon nature of the personas taken on over the last few years by Vince Neil and Tommy Lee. If that is the case, well… I'd like to hate Vince for having been on the Surreal Life, but… I actually liked that particular season of the show. I just would have liked it better if he would have popped that little whiney bastard Corey Feldman just once—just once. Yeah, Tommy could lay off the Eminem and that would be cool, too… maybe if he would just stop repeating the phrase "yknowhadimsayindawg?" that would be enough. The most salient point people need to understand about this, though, is that there is simply no blueprint for how bands born out of the LA glam scene of the '80s are supposed to age. It's almost like people want to blame Motley for growing older, for eating, for contracting an illness or maybe just being weird when in many ways that is just part of the maturation process. The fact is that I'd rather have an older version of the Crue on the road and releasing an effort like Red, White & Crue in the year 2005 than to not have the band out there playing music at all. Simply put, they were the kings of that time and that era, and when they are gone, we'll all be missing something. This is a four star purchase if you can pick it up for less than fifteen bucks (it's on sale all over the place this week), and three stars if you have to pay more. I'll settle for a rating directly in-between. Let's hope the band can somehow defy the odds and find the strength to put together one last great string of shows. That is the only fitting way for this to end.

* * * ½




Please log in to view RANTS

If you don't have a username, click here to create an account!





AMARANTHE Maximalism

OPHIDIUS The Way Of The Voice

CLUTCH, ZAKK SABBATH, KYNG In Orlando, FL With Photos!

SERIOUS BLACK Mirrorworld

STRYPER In Houston, TX With Photos!

THE DIVES In New York City

MESHUGGAH The Violent Sleep Of Reason

VANILLA FUDGE At The Ottawa CityFest In Ottawa, Canada

BLAZE BAYLEY In Ottawa, Canada

OZZFEST In San Bernardino, CA With Photos!

RAVENEYE Nova

HAIR NATION FESTIVAL Photo Gallery 2

HAIR NATION FESTIVAL Photo Gallery 1

OPETH Sorceress

GOJIRA, TESSERACT In Silver Spring, MD

PAREIDOLIA Denied Truths

NERVOSA Live In Ottawa, Canada

CONQUEST Under The Influence

SABATON The Last Stand