THE DARK ELEMENT Songs The Night Sings


By Peter Atkinson, Contributor
Monday, December 16, 2019 @ 11:59 AM


| | | |
| --- | --- | --- |
| | | |
THE DARK ELEMENT
Songs The Night Sings
Frontiers Records




It's good to see Anette Olzon getting a second chance with THE DARK ELEMENT after her tenuous and ultimately traumatic stint as frontwoman with symphonic metal giants NIGHTWISH. The lower-profile scale of THE DARK ELEMENT – with certainly far less soap operatics – and a more cordial, collaborative relationship have really helped bring her back out of her shell and prove herself anew.

It was almost as if Olzon never stood a chance with NIGHTWISH when she took the mic in 2007 after the very messy and very public dismissal of Tarja Turunen. Thrown into the maelstrom of the band as it was achieving super-stardom and unprepared for the domineering personalities of her new Finnish bandmates, the relatively unknown Swede seemed out of her element – so to speak – from the get-go, especially on tour where her understated style marked a direct contrast to Turunen's theatricality. Olzon's work on Dark Passion Play and Imaginaerum was unquestionably stellar, but as time went on she seemed to wither under the pressures of the grand stage – especially when family concerns became a factor – and the end came rather quickly and ingloriously, as she was replaced mid-tour by Floor Jansen.

With THE DARK ELEMENT, Olzon has the relative luxury of starting from scratch, teaming with one-time SONATA ARCTICA guitarist Jani Liimatainen. The project really seems to be just that, as opposed to a full-time band, as it rarely plays live - and Liimatainen recently joined up with INSOMNIUM - all of which means a lot less pressure or expectations. And the combination has worked fairly well on THE DARK ELEMENT's self-titled 2017 debut and now with Songs The Night Sings.

Though the debut did seem a bit of a mish-mash, Songs The Night Sings is more brash, confident and purposeful. It has the sound of a genuine band, even if that still might not totally be the case. Regardless, it's a feisty, surprisingly ballsy and very consistent effort that while still draped in symphonic grandiosity seems more intent on kicking ass than progressive melodrama and conceptual indulgences. And that – along with Olzon's pristine vocals – is it's greatest strength.

The album opens with the jarring, vengeful "Not Your Monster" as Olzon either throws jabs at her former bandmates or an ex-husband/partner, declaring "In the end we gave a birth to a hopeless dream, We had it all but prestige and I have grown to hate our child" over Liimatainen's heavyweight riffs. And that kind of moxie is present throughout, to varying degrees.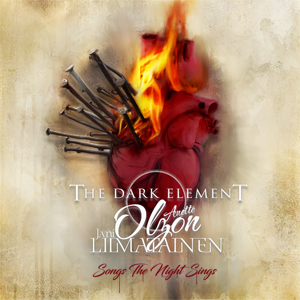 The title track that follows "Not Your Monster" is even punchier, buoyed by the bracing rhythms of bassist Jonas Kuhlberg, who played on the debut, and new drummer Rolf Pilve. So too are the frisky "Get Out Of My Head" and "Pills On My Pillow", with their exuberant, inviting choruses. "When It All Comes Down" eases back the throttle a bit, but builds bulk on the strength of Liimatainen's beefy guitar, which also comes to the rescue of the otherwise overblown ballad "To Whatever End", which really lathers on the symphonics.
But that's one of the few hiccups here. Songs The Night Sings doles out one infectious, crunching and seemingly effortless anthem after another, taking a page from the WITHIN TEMPTATION or AMARANTHE book. The songs are ideally suited to Olzon's striking vocals, building just enough heft beneath to really make them resonate – as she did on NIGHTWISH tunes like "Amaranth" or "Storytime" - without overpowering them.
She and Liimatainen seem to have struck the perfect partnership and created the ideal situation, one that maximizes Olzon's considerable talents while not overburdening her with all the bullshit and slog that comes along with a full-time touring band. The pair have built something special almost out of thin air, and it will be interesting to see where they take it from here – if indeed they do.
4.0 Out Of 5.0

Please log in to view RANTS