ANNIHILATOR Ballistic, Sadistic


By Peter Atkinson, Contributor
Monday, December 30, 2019 @ 12:26 AM


| | | |
| --- | --- | --- |
| | | |
ANNIHILATOR
Ballistic, Sadistic
Silver Lining Music




Have to admit I haven't paid much attention to Canadian thrashers ANNIHILATOR in a very long time. I was definitely intrigued by the band at the outset, thanks to the one-two punch of its crackling debut Alice In Hell and the follow-up Never Neverland. But that was 30 years ago.

Lineup changes – especially in the vocal department – started taking their toll soon after. The sonic magic of the first two albums began to wane, and ANNIHILATOR quickly got lost in the shuffle of more interesting and more extreme bands like CARCASS and NAPALM DEATH – at least for me.

Since then, ANNIHILATOR – or more specifically, founding guitarist and sole remaining original member Jeff Waters, anyway - has weathered several brief hiatuses, stylistic divergences, a veritable army of fellow bandmates/sidemen, a brief reunion of the Alice In Hell lineup, label changes and occasionally lame or just half-assed material. The lone constant for a stretch was rhythm guitarist/vocalist Dave Padden, who stuck it out for a dozen years before departing at end of 2014 – following Feast – a move that left Waters admittedly a bit rattled.

Undaunted, however, Waters took over on vocals – which he had several times before – and went about retooling things anew. Two albums later, though, he seems to have found firm footing once again. Suicide Society and For The Demented, from 2015 and 2017, were both uneven and ultimately underwhelming. ANNIHILATOR's 17th and latest release, Ballistic, Sadistic, by contrast, is feisty and ferocious, boasting a defiantly old school approach that actually manages to capture some of the magic of the band's earliest releases while also feeling fresh and vibrant.

Ballistic, Sadistic is by no means a mere rehash, despite its vintage vibe. The sound here is bold and loud, and the aggression is unquestionably genuine from the get-go. The chugging, TESTAMENT-like "Armed To The Teeth" and blazing "The Attitude" make for a formidable opening combo, loaded with gnashing riffs, bracing tempos and plenty of piss and vinegar – as evidenced by the jaunty and profane singalong chorus on "The Attidude": "Fuck you and your attitude, Fuck your shitty attitude, Fuck your attitude." Fuck yeah!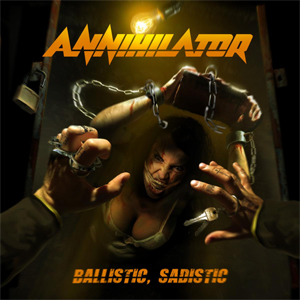 The ecologically minded "I Am Warfare" is considerable deeper from a lyrical standpoint, but delivers the same sort of crunch, as does "Out With The Garbage", both of which recall EXODUS with their meaty hooks and subtle dexterity. The menacing "Riot" and "One Wrong Move" make for another potent back-to-back pairing, even with the long OZZY-like atmospheric passage on "Move" that seems randomly spliced in.
The album boasts all the key components - technical savvy, musical muscle, compositional focus and innate catchiness – that really makes for a well-rounded effort. And though it's not always a perfect mix, as there are few clunkers here – notably the ballsy but insipid "Dressed Up For Evil" and "Lip Service" - most of the material is rock solid and delivered with gusto. And that really comes down to Waters, who once again performs just about everything other than drums – here ably handled by new recruit Fabio Alessandrini - and serves as producer.
Something really lit a spark under Waters' ass this time around, and he has channeled it into one of the finer moments in his – and ANNIHILATOR's – long career. It's easy to see how he could be prone to struggle, given his long history of carrying the load on his own. But it's good to know that Waters can pick things up when the chips are down and bounce back with something that not only proves ANNIHILATOR's relevance, but might actually give the band some new life. And after 30-some years, that's no small task.
3.5 Out Of 5.0




Please log in to view RANTS

If you don't have a username, click here to create an account!