QUIET RIOT Hollywood Cowboys


By Francisco Zamudio, Metal X Candy 2.0
Tuesday, January 7, 2020 @ 8:34 AM


| | | |
| --- | --- | --- |
| | | |
QUIET RIOT
Hollywood Cowboys
Frontiers Records Srl




I'm upset with my parents for having me 20 to 30 years too late. I really do feel I grew up in the wrong era of Rock and Metal, missing the heydays of the Sunset Strip. Glam Bands, Metal Bands, and all the big hair in between that produced some of the best music with a life-span that has held up for decades, and will continue to do so once we're gone. One band so iconic and identifiable, laced with so many ups and downs, especially now is QUIET RIOT. I can't think of another band whose Rock anthems have transcended not only time but non-musical environments. How many times have you heard "CUM ON FEEL THE NOIZE" at a sporting event? The SLADE cover (unbeknownst to many) boosted QUIET RIOT into further popularity. At the forefront is the legend himself, drummer Frankie Banali. The current cancer warrior has grabbed life by the horns and led the name through 4 decades of turbulence. Now on their 14th full-length to date, they have released HOLLYWOOD COWBOYS through Frontiers Records.

It bodes well that a band can maintain that "classic rock" sound on a new release. That arena rock and organic sound is not prevalent at all these days with a lot of newer bands. HOLLYWOOD COWBOYS tries to encompass all the nostalgia from back in the day. Consequently, it's full of those classic cheesy lines that nearly every other song from the 80s had. Songs about wild horses, dancing with the Devil, the rebellious young woman ("girl" would be too taboo these days) and the vices that come with "Rock n Roll". The music itself would probably have a place as background music at strip-clubs back in the day, which is actually a compliment. Shame more strips clubs don't go back to those days, but I digress.

What holds back this album (from a better rating) is that of the sub-par performance from American Idol runner-up, James Durbin. The reality face who is highly criticized and called a "poser", shows some inexperience. Case in point are songs "CHANGE OR DIE" and "INSANITY", the latter which musically is great though he seemed to struggle so much he belches out random words that rhyme to stay afloat. A somewhat positive note, on the laid back blues track "ROLL ON", he's allowed to show a little bit of flair as the tune allows for a bit of freedom of his limited ability and gives an average performance as any vocalist can with blues. His shortcomings could relate to his exit from the band shortly before the release of HOLLYWOOD COWBOYS.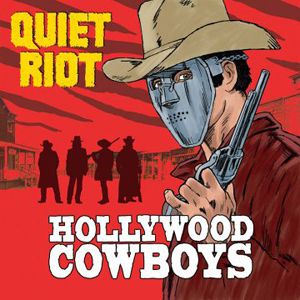 Despite this, the Frankie Banali-produced effort goes from the bluesy ballads that are also a rarity nowadays (oh, how I miss the ballads), to the strict sunset strip rock 'n' roll whose formula they helped create. A slightly different approach, HOLLYWOOD COWBOYS is a bit of a stretch for the band. Emphasized by Banali's perspective on the album, "This is the most diverse QUIET RIOT release." It's now a modern QUIET RIOT that practically has no original members, although we welcome back bassist Chuck Wright, whose stints with the band have been on and off, but helps give an appropriate rhythm to groove to. Songs "WILD HORSES", "HELLBENDER" and "ARROWS AND ANGELS" are evident of that, as is most of the album. A lot of the songs are tight, with Banali showing off some great technique. "HEARTBREAK CITY", "THE DEVIL THAT YOU KNOW", "HELLBENDER" are songs that display great groove which makes this album more than simply just listenable.
I know I speak for many fans (or not) of QUIET RIOT that we don't believe this to be Banali's swan song. We want QUIET RIOT to release another stellar album that will give us anthems we want to hear at live events for years to come. We want him to find a frontman they deserve and not some poser from American Idol. We want them to go out in a blaze of glory as one of the greatest stories of all time, like a quarterback who has 1 maybe 2 years left in him to take his team to the big game before retiring.
3.5 Out Of 5.0




Please log in to view RANTS

If you don't have a username, click here to create an account!