DENNER'S INFERNO
In Amber
Mighty Music




When you think about guitarist, depending on who you are, a multitude of axe slingers will come to mind. But if you think of guitar duos, thereís a few that immediately spring into your mind. Gorham/Robertson from THIN LIZZY, Downing/Tipton from JUDAS PRIEST and if you are a serious Metalhead, Denner/Shermann. The dynamic duo from MERCYFUL FATE was most assuredly a benchmark from the early 80ís on. The two had remained a brotherhood playing together in other bands like FORCE OF EVIL, and the aptly named DENNER/SHERMANN with sonic soprano Sean Peck from CAGE on vocals. But everyone at some point wants or needs to branch out (especially since the 2020 reformation of MERCYFUL FATE did not include Mr. Michael Denner, a shortsighted affront to the man and something that I will not support going forward.

Itís not Dennerís first foray into his own band, as DENNERS TRICKBAG, a decidedly 70ís tinged outfit was unleashed on an unsuspecting public in 2013.

Enter late 2019, and Michael has started another project. DENNER'S INFERNO is the name, and a heavier side comes to the fore, although nowhere near the evil overtones of MERCYFUL FATE.

Joining Michael in this new venture is American vocalist Chandler Mogel (who has sung for ANGEL guitarist Punky Meadows), drummer Bjarne Holm (who interestingly enough is playing with the MERCYFUL FATE reunion band) and bassist Flemming Muus (who was also in DENNERS TRICKBAG).

In Amber is the album in question and a cracking debut it is too. "Martriarch", a MONTROSE cover gets right to business and immediately brings to mind Michael Schenker and his solo endeavors as Dennerís playing is crisp and showcases the manís obvious chops. A definite live opening track. "Fountain of Grace" has a blusey feel to it, but also a bit of FATE as well with a grinding riff and Chandler showing he can hit those higher registers if need be. "Up and On" is a cool off-beat ditty and Allan Holdsworth cover that reinforces that this band can play anything and play it exceptionally well. "Sometimes" is slower letting Michael really color the song with his prowess.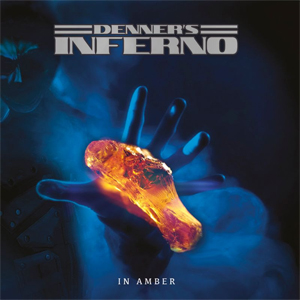 "Taxman (Mr. Thief)" is a surprising CHEAP TRICK cover done Denner style and does both bands much justice. "Veins of the Night" has that MERCYFUL FATE vibe yet was a riff originally from the mid-70ís. Upbeat and headbanger worthy. "Run for Cover" has that 70ís feel as it should, another long standing idea thatís been simmering waiting to be developed. Also the albums longest track at a tinge over six minutes, plenty of time for Denner to do his thing. "Pearls On A String" is progressive Rock par excellence, but more yesteryear's Prog Rock with a hint of Metal than DREAM THEATER or SYMPHONY X. "Loser" is another creeper cover, this being that savagely underrated TRAPEZE. A great version it is too, as Chandler does an amazing job of channeling his inner Glenn Hughes. While Iím on that subject, unknown to me personally Mr. Mogel is an exceptional vocalist and his smooth voice lends even more class to this stellar lineup. "Casttrum Doloris" is the album closer and a short instrumental fusion to end things on the proverbial high note.
Iím very impressed by this album. A little 70ís, a little 80ís, some Hard Rock & Metal, some prog and a little jazz fusion even. All played top shelf. If your a fan of anything I just mentioned, I implore you to check this out. Stop listening to the same tired shit and make 2020 the year you start investigating ALL the great bands that are out there!
And welcome Vinyl fiends! 2019 saw Vinyl outsell CDs! And this is available on Wax! So get cracking!!
4.5 Out Of 5.0 Skulls