KIRK WINDSTEIN Dream In Motion


By Nathan Dufour, Great White North
Thursday, January 23, 2020 @ 12:51 AM


| | | |
| --- | --- | --- |
| | | |
KIRK WINDSTEIN
Dream In Motion
Entertainment One, 2020




Solo albums are hard. I mean, they have to be, especially for an artist stepping out from the shadow of decades of work, hoping to show the world a new voice. But does the world care? Will people even pay attention, knowing the ultimate product may sound very far removed from a core sound they hold dear? What does the Lord sayeth? Riffs.

Dream In Motion is the first proper solo outing from CROWBAR's Kirk Windstein and if either of those are alien to you, please, find YouTube or MTV from the 90s (because All I Had, I Gave). The title may seem a little odd at the outset, but once you hit play it all makes sense: in comparison to CROWBAR, the music found herein is almost light, the tones bright and arguably ethereal in nature. Windstein's voice has never been more naked - a lot of the signature grit is stripped back for true cleans and while he cannot escape his natural tambre (nor should he) the kaleidoscope visited on the listener is resplendent. Dream In Motion is, believe it or not, AOR through and through. And that is not a bad thing.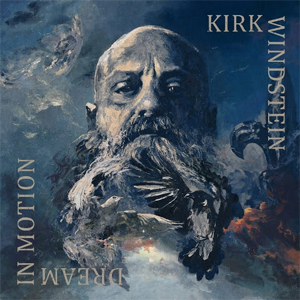 Take, as an example, "Once Again", a song built around Kirk's voice and a muted, yet incredibly profound, guitar line that leads along the musical path. There are so many layers here, lyrics being personal (they have not been any other way though) and the song itself seems almost wedded to follow up "Enemy In Disguise" - the compositions are so complimentary it is really something to behold.
Of course, being the Riff Lord, there are riffs aplenty in the one two punch of "Toxic" and "The Healing" but for the most part, Dream In Motion is just that - dreamy. Sublime. Surreal. It isn't so much that what awaits is a welcome departure as, to my mind, that devalues both CROWBAR and this new side of Kirk - more aptly, Dream In Motion is a breath of fresh air and the sound of musical wing spreading. It's beautiful, and something I will come back to for a long time.
Oh, and if that cover of "Aqualung" doesn't knock you on your ass, check your pulse.
4.0 Out Of 5.0

Please log in to view RANTS