ANVIL Legal At Last


By Andrew Depedro, Ottawa Corespondent
Monday, January 27, 2020 @ 12:36 AM


| | | |
| --- | --- | --- |
| | | |
ANVIL
Legal At Last
AFM Records




With their career surpassing forty years of plugging in permanent while pounding the proverbial pavement in the name of metal on metal and then some and only just recently and finally being able to reap the rewards of stardom thanks to their 2009 documentary about the realities of touring life, it's safe to say that Canadian metal lifers ANVIL have officially swapped prior comparisons to SPINAL TAP for more humbling Ramones-like status. Like their leather-clad contemporaries amongst DA BRUDDERS, the Etobicoke, Ontario-based trio have shunned the mainstream while keeping to their consistently heavy sound and forward-sounding lyrics, sometimes varying from the absurdly obvious to the absurdly nonsensical. And their members – Steve 'Lips' Kudlow (vocals, guitars) and Robb Reiner (drums), plus bassist Chris Robertson – have known this level of consistency in their music for years. In fact, even with their latest studio offering Legal At Last being their 18th studio album being described by Robb Reiner as simply "one more ANVIL album", it shows that the band are otherwise tenacious in their ability to endure and push on, still holding on to their own core values that have made them easily identifiable throughout the years without the need to brag about their own accomplishments as anything other than superhuman.

Legal At Last is not only an ANVIL album that celebrates the official "legalization" of the famed ANVIL bong (as shown on the cover) following the actual official legalization of Canada's marijuana laws in 2018, but it also celebrates much of the well-known spontaneous and erratic mid-tempo grooves and characteristic sound that they're known for. Best case in point would be the song's tongue-in-cheek lead-off track "Nabbed In Nebraska", whose opening riff is an homage to the band's classic anthem "Metal On Metal" with a bit of a nod to "Mad Dog". The faster-paced numbers such as "I'm Alive" and "Bottom Line" have a neat crunchy-sounding "School Love" vibe to it thanks to Lips' leaping guitar riff. "Gasoline" is a more doomy-sounding number, its melancholy overture bringing to mind the more recent downtuned dynamics of "Zombie Apocalypse". Even numbers such as "Chemtrails", "Plastic In Paradise",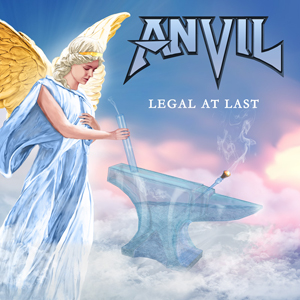 "Glass House" and "Food For The Vulture" harken back to the band's lyrically social conscious period by the mid-90's. And further marking a first for the band on Legal At Last, ANVIL will have worked with the same producer on three consecutive albums – Martin 'Mattes' Pfeiffer, best known for his work with UDO and MOB RULES, who also produced 2016's Anvil Is Anvil and 2018's Pounding The Pavement.
It's taken a good 35 years or so for Anvil to finally be not only able to fully embrace their simplistic yet hardened approach to their songwriting, but to fully embrace themselves for keeping to their own work aesthetic. Truth be told, THE RAMONES had also endured similar criticism at their own musical peak and they've gained more fans nearly a quarter century after they'd retired from touring and recording than they did as an active band, hence the uncommon but obvious similarities here. ANVIL certainly have come a long way even from their 2009 documentary, finding that their contemporaries and even their mentors have similarly praised them for over four decades of adversity and consistency, with Legal At Last finally allowing the band to smoke the bong and inhale.
4.5 Out Of 5.0
https://www.facebook.com/anvilmetal




Please log in to view RANTS

If you don't have a username, click here to create an account!