QUEENSRYCHE, JOHN 5, EVE TO ADAM In Houston, TX With Photos!


By Larry Petro, News Monkey
Monday, January 27, 2020 @ 12:40 AM


| | | |
| --- | --- | --- |
| | | "The Verdict Tour" Returns To The House Of Blues |
All Photos By Larry Petro/Petrofyed Photography
Seattle rockers QUEENSRYCHE have been out on the road relentlessly promoting their latest release, The Verdict, which came out March 1st of last year. The band made their first stop in Houston that same month with FATES WARNING and returned ten months later, this time with JOHN 5 and EVE TO ADAM in tow, once again at the House Of Blues in downtown.
New York rock act EVE TO ADAM opened the evening with a nice, spirited 3o minute set. The band's been around for over 20 years now and enjoyed their most success with the 2013 album Locked And Loaded. Led by frontman Taki Sassaris, they performed 7 songs including opener "Altitude", "Locked And Loaded", "Day Drinking" and their biggest hit, "Straitjacket Supermodel". It was a great way to start the show and it was nice to see EVE TO ADAM out on a National act tour again.
JOHN 5, who at one time played with DAVID LEE ROTH and MARILYN MANSON, now currently entrenched as ROB ZOMBIE's axeman, was up next. Having not had the opportunity to see him perform live before I was eagerly anticipating his set, and he most certainly did not disappoint. JOHN 5 is continuing to promote the release of Invasion, which also was released last year. Kicking off with "Crank It - Living With Ghosts", John showcased his ability to perform virtually any type of musical genre, and with ease. Tracks included I Am John 5", "Howdy" and "The Black Grass Plague" before closing with a great medley of snippets from other artists, starting it off with a tribute to RUSH with clips of "Limelight" and "Fly By Night", then branching to other tracks like "Thunder Kiss 65" (WHITE ZOMBIE), "Spoonman" (SOUNDGARDEN), "Dr. Feelgood" (MOTLEY CRUE), "Unchained" (VAN HALEN) and "Walk" (PANTERA) among others. JOHN 5's performance alone was worth the price of admission, so make sure you get there ealy enough to catch his set!
Now, having caught QUEENSRYCHE every time they have come through town with Todd La Torre has given me some familiarity with their sets so the only thing left to be determined was whether or not this show would follow the similar patterns of the past. I was pleasantly surprised to have walked away from this particular show having noticed three distinct differences from other shows.
The first thing of note was that instead of a one-size-fits-all setlist, QUEENSRYCHE is now alternating songs (which unless I missed something they had not been doing before, the set was the same for all shows). Whereas Austin, Texas got the songs "Blood Of The Levant" and "Breaking The Silence", Houston got "Man The Machine" (a better song IMO) and "I Don't Believe In Love". Secondly, they seem to be pulling out a few deeper cuts than previously, opening the show with "The Prophecy" from the band's 1983 debut EP and also performing "Resistance" from 1990's Empire and "No Sanctuary" from The Warning (1984). In addition, if you've read any of my previous show reviews my only complaint was the thought that the set was too short (15 songs, 1 hour 15 minutes). Whether it was a result of those or other feedback, the band extended their set to 17 songs and an hour and a half. Kudos QUEENSRYCHE!
Of course, no QUEENSRYCHE show would be complete without some of the band's greatest hits and they delivered in the form of "Walk In The Shadows", "Take Hold Of The Flame", "Jet City Woman", "Silent Lucidity" and Queen Of The Reich", a track that still induces chills every time I hear La Torre hit that initial intro high note. From the new album The Verdict we got the aforementoned "Man The Machine", "Bent", "Light-years" and "Dark Reverie". The band, as has always been the case of late, sounded super tight and on point in every way. QUEENSRYCHE seems to reach new highs with each new album again and frontman Todd La Tore continues to excel and remove any doubt that he is an ample replacement for the departed Geoff Tate. Definitely a show not to be missed!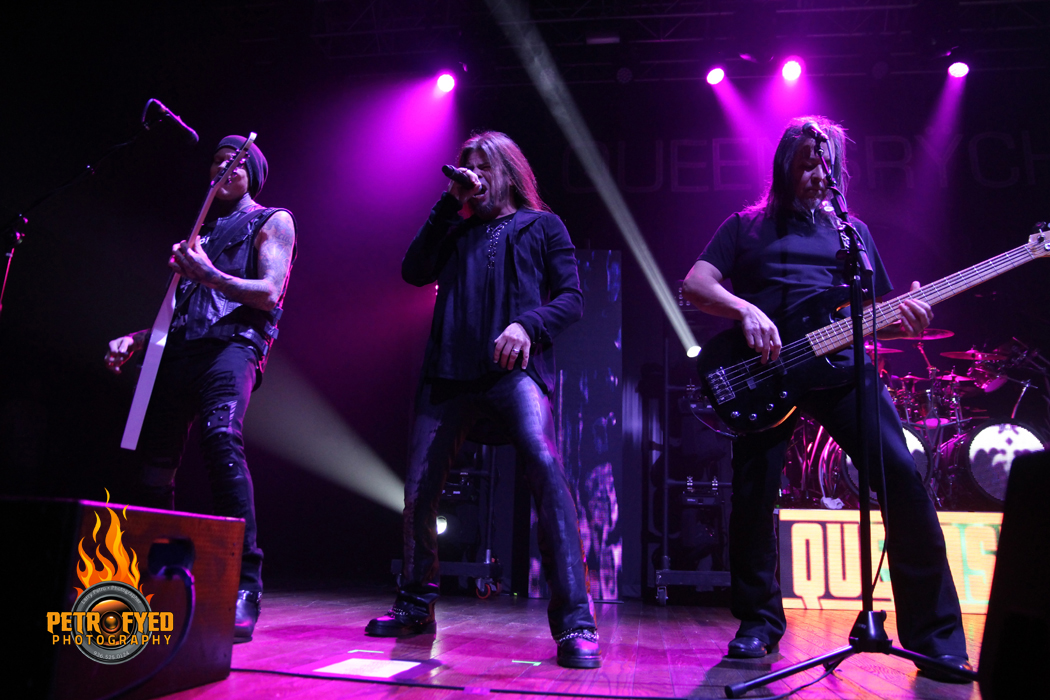 Setlist:
"The Prophecy"
"Operation: Mindcrime"
"Walk In The Shadows"
"Resistance"
"Take Hold Of The Flame"
"No Sanctuary"
"Man The Machine"
"Bent"
"Jet City Woman"
"Dark Reverie"
"Silent Lucidity"
"I Don't Believe In Love"
"Screaming In Digital"
"Queen Of The Reich"
Encore:
"Light-years"
"Empire"
"Eyes Of A Stranger"
Check out some more photos from the show!
All Photos By Larry Petro/Petrofyed Photography




Please log in to view RANTS

If you don't have a username, click here to create an account!