SONS OF APOLLO In Hollywood, CA With Photos!


By Junkman, On-Air Personality
Monday, February 3, 2020 @ 1:15 PM


| | | |
| --- | --- | --- |
| | | At The Roxy Theater 1-25-20 |
All Photos By Junkman
Cohesion - "Intermolecular attraction, holding together particles in the mass". This describes a bond. This also describes the band SONS OF APOLLO. The five members of this outfit- Singer Jeff Scott Soto, guitarist Ron "Bumblefoot" Thal, bassist Billy Sheehan, drummer Mike Portnoy, and keyboardist Derek Sherinian, share many common bonds. They have all been parts of many of the most technically sound rock bands of the modern era. But, judging from their output, both on record, and in performance, their best bond is when they bring out the best of each other while playing together.
Having just released their second collaborative effort, MMXX, they recently played a "homecoming" show of sorts, at the world-famous Roxy Theater in West Hollywood. It was sold out, a packed house, full of fellow musicians, media members, family and fans, and they literally blew the roof off the place. Luckily for me, I was there to witness, and like everyone else in that room, gasp at their musical prowess, as well as their obvious love and respect for each other onstage. In other words, a serious Saturday night sonic beat down!
After some very technical, progressive-metal opening sets from SCHEIRMANN, featuring guitarist Chris Scheirmann, as well as guitar-god Tony MacAlpine and his band, SONS OF APOLLO hit their mark onstage and gave the audience exactly what it had come for, and then some. All eyes were on dynamic vocalist Jeff Scott Soto, who was truly pumped up for the event. Opening with two new tracks "Goodbye Divinity" and "Fall To Ascend", Soto was a huge leaping ball of energy, as he belted out his strong vocals and commanded the Roxy stage with all his his 6 foot plus frame would allow.
The songs are so technical in their composition, as you can imagine, and the true leader, instrumentally, seemed to be Thal. He appeared resplendent in a wide-brimmed hat, and sporting his famous double-necked Vigier signature guitar. He literally took the role as band leader, although with the amount of talent on that stage, any one of the five members could have filled that post.
Each member of the band got a chance to shine during the set, as the other band members, especially Soto, looked back and smiled at the soloist, again, clearly enjoying the dynamics and depth of that member's musical ability. During "Labyrinth" bassist Billy Sheehan put on a clinic of what can be done with a double necked bass guitar. Sounds and technique of which are so unique came from his talented hands. The crowd, just like the band, watched and roared their approval throughout.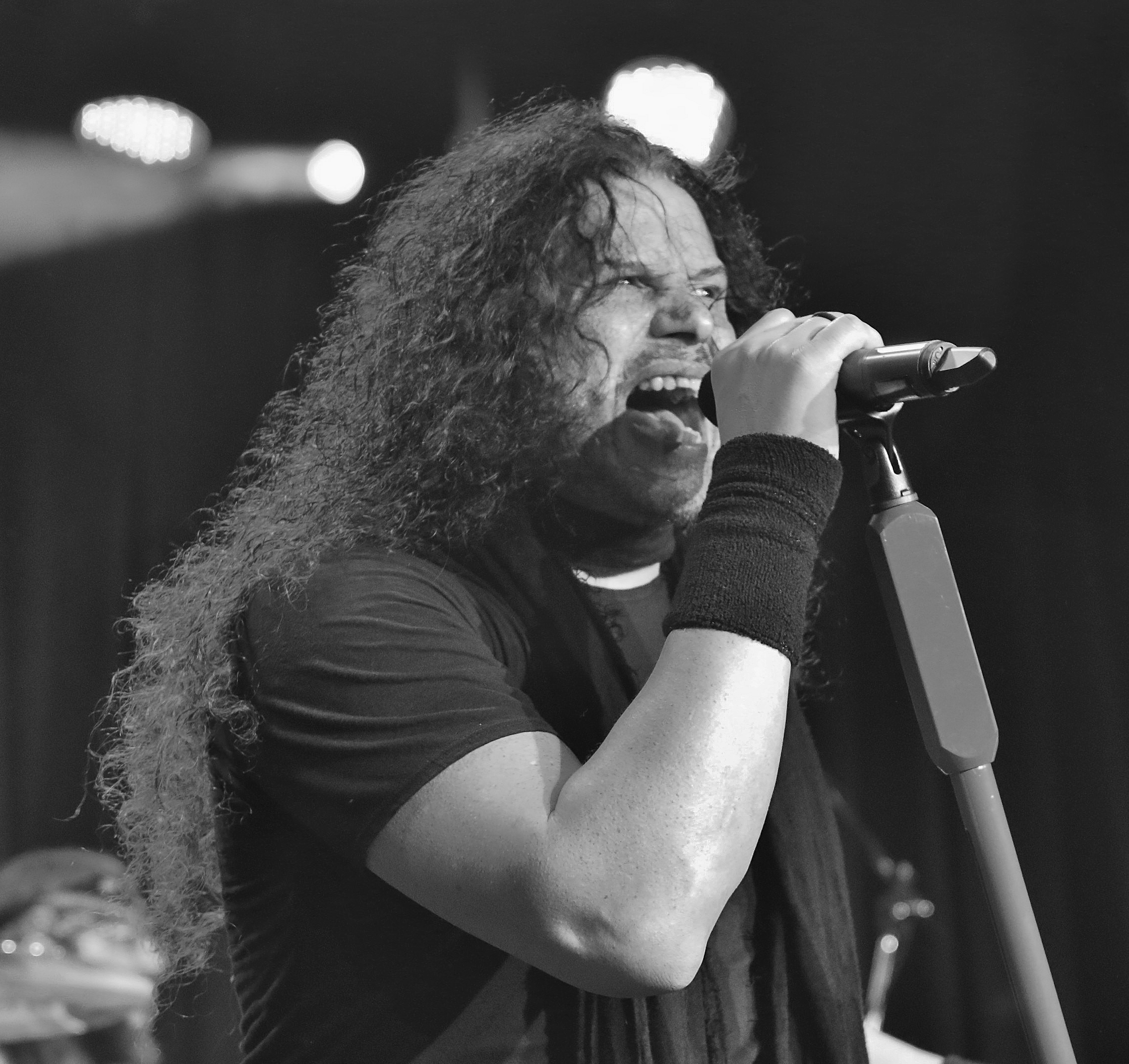 Drummer Portnoy exclaimed "There is more noodling going on here than at a ramen restaurant." Portnoy, the tempo master throughout the set, seemed to be challenging his bandmates as he broke with the groove just long enough to make a statement, such as early on in the set when the band paid tribute to the recent death of RUSH drummer Neil Peart by including a bit of "Tom Sawyer" into the song "Wither To Black", again from the latest release.
A very emotional moment of the show was when Soto dedicated the new song "Desolate July" to his friend and former TRANS-SIBERIAN ORCHESTRA bandmate David Z, who had passed away in 2017 in an automobile crash while touring with the band ADRENALINE MOB. A beautiful ballad that emphasizes many of the bands best recorded output, Soto let it all out onstage, as the crowd absorbed it all, delivering the loudest applause of the evening at its conclusion.
During "King Of Delusion" keyboardist Derek Sherinian started with a simple piano riff which quickly developed into a warp speed Portnoy induced tempo, that once again, brought the band to their apex. Soto again addressed the recent death of Neil Peart by dedicating "Alive" from their first record, 2017's Psychotic Symphony to his memory. Yet another new song, "New World Today", followed and featured Thal using a very Jeff Beck/David Gilmour-esque style tone for the intro and quickly escalading into a very EMERSON, LAKE AND PALMER style keyboard sound from Sherinian. It is always great to see a master musician give a salute his influences. After yet another in a seemingly endless evening of guitar runs, Thal jokingly shook his fret hand as if too imply he was tired, which made me chuckle, if just for a moment.
Derek Sherinian then had a chance to spotlight his incredible keyboard skills. Plenty of Hammond B-3 sounds began and then progressed to a 1970's style synthesizer which morphed into a guitar sound. So much so, that Sherinian threw in bits from Edward Van Halen's famous "Eruption" solo and incorporated it into his composition. All the while, a single spotlight above bathed him in a moody, blue haze that helped truly emphasize the dynamics of his eye and ear opening skills as a musician.
The band then ended their set with "God of the Sun" from the first release, and briefly left the stage to a huge applause. They then returned, along with Tony MacAlpine on second guitar. Soto exclaimed "We're gonna have some FUN!" and the band launched into a scorching version of the DEEP PURPLE classic "Burn". Great interplay between the band and MacAlpine ensued, as you can imagine. Thal took the Glenn Hughes second vocal parts and nailed them. Sheehan blew our collective minds as he played Ritchie Blackmore's original guitar solo, note for note, on BASS!
It was then time for their last song of the evening and appropriately, it was "Coming Home" from Psychotic Symphony. While the band rocked, Jeff Scott Soto, continuing his energy bursts, ran from the stage to the soundboard, and then to the bar, leading the crowd in a sing-along of the chorus. He then downed a shot of god-knows-what, and sang the chorus acapella, without the aid of a microphone. His strong vocals combined with the gasping, adoring crowd, allowed for it to work. He is an outstanding front man in every way, and just like the band behind him, showed his skills aplenty in this day of the "impress me" crowd, which included a lot of his contemporaries, and industry people.
And impressed we all were. The skill level of this band is almost unparalleled in the rock genre these days. The songs are all memorable, and the performance is very entertaining. Best of all, as I mentioned, it's so refreshing to see a band that truly enjoys playing together. They are on tur through the US and Europe as of this writing. For more info go to www.sonsofapollo.com. My thanks to those that made it possible for me to attend.







Check out some more photos from the show!
All Photos By Junkman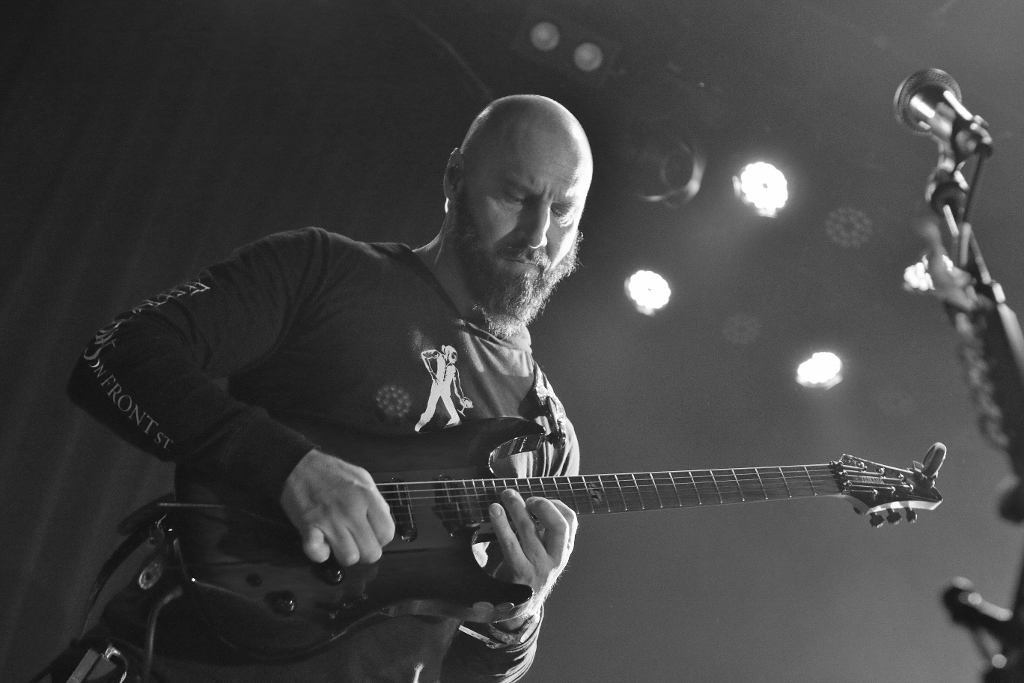 Please log in to view RANTS