VINNIE MOORE Soul Shifter


By Geoff Ketler, Cleveland Contributor
Wednesday, February 12, 2020 @ 3:38 PM


| | | |
| --- | --- | --- |
| | | |
VINNIE MOORE
Soul Shifter
Mind's Eye Music




Out now in the US via CD Baby and available February 21st in Europe via Mind's Eye Music is guitar virtuoso Vinnie Moore's latest offering, Soul Shifter. Like the album title suggests, this record is full of soulful stylings and funk – a true guitar player's work through and through with elements of blues, a bit of country-western and soul. With looming retirement plans set for Vinnie's current gig with UFO, perhaps it was time once again to call upon his knack for writing tasty licks for a fresh instrumental solo masterpiece.

Take a seat, because right from the get-go, class is in session. "Funk Bone Jam" will cramp your hands upon first listening. It is an exquisite piece of art that showcases Vinnie's abilities to scream up and down the fretboard with ease and stop on a dime. There is something sentimental and classic-sounding to "Gainesville Station" which also features a thrilling guitar/piano duel between Vinnie and DREAM THEATER's Jordan Rudess. The song was written as a tip of the cap to Steve Gaines - one of Vinnie's main influences. "Kung Fu Grip" offers even more of that dirty funk with a groove that will weaken the knees and warm hearts. The mix is bright, clean and elegant thoughout; a credit to the abilities of Stephen Deacutis at Sound Spa Productions.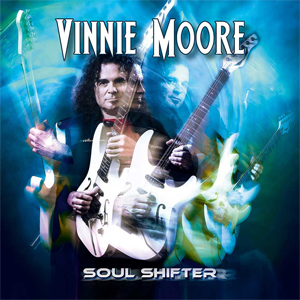 Pardon the redundancy, but Vinnie Moore simply pours out his soul on Soul Shifter. Untethered by the formalities of genres or the realm of UFO, Vinnie is able to spill his guitarwork across boundaries based on his feelings and express his deep appreciation for those that influenced him as a player. Soul Shifter is not really a rock album or anything metal for that matter, but the listener will appreciate the skillfulness, talent and guitar wisdom bestowed upon them by simply pressing "play".
Vinnie has referred to Soul Shifter as the most soulful thing he has ever done and I would have to agree. Although it is strictly instrumental, it does not lack depth. He may be pegged as the last guitarist in UFO - one of the most influential rock bands of all time with a storied history of monster players across several decades and obviously that is nothing to shrug off, but Soul Shifter proves that there is so much more he can offer as a guitarist, song writer and artist. I can rest easy knowing that there is plenty of life (and soul) left after UFO for Vinnie Moore.
5.0 Out Of 5.0

Please log in to view RANTS



MOTÖRHEAD Iron Fist 40th Anniversary Edition

TESLA, KURT DEIMER In Houston, TX With Photos!

CLUTCH Sunrise On Slaughter Beach

SCORPIONS, THUNDERMOTHER In Houston, TX With Photos!

BEHEMOTH Opvs Contra Natvram

IRON MAIDEN, TRIVIUM In Austin, TX With Photos!

AEROSMITH, EXTREME In Boston, MA With Photos!

SAMMY HAGAR, GEORGE THOROGOOD, QUEENSRYCHE In Ridgefield, WA With Photos!

KINGS OF MERCIA Kings of Mercia

OZZY OSBOURNE Patient Number 9 In-Store Record Signing In Long Beach

ALICE IN CHAINS, BREAKING BENJAMIN, BUSH, THUNDERPUSSY In Ridgefield, WA With Photos!

GOATWHORE, INCANTATION, BEWITCHER In Los Angeles With Photos!

SKID ROW The Gang's All Here

FALLUJAH Empyrean

FIVE FINGER DEATH PUNCH, MEGADETH, THE HU, FIRE FROM THE GODS In Houston, TX With Photos!

DEICIDE, KATAKLYSM, INHUMAN CONDITION In Los Angeles With Photos!

KING'S X Three Sides Of One

BLIND GUARDIAN The God Machine

BUTCHER BABIES, UNCURED In Los Angeles

STYX, REO SPEEDWAGON, LOVERBOY In Mansfield, MA With Photos!

AT THE GATES, MUNICIPAL WASTE In Los Angeles With Photos!

OCEANS OF SLUMBER Starlight and Ash

A-Z A-Z

MACHINE HEAD ØF KINGDØM AND CRØWN

MY CHEMICAL ROMANCE In Nashville, TN With Photos!

BELPHEGOR The Devils

THE DEAD DAISIES Radiance

SANTA CRUZ The Return Of The Kings

THE STADIUM TOUR In Houston Photo Gallery

THUNDERMOTHER Black And Gold