VINNIE MOORE Soul Shifter


By Geoff Ketler, Cleveland Contributor
Wednesday, February 12, 2020 @ 3:38 PM


| | | |
| --- | --- | --- |
| | | |
VINNIE MOORE
Soul Shifter
Mind's Eye Music




Out now in the US via CD Baby and available February 21st in Europe via Mind's Eye Music is guitar virtuoso Vinnie Moore's latest offering, Soul Shifter. Like the album title suggests, this record is full of soulful stylings and funk – a true guitar player's work through and through with elements of blues, a bit of country-western and soul. With looming retirement plans set for Vinnie's current gig with UFO, perhaps it was time once again to call upon his knack for writing tasty licks for a fresh instrumental solo masterpiece.

Take a seat, because right from the get-go, class is in session. "Funk Bone Jam" will cramp your hands upon first listening. It is an exquisite piece of art that showcases Vinnie's abilities to scream up and down the fretboard with ease and stop on a dime. There is something sentimental and classic-sounding to "Gainesville Station" which also features a thrilling guitar/piano duel between Vinnie and DREAM THEATER's Jordan Rudess. The song was written as a tip of the cap to Steve Gaines - one of Vinnie's main influences. "Kung Fu Grip" offers even more of that dirty funk with a groove that will weaken the knees and warm hearts. The mix is bright, clean and elegant thoughout; a credit to the abilities of Stephen Deacutis at Sound Spa Productions.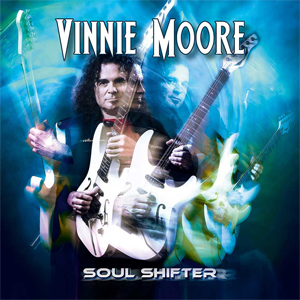 Pardon the redundancy, but Vinnie Moore simply pours out his soul on Soul Shifter. Untethered by the formalities of genres or the realm of UFO, Vinnie is able to spill his guitarwork across boundaries based on his feelings and express his deep appreciation for those that influenced him as a player. Soul Shifter is not really a rock album or anything metal for that matter, but the listener will appreciate the skillfulness, talent and guitar wisdom bestowed upon them by simply pressing "play".
Vinnie has referred to Soul Shifter as the most soulful thing he has ever done and I would have to agree. Although it is strictly instrumental, it does not lack depth. He may be pegged as the last guitarist in UFO - one of the most influential rock bands of all time with a storied history of monster players across several decades and obviously that is nothing to shrug off, but Soul Shifter proves that there is so much more he can offer as a guitarist, song writer and artist. I can rest easy knowing that there is plenty of life (and soul) left after UFO for Vinnie Moore.
5.0 Out Of 5.0

Please log in to view RANTS



OBITUARY, IMMOLATION, BLOOD INCANTATION, INGROWN In Los Angeles With Photos!

SAVOY BROWN Blues All Around

JAG PANZER The Hallowed

THE DEFIANTS Drive

GLORYHAMMER Return To The Kingdom Of Fife

NIGHT LEGION Fight Or Fall

IMMORTAL War Against All

JOE PERRY Sweetzerland Manifesto MKII

BUCKCHERRY Vol. 10

DAVE LOMBARDO Rites Of Percussion

HELLOWEEN, HAMMERFALL In Worcester, MA With Photos!

DARK FUNERAL, CATTLE DECAPITATION, 200 STAB WOUNDS, BLACKBRAID In Houston, TX With Photos!

MR. BUNGLE, MELVINS, SPOTLIGHTS In Portland, OR With Photos!

PANTERA At Welcome To Rockville With Photos!

THE BLACK DAHLIA MURDER, TERROR, FROZEN SOUL, FUMING MOUTH, PHOBOPHILIC In Anaheim, CA With Photos!

ENFORCER Nostalgia

BUZZFEST Featuring GODSMACK, I PREVAIL, HIGHLY SUSPECT, THE STRUTS And Others In Houston, TX With Photos!

SLEEP TOKEN Take Me Back to Eden

UGLY KID JOE, FOZZY, PISTOLS AT DAWN In Houston, TX With Photos!

TESLA, FASTEST LAND ANIMAL, KURT DIEMER In Orlando, FL With Photos!

CATTLE DECAPITATION Terrasite

TYGERS OF PAN TANG Bloodlines

MYSTIC PROPHECY Hellriot

WHITECHAPEL, ARCHSPIRE, SIGNS OF THE SWARM, ENTHEOS In Santa Ana With Photos!

ALCATRAZZ Take No Prisoners

BURNING WITCHES The Dark Tower

ELVENKING Reader Of The Runes - Rapture

CHAOS AND CHARNAGE Tour Featuring SUICIDE SILENCE, DYING FETUS, BORN OF OSIRIS, ABORTED, CROWN MAGNETAR, SANGUISUGABOGG And SLAY SQUAD In Anaheim With Photos!

ENFORCED War Remains

SAVAGE EXISTENCE Savage Existence

BLACK ROZE Penny For Your Sins

WINGER Seven