DELAIN Apocalypse & Chill


By Peter Atkinson, Contributor
Saturday, February 15, 2020 @ 12:19 AM


| | | |
| --- | --- | --- |
| | | |
DELAIN
Apocalypse & Chill
Napalm Records




Over five albums, Holland's DELAIN has carved out a niche on the more "metal" side of the "female-fronted symphonic metal" scale. And while it hasn't yet quite found the arena-sized audiences of more grandiose compatriots NIGHTWISH or WITHIN TEMPTATION, or gone after it with the calculating pop anthemics of AMARANTHE, DELAIN's approach of offering a bit more substance with less pretense has certainly connected.

And that's likely to continue in earnest with its sixth outing, Apocalypse & Chill, which lives up to its title by contrasting metallic muscle flexing with quieter, more serene moments, all built around frontwoman Charlotte Wessels' disarming vocals and poignant, yet often dour lyrics. Even as the album gets off to an upbeat start with the lively punch of "One Second", she sings of the lingering sting of lost love and carries that over on the mournful reflections of "We Had Everything" - "We were blind, Didn't know that what we left behind, Was never to return, But in dreams, Bittersweet."

The yin and yang are strong with this one, to borrow from Darth Vader, but they play pretty well together. The abrasive, resounding riffs of "Creature" or "Let's Dance" are tempered by Wessels' breathy delivery and impish tone during the verses and choruses. The album's mellowest tune, the sparse, operatic "Ghost House Heart", is followed by some of its most bombastic, "Masters of Destiny" - a carry over from the 2019 Hunter's Moon EP - and "Legions Of The Lost", with their orchestral pomp and choirs, beefy swells and Wessels' more assertive presence.

The ample heavier moments here are sometimes jarringly so, even with the departure or rhythm guitarist Merel Bechtold leaving Timo Somers to carry the load on his own. But with a modestly more pronounced bottom end adding some backbone, the cascade of guitar on "Chemical Redemption", "To Live Is To Die" or "Burning Bridges" or the stutter-step near djentiness of the instrumental finale "Combustion" deliver some legitimately mighty crunch, even without symphonic embellishments of founding keyboardist Martijn Westerholt – although those certainly don't hurt.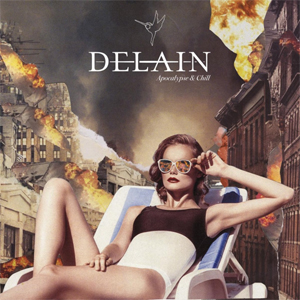 Ironically, the most seemingly threatening track here, "Vengeance", is one of the most listener friendly as Wessels trades off/duets with BEAST IN BLACK frontman Yannis Papadopoulos and the husky guitars give way to supple harmonies and super catchy arrangements. "The Greatest Escape" offers a similar approach but goes a bit too far and comes off sounding sappy and is perhaps the only track on the album that fails to resonate.
Otherwise, Apocalypse & Chill is pretty much note perfect. Wessels' is an enchanting yet forceful frontwoman and her bandmates are in top form here, performance-wise and compositionally. Accessible and airy, yet more than ballsy enough to really have and impact, Apocalypse & Chill is nicely balanced and very easy to warm up to, all while avoiding many of the usual "female-fronted symphonic metal" pitfalls.
4.5 Out Of 5.0




Please log in to view RANTS

If you don't have a username, click here to create an account!