METAL ALLEGIANCE In Los Angeles, CA With Photos!


By Larry Petro, News Monkey
Monday, February 17, 2020 @ 8:08 AM


| | | |
| --- | --- | --- |
| | | At The House Of Blues |
Review And Photos By Diego Gonzales, Los Angeles Photographer and Director
@diegogonzalespictures
Once a year the planets align for the National Association of Music Merchants (NAMM) convention. As a true bonus to NAMM, there are several epic concert events in the evenings. If you chose right, you'd know the standout event of NAMM on Thursday night was METAL ALLEGIANCE at the House of Blues Anaheim. This year, and for this event, the bill consisted of three powerhouse bands, along with headliner METAL ALLEGIANCE.
The night kicked off with California Bay Area band TRAUMA. They did not play or sound like a warm-up band. Come to find out they have cut their teeth playing for many years and have the albums to prove it. Their music and active performance stood as testament to their solid heavy playing. The band is made up of founder/vocalist Donny Hillier, drummer Kris Gustofson, bassist Greg Christian (founding member of TESTAMENT), and guitarists Joe Fraulob (formerly of DANZIG) and Steve Robello (DUBLIN DEATH PATROL).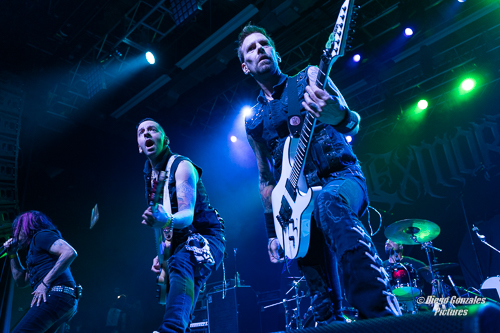 Next on the bill was WEAPONS OF ANEW. My KNAC.COM counterpart Francisco Z interviewed the band before the show. I assisted with technical items and filming the interview. The interview are available HERE. For my feelings on the band, I can sum things up by saying I was never so pleased to see such down to earth, classy dudes rock up to the stage and totally light things on fire. To see such chill guys absolutely turn into super-skilled Heavy Metal monsters was a total victory moment. I loved their nuclear stage energy, and precisely executed songs. The crowd clearly embraced these guys. WEAPONS OF ANEW is Ray West on vocals, Freddy Ordine guitar, Stefan "Reno" Cutrupi on bass, and Chris Manfre on drums.
Another brilliant gem for the show was EXMORTUS. Always brutal, and with their fantastically Thrashy wonderfully intricate Metal, they created an awe of magnificence and electricity. EXMORTUS, widely known for touring with the likes of MARTY FRIEDMAN, AMON AMARTH, CHILDREN OF BODOM, and OBITUARY is always worthy of attendance for them alone. EXMORTUS is Jadran "Conan" Gonzalez on vocals/guitar, Chase Becker with more guitar, Phillip Cody Nuñez on bass, and drummer Adrian Aguilar. This night was another measure of proof for just how badass this band is. EXMORTUS is a Los Angeles band that carries the pride of my fellow Hispanic brothers. They continue to be a testament to the finest American Heavy Metal created by a rich history of Hispanic/Latino musicians. Cheers to Chase Becker who, if he isn't Hispanic by blood, is honorarily so now.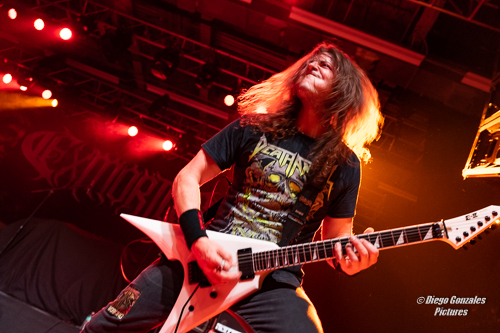 As if the night weren't enough, with three incredible Metal bands, the featured reason for celebration was upon us. WWE Superstar Erick Rowan came center-stage to introduce METAL ALLEGIANCE. METAL ALLEGIANCE is the true definition of a super group. It's built from the absolute top shelf of contemporary Metal musicians.
METAL ALLEGIANCE was founded by bass players and producers Mark Menghi and Dave Ellefson (MEGADETH), drummer Mike Portnoy (DREAM THEATER/WINERY DOGS/SONS OF APOLLO), and guitarist Alex Skolnick (TESTAMENT). Other creators/collaborators are fluid ranging from the likes of John Bush (ARMORED SAINT), Johan Hegg (AMON AMARTH), and Joe Satriani. Ellefson and Satriani were not in attendance that night, but some other stars shined so bright in their stead. For better understanding, METAL ALLEGIANCE is a bit of a dynamic ensemble of heavy hitter friends. Kind of like a deck of cards that, once shuffled and dealt, forces you to hold back your smile so you don't tell your hand to the table. METAL ALLEGIANCE has a few studio albums, but is also known for putting on live events with legendary lineups.
The METAL ALLEGIANCE set was filled with their original songs and absolute legendary tribute Metal hits. All were feel good tunes played in a way that made them magic moments. Moments that needed to be burnt into memories. A standout vocalist of the night was Bobby "Blitz" Ellsworth (OVERKILL). My favorite of his was "Exciter" by JUDAS PRIEST. His range and raw, high-altitude, tone was from another planet. Blitz owned the stage and summoned an energy from his bandmates that was palpable to lightning.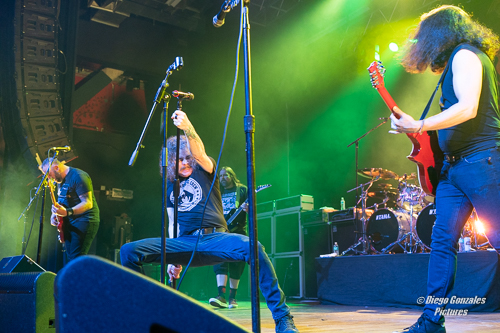 Other Metal superstar players that took the stage included Chuck Billy (TESTAMENT). His versatility and proven power always made the crowd erupt. John Bush (ARMORED SAINT) performed "Bound by Silence", and teamed up with Chuck Billy on an awesome rendition of UFO's "Lights Out". Insane guitarists Phil Demmel (MACHINE HEAD) and Andreas Kisser (SEPULTURA) brought their power. Troy Sanders (MASTODON) led with some strong vocals. Visually, he seemed a little bare without his usual low-slung bass, but his performances left nothing to be missed. In between electric guitar riffs and solos, and while still wearing it, Alex Skolnick played a stationary acoustic guitar. He held the crowd on edge for every one of those notes.
The night became legend when Gary Holt walked up to the drum riser, put his foot down, and faced Dave Lombardo as the band broke into "Postmortem". Gary hammered out his usual heavy machine gun-like delivery right in front of one of Dave's bass drums. Eye to eye, they played SLAYER as though no one else was even in the building. Normally, one doesn't play with his back to the audience, but it felt special to be included in the same room as two artists who were clearly playing with friendship and joy for the presence of each other's notes. The mutual respect, delivered admiration, and monstrosity of sound these particular two created shrank the auditorium. This allowed a spectator to feel like they were part of the two playing. The rest of the band facilitated with flawless brutality and Mark Osegueda (DEATH ANGEL) fantastically killed the vocal part. ME went on to play "Rain in Blood" and "Angel of Death".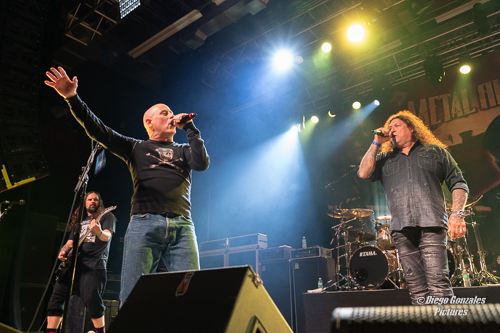 Righteous tribute was paid to fallen icon Neil Peart. "Tom Sawyer" was played with reverence and awe. Mark Osegueda held down the vocals. Three guitars lit the stage from Alex Skolnick, Jeff Loomis, and Dave Davidson (REVOCATION). Mark Menghi and Heavy Metal cowboy boot wearing Jack Gibson from EXODUS laid down the bass. Mike Portnoy himself religiously handled the featured duties on drums.
The show ended by firing on all cylinders when every ME player took the stage for all-star jam outs for "Running Free" (IRON MAIDEN) and "Overkill" (MOTORHEAD). Everyone traded licks, leaned on their bros, and filled the sound. I even saw Troy Sanders get a hold of a bass again. House of Blues Anaheim was the perfect intimate-sized venue for this event. The sound was crystal and the lighting was super-pro. Everything from the mosh pits to the smiles on the players and concertgoers faces highlighted just how feel-good Metal is for the masses. METAL ALLEGIANCE is the real deal. They have the best bands and the best artists playing the best Metal of our time.
Check out some more photos from the show!
Photos By Diego Gonzales, Los Angeles Photographer and Director
@diegogonzalespictures

Please log in to view RANTS