UFO, DAMON JOHNSON In Cleveland, OH With Photos!


By Geoff Ketler, Cleveland Contributor
Wednesday, February 19, 2020 @ 12:35 AM


| | | |
| --- | --- | --- |
| | | "Final Orders Tour" Means "Lights Out" In Cleveland One Last Time |
All Photos By Geoff Ketler/Aces High Photography
It has been fifty-two years – I will say it again, fifty-two years since UFO formed in London and forever changed the music landscape for future generations to come. With founding member and vocalist Phil Mogg eclipsing 70-years of age amidst these last couple of tour cycles, he has decided to call it a day and officially retire from UFO. It is unclear if the band will continue on without him, but if so, it really would never be the same and more of a tribute act than anything else. I really just cannot see that happening, especially since Phil is really the only constant member of the group that has seen its share of lineup changes and turmoil over the past half-century.
Supporting UFO on this final US tour is guitarist/vocalist Damon Johnson. The Alabamian has played with the likes of Alice Cooper, THIN LIZZY and BROTHER CANE. I was fully expecting several songs from those bands to come up – and they did, but what I didn't expect was that awesome voice. Holy cow, Damon has pipes and all the material was solid, especially the BROTHER CANE stuff that I had not heard in years. The solo material sprinkled into the set was serviceable, but what got the fans up and out of their seats was the THIN LIZZY medley. Damon Johnson prefaced that portion of the set but speaking fondly of his time with the group since joining them in 2011 and how THIN LIZZY was one of those bands that he grew up with; cranking it up in his car, along with the mighty UFO. I sincerely enjoyed Damon's start to the evening. He is a great vocalist, solid guitar player and a showman.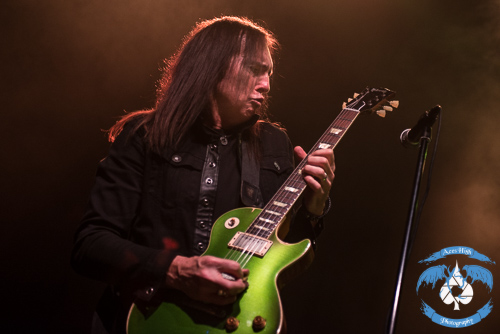 Setlist:
"Breadmaker" (BROTHER CANE)
"Dallas Coulda Been A Beatdown"
"Got No Shame" (BROTHER CANE)
"20/20 Faith" (BROTHER CANE)
"Down On Me"
"And Fools Shine On" (BROTHER CANE)
"Jailbreak" (THIN LIZZY)
"Johnny The Fox Meets Jimmy The Weed" (THIN LIZZY)
"The Boys Are Back In Town" (THIN LIZZY)
"Shivering Shivering"
A quick set change revealed a very stripped-down stage for UFO. There was no drum riser for Andy Parker's kit and the modest backdrop barely covered the center of the house curtains. It really makes no difference – we all knew who they were and it would be the songs that would carry them through the night. Everyone took their positions; sauntering out to center stage was Phil Mogg, dressed to the nines with a velvet vest, tie and hat – all in black. In typical Mogg fashion, he made a point to announce the songs before they were performed, usually accompanied by a one-liner; all part of his witty British charm. At times it was tough to hear Phil at the conclusion of a number due to the thunderous chants of "U-F-O".

The night continued on like any other UFO show. There was no time for emotions, stories or anything pertaining to the elephant in the room – the looming retirement. I was surprised also that there was no mention of Paul Raymond who passed away in the middle of the tour last year. Apparently sentimentality was not on the menu, but a cascade of hits encompassing five decades of rock n' roll was.
The setlist for a band like UFO is almost already pre-written. With that amount of hits at your fingertips, the group really only has a few tracks to sort of play around with on any given evening. I was delighted to hear "Venus", a fantastic song off of the oft-forgotten mid-90's, Michael Schenker reunion album, Walk On Water. Vinnie Moore was legendary, as always; ripping tasty licks, highlighted by his purely jaw-dropping extended solo in "Rock Bottom". Returning to the fold after Paul Raymond's passing was keyboardist/rhythm guitarist Neil Carter who had previously worked with the band in the early eighties. Neil was extremely active on stage; trading guitar for keys over and over again.
Despite the aging process, Phil Mogg still has the golden pipes. He can bring it, although the mic stand tosses have drastically declined. I have truly been blessed to get to photograph the mighty UFO several times – each time I am reminded of why they are held in such high regard by musicians everywhere. UFO will likely be remembered as a major influential piece to modern hard rock; just ask any successful rock musician today. Despite the band's strong catalogue of songs and raucous live performances, criminally they managed modest success. Although we may never see UFO live again, we will always have the songs to remind us of their greatness. I will never forget UFO and neither will the hundreds of fans who left the Cleveland Agora, having turned out the lights for the last time.
Setlist:
"Mother Mary"
"We Belong To The Night"
"Run Boy Run"
"Venus"
"Lights Out"
"Ain't No Baby"
"Only You Can Rock Me"
"Burn Your House Down"
"Cherry"
"Love To Love"
"Too Hot To Handle"
"Rock Bottom"
Encore:
"Doctor Doctor"
"Shoot Shoot"
Check out some more photos from the show!
All Photos By Geoff Ketler/Aces High Photography

Please log in to view RANTS



IMMORTAL War Against All

JOE PERRY Sweetzerland Manifesto MKII

BUCKCHERRY Vol. 10

DAVE LOMBARDO Rites Of Percussion

HELLOWEEN, HAMMERFALL In Worcester, MA With Photos!

DARK FUNERAL, CATTLE DECAPITATION, 200 STAB WOUNDS, BLACKBRAID In Houston, TX With Photos!

MR. BUNGLE, MELVINS, SPOTLIGHTS In Portland, OR With Photos!

PANTERA At Welcome To Rockville With Photos!

THE BLACK DAHLIA MURDER, TERROR, FROZEN SOUL, FUMING MOUTH, PHOBOPHILIC In Anaheim, CA With Photos!

ENFORCER Nostalgia

BUZZFEST Featuring GODSMACK, I PREVAIL, HIGHLY SUSPECT, THE STRUTS And Others In Houston, TX With Photos!

SLEEP TOKEN Take Me Back to Eden

UGLY KID JOE, FOZZY, PISTOLS AT DAWN In Houston, TX With Photos!

TESLA, FASTEST LAND ANIMAL, KURT DIEMER In Orlando, FL With Photos!

CATTLE DECAPITATION Terrasite

TYGERS OF PAN TANG Bloodlines

MYSTIC PROPHECY Hellriot

WHITECHAPEL, ARCHSPIRE, SIGNS OF THE SWARM, ENTHEOS In Santa Ana With Photos!

ALCATRAZZ Take No Prisoners

BURNING WITCHES The Dark Tower

ELVENKING Reader Of The Runes - Rapture

CHAOS AND CHARNAGE Tour Featuring SUICIDE SILENCE, DYING FETUS, BORN OF OSIRIS, ABORTED, CROWN MAGNETAR, SANGUISUGABOGG And SLAY SQUAD In Anaheim With Photos!

ENFORCED War Remains

SAVAGE EXISTENCE Savage Existence

BLACK ROZE Penny For Your Sins

WINGER Seven

JASON BIELER AND THE BARON VON BIELSKI ORCHESTRA Postcards From The Asylum

TITAN'S WRATH Will Of The Beast