OZZY OSBOURNE Ordinary Man


By Francisco Zamudio, Metal X Candy 2.0
Sunday, March 1, 2020 @ 10:22 AM


| | | |
| --- | --- | --- |
| | | |
OZZY OSBOURNE
Ordinary Man
Epic Records




Open-minded doesn't mean accepting of everything that floats your way. As a purist, or some would like to say elitist (a stigmatized term that gets a bad rap sometimes) we desire to maintain that level of maturity that comes from our heavy, dark and out-casted sense of security that has helped us to not only relate to Heavy Rock and Metal music but helped us in many mental and physical ways. When that boundary is crossed and exploited, you can damn sure count on us raising hell about it. Case in point, targeting those unfamiliar with a largely well-respected Artist whose life and music is indescribably influential, these pop "artists" (some who claim to have always liked Rock and Metal) and their whole camp are guilty of culture misappropriation. Their marketing towards a demographic that really aren't music fans all, but simpletons who ride whatever trendy wave comes around.

We can only assume at this point whoever is pushing The Prince of Darkness (around) in this direction is solely posting him in front of a mic' for the success that they hope will come with commercial popularity (ie the "pop" crowd) with his 12th album, the latest known as ORDINARY MAN. Now at this point in OZZY OSBOURNE's career, whatever effort he puts out will be welcomed exponentially by those who love, respect him and know his music well. The days of Randy Rhoads, Jake E. Lee, Bob Daisley, Randy Castillo, the recent acknowledgement in the form of quadruple and triple platinum albums yielded to drummer Lee Kerslake and the commercial success of the Zakk Wilde collaborations won't see this as an album that stands the test of time. On paper, the roster of musicians on ORDINARY MAN is anything but ordinary but not reflected in the album itself. These aren't just session guys either. Chad Smith on drums, Duff McKagen on bass, Tom Morello and Slash on guitars. Hell, even the highest respect to old school "rocker" Elton John, whose appearance on the title track makes it probably one of the strongest tracks on the album. A track that really should have been the last one on the album, would have been amazing had the two taken their time and wrote a track that would have been reminiscent of Don Airey's era from the DIARY and BARK days, and would have been a much more appropriate way to say goodbye, considering Ozzy's current state.

With 2 years of concert cancellations and cancelled appearances, I have no doubt The Prince of Darkness' Black Heart (compliment) just isn't into it physically anymore and quite possibly mentally, and is possibly being forced into things. I'm sure a lot of reviewers will take this album at face value and simply say it's great without any sort of retort with fear of repercussions for being outspoken about it being a subpar album - versus albums such as DIARY OF A MADMAN, NO MORE TEARS, BARK AT THE MOON and ULTIMATE SIN.

The "wall of sound" on "HOLY FOR TONIGHT" gives off a PINK FLOYD, DARK SIDE OF THE MOON vibe which isn't all bad but again another ballad maintaining the way laid back (too much) vibe on the album. The track "GOODBYE" is an obvious awkward-glare-across-the-room to BLACK SABBATH's "IRON MAN" that tries too hard with its odd guitar sound, a tone that comes back to annoy you on Malone's song (I'll get to that later). The track "EAT ME" gives off a heavy hint of "NIB"'s intro with dash of "THE WIZARD".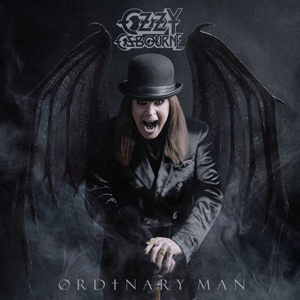 We as rockers and long time fans didn't need nor want things commercialized. Modern pop-culture as it relates to music can and has always negatively affected the balance. At the base level, which honestly is the only catalyst for this, is that they view the listener as simply a consumer. Enter Austin Richard Post aka POST MALONE, the latest tool representing Republic Records (Ariana Grande, Nicki Minaj, Drake, Lil Wayne, GRETA VAN FLEET – puke!). His contribution to this album and having his name mentioned in the same sentence as Ozzy is merely a label move and to their glee, will garner him attention for the few minutes left of his 15. The "posty" track and last bonus (although I'd hardly regard this as a bonus in any way), I'd like those 8 minutes back. The final track features Jacques Berman Webster II, who for whatever reason desires to be known as Travis Scott, appears courtesy of Epic Records which is a subsidiary of SONY MUSIC - the same company that of which own's Ozzy('s music). I'll let that sink in. I nearly couldn't get through the final track as I wasn't in the mood to hear the "N" word on an Ozzy record. Instead it was another ballad blended with typical auto-tune "trap"-rap.
ORDINARY MAN doesn't really take off in any way. For the most part, it's a mellow, ballad filled album with what sounds like his own eulogy on every song, self-reflecting on his life. A life that for the most part has The Prince of Darkness trying to escape the evil influences for so many years. The one true constant that I will always appreciate is the sound of the mans voice, the style in recording and the words that come out of his mouth. This one almost gave me a sense of it being a cry for help. Despite this kink in the armor that has kept this man together through the decades, We will always look to OZZY OSBOURNE as a living legend of Rock and Metal.
2.5 Out Of 5.0




Please log in to view RANTS

If you don't have a username, click here to create an account!