STRYPER, LILIAC, BLACK HEART SAINTS In Houston, TX With Photos!


By Larry Petro, News Monkey
Sunday, March 1, 2020 @ 11:24 AM


| | | |
| --- | --- | --- |
| | | Christian Metal Act Shows The Love On Vaentine's Day At Warehouse Live |
BLACK HEART SAINTS & STRYPER Photos & Review By Larry Petro/Petrofyed Photography
LILIAC Photos & Review By Thomas Coffman/Coffman Photography
Most people have that one band or group of bands that they go to see every time they come through their town and for this reviewer, STRYPER is one of those. The top Christian metal act of all time rolled into H-town on Valentine's Day to show the love to the endearing crowd that had gathered at Warehouse Live.
The first act up for the evening was Austin-based act BLACK HEART SAINTS, who had the honor of opening for STRYPER here on their last go 'round. Since their last appearance in Houston, BHS has released new music in the form of their latest EP, Misery, a 4-track opus that included 3 new original tunes and one cover of Robert Palmer's "Addicted To Love". They put on a spirited 8 song set that included all of the aforementioned EP with the exception of the cover tune, which was replaced with another cover, this being THE BEATLES' "Come Together". And while all the members of the band performed flawlessly, it was the facial expressions and antics of drummer Nathan Flores that really made it such an enjoyable band to photograph.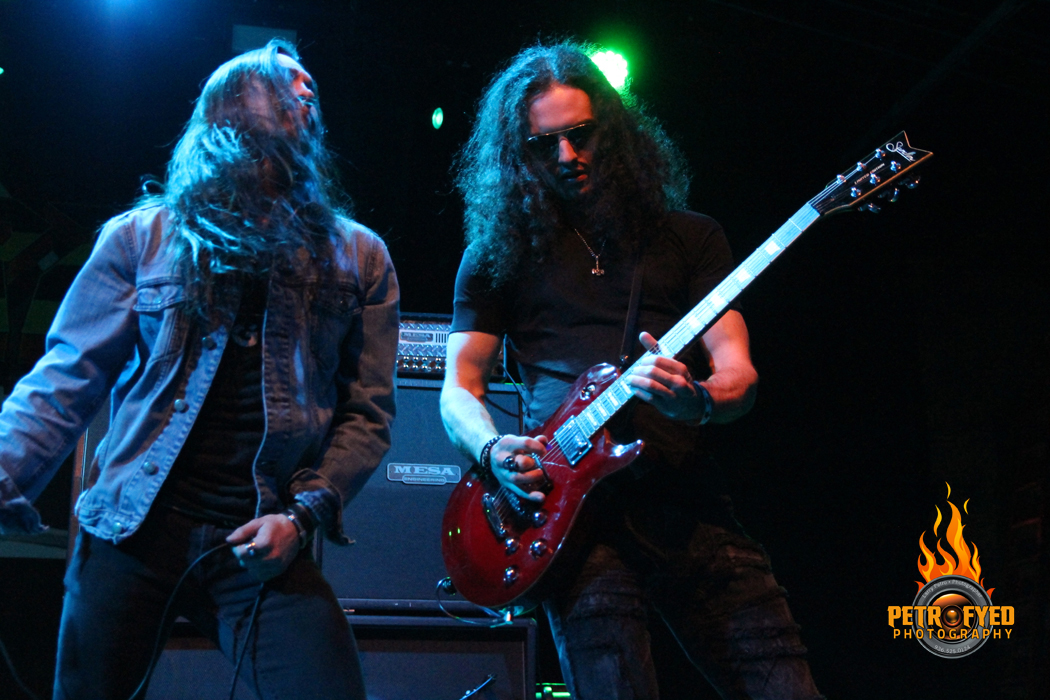 Setlist:
"Gasoline"
"One Last Thrill"
"Lines"
"Crazy"
"Come Together" (THE BEATLES)
"All Night Long"
"Travelin' On"
"Misery"
So its almost show time and LILIAC (The first family of Rock) is doing their pre-show group hug and preparing for what they do best! This is the moment they have been waiting on for months. They used to do pretty much only covers but after the success of their EP Chain of Thornes and now their forthcoming full length album of all originals they are armed and ready to explode on Houston. These 5 brothers and sisters have been taking the country by storm and out to prove that age does not matter, talent does!! The lights are swirling and the back music starts and the crowd gets loud. The band comes out and starts to play their new song "REDO".

Melody, the singer, runs out to a packed venue of anxious fans. Abigail sits behind a massive kit made by Pearl Drums and Sam is shredding on a custom guitar made by Carlino guitars. Justin the "X" man is on the keys and Ethan is slapping the bass. This family started a few years ago on the Santa Monica pier and now travels the country and landed at Warehouse live in Houston. Melody's raspy voice and long hair makes for a very entertaining night. She commands the stage like a seasoned pro. As the night goes on the crowd gets a surprise with LILIAC playing a never before heard song off the new album (no title yet) called "Wild One". It's a very fun and catchy song with a short bass solo. If it is a sample of what's to come, then the new album should make for great listening!

LILIAC played 14 songs ( 8 originals and 5 covers) The audience loves their covers but they are breaking away slowly from doing covers. Their new album album will have 14 new and all original....Can't wait! The future is very bright for this band!

Setlist:
"Redo"*
"Mars"*
"The Trooper"
"Holy Diver"
"Enter Sandman"
"Crazy Train"
"Not Afraid"*
"Dancing in the Dark"*
"Mythical Creature"*
"Hit the Lights"*
Guitar Solo
"Wild One"*
"Chain of Thornes"*
"Rainbow in the Dark"
* Originals

The time had then come for STRYPER to take the stage. Now, on any other Valentine's Day I would probably have other plans to celebrate with my wife, but given the recent discovery of multiple tumors in guitarist Oz Fox's brain there was realy no telling how much longer he would be able to continue to record and tour with the band and so this was one show I needed to go see. The band, of whom I have seen virtually every time they have played Houston in the past 20 years or so, to a pretty good job of varying their setlist from tour to tour and on this night they crashed the stage with "Yahweh", from the fabulous 2015 album "Fallen", then going straight into "The Valley" from the followup album God Damn Evil (2018). From thre it was trip down memory lane with the hits "Calling On You", "Free" and "More Than A Man". Vocalist Michael Sweet, who over the past few years has scaled back his trademarked high pitch screams, took us all the way back to the edbut album, Yellow And Black Attack for "Loving You", followed up by one of my favorite STRYPER tunes and one they haven't performed that often, "Surrender" from the Soldier Under Command release.

The band took a brief break of rocking out to perform the smash ballad "Honestly" before launching into the FIREHOUSE track "All She Wrote", a nod to new bassist Perry Richardson and a song they have been playing live sinde his addition a couple of years ago. The God-rock continued with "In God We Trust", "Always There For You", "All For One" and another crowd favorite, "The Way", before closing the regular set with "Soldiers Under Command". The band returned for two encores, "Sing-Along Song" and "To Hell With The Devil".
The band, as always, prides itself on strong performances and as such, they brought a perfect show to Houston. Richardson has been a great addition to the band and his vocal harmonies fit in nicely. And Oz Fox for his part showed absolutely zero affects from the recent health scare he has had to endure. If one had not seen the tumor news all over Facebook you would have never known that there was anything ailing him at all. Still, if you've never seen STRYPER live before then you might want to make an effort to do so now. Who knows what the future holds.....
Setlist:
"Yahweh"
"The Valley"
"Calling On You"
"Free"
"More Than A Man"
"Loving You"
"Surrender"
"Honestly"
"All She Wrote" (FIREHOUSE)
"In God We Trust"
"Always There For You"
"All For One"
"The Way"
"Soldiers Under Command"
Encore:
"Sing-Along Song"
"To Hell With The Devil"
Check out some more photos from the show!
BLACK HEART SAINTS & STRYPER Photos By Larry Petro/Petrofyed Photography
LILIAC Photos By Thomas Coffman/Coffman Photography

Please log in to view RANTS