JORN Heavy Rock Radio II - Executing The Classics


By Rob McNees, Vinyl Aficionado
Monday, March 2, 2020 @ 6:14 AM


| | | |
| --- | --- | --- |
| | | |
JORN
Heavy Rock Radio II - Executing The Classics
Frontiers Music




The name Jorn Lande is probably fairly unknown to the average Metalhead here in The Colonies. Not that he himself is unknown, quite the contrary. But the average fan would not stumble over the man or his vast musical catalogue thanks to the underwhelming coverage that Metal enjoys here in the Pop/Rap musical scene in the US. Except of course for the saving grace that is KNAC.COM.

So letís shed a bit of light on Jorn and some of his history. He sang with Euro Power Metal band MASTERPLAN with ex-HELLOWEEN guitarist Roland Grapow. He sang for an virtually unknown Power Metal band from Denmark called BEYOND TWILIGHTís album The Devilís Hall of Fame in Ď01. I mention that because itís a great CD. Look it up!! He currently has ALLEN/LANDE with SYMPHONY X singer Russell Allen, that also features ex-STRATOVARIUS guitarist Timo Tolkki. And of course he has his solo project JORN.

A testimony to the manís talent that some might not be aware of is after the passing of the legend that was Ronnie James Dio, HEAVEN & HELL still had a gig lined up for the High Voltage Festival in the UK for later in 2010. The rest of the band honored that gig and RJD and played, with Mr. Jorn Lande as special guest vocalist along with Glenn Hughes. Now if that doesnít tell you what youíre missing if your not already familiar with the man then Iím at a loss here. But if youíd like further proof in 2010 Jorn put out an album called...Dio, a tribute to the man himself. Covering some SABBATH & RAINBOW, but mostly DIO solo. If you count yourself a DIO fan then do yourself a favor and go find the CD and check it out. I certainly enjoyed it and you will too.

Now, on to the present. Following on the heels of 2016ís Heavy Rock Radio, a CD that finds Jorn covering such hits as QUEENís "Killer Queen", EAGLES "Hotel California", JOURNEYís "Donít Stop Believing", plus heavier fare such as DEEP PURPLE, IRON MAIDEN and BLACK SABBATH (Dio era along with solo DIO to boot). A very well received CD indeed. So much so that Frontiers Records asked for another! Which brings us to Heavy Rock Radio II - Executing the Classics. And this one doesnít rely on standard Metal band covers. On the contrary, only his cover of "Mystery" by his hero Dio is there anything that you would say is Metal. But I didnít say there wasnít anything heavy in here. Surprising choices but done Jorn Landeís way. Starting off with Bryan Adams' hit "Lonely Nights", Jorn ups the tempo a bit and riffs it up but doesnít lose the melody or hook in the least. A great starter and showcase for the manís musical chops. Russ Ballardís "Winning" is next, and Jorn isnít the only person to cover this great Ballard number, as Santana himself covered it on his Zebop album from 1981. Excellent version here. Up next is Don Henleyís "New York Minute" fron his Ď89 album The End Of Innocence and it shows how versatile Jornís voice really is. He pulls of Henleyís smooth voice effortlessly.

Still retaining that late 80ís ballad style, thereís just enough Heavy here to get the song a new life. Brilliant indeed. "Needles and Pins" was a song by THE SERACHERS but the only version Iíd ever heard was by the Punk Rock legends THE RAMONES. This version is completely Rock compared to THE RAMONES but both kickass in their own way. And I mentioned SANTANA earlier, Jorn covers the powerful "Love" from one of my fave SANTANA albums, Marathon from Ď79. And Jorn rocks it but again doesnít lose the essence of the song. No mean feat to be sure. THE PAGES "I Do Believe in You" follows and is a song that Iím unfamiliar with. A great uptempo rocker here and something tells me Iíd be a bit spoiled to here the OG version now. And Iíd be remiss without giving kudos to the band backing Mr. Lande; Alessandro Del Vecchio on keys, Francesco Jovino on drums, Sid Ringsby on bass, and Tore Moren and Jgor Gianola are the twin guitar attack. Not necessarily household names (this house at least) but very talented nonetheless.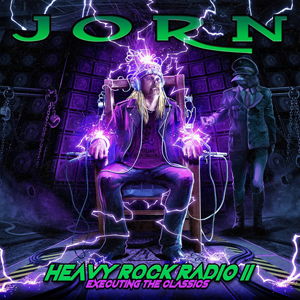 Now back to the music, and FOREIGNERís "Nightlife" off of their multi-platinum 4 from Ď81 and if youíre a fan of that song then Iím sure youíll love Jornís version as well. His vision was to ďtreat the originals with respect but make my versions a strong alternative to enjoy and hope the original artist would be honoured and find my version relevantĒ. Mission accomplished. DEEP PURPLEís "Bad Attitude" has Jorn again slightly morphing his voice into the Hall of Famer Ian Gillan and again, itís a wonderful version. MANFRED MANNíS EARTH BANDís "Quinn The Eskimo" is a song I remember as a little hellion, but Jorn definitely takes it to a different place yet still recognizable. KROKUS even covered this on their covers album Big Rocks but Iíd say Jornís is the definitive version. The DIO song "Mystery" from the legends The Last in Line album from Ď84 sounds just exceptional and Iíll throw this out: Iíd rather see & hear Jorn do a set of DIO covers over the men fronting DIO DISCIPLES or watching a Star Wars freaking hologram of RJD himself. ĎNuff said. Peter Gabrielís "The Rhythm of the Heat" finishes up this album and Jorn and crew made this a full blown Power Metal manifesto! Epic but headbanging heavy!!! Thatís how you finish up an album of covers!
All in all a very enjoyable and asskickiní album! I myself love hearing bands do covers, but wish more would take more initiative to make songs their own instead of just aping the original. And Jorn has done that in spades. If you like any of these songs, or are curious to hear whether Iím blowing smoke up your arse about Mr. Landeís talent then give Heavy Rock Radio II a shot. I donít think youíll be disappointed.
And Vinyl freaks, even tho Iíve yet to see it, a 180g gatefold version should be out now. So buy or Die!!!!
4.0 Out Of 5.0 Skulls




Please log in to view RANTS

If you don't have a username, click here to create an account!