After seeing the Operation:Mindcrime anniversary tour last year and being blown away by just how good Geoff Tate was performing AND sounding, I knew that when the return date for him to celebrate the 30th anniversary of the QUEENSRYCHE album Empire was announced I was going to be there. Add in the fact that he was playing the entire Rage For Order album as well and this was a must-see show. I bought my ticket as soon as I could because much like the two dates he played at the Vault last year, this show was a sell-out.

The show was opened by MARK DALY & THE RAVENS. Let me just say that while there wasn't anything particularly off-putting about the band's music, I just didn't really connect all that much with the material. I'll put it down to a lack of familiarity with the music beforehand. However, there did to be a pretty good sized batch of fans that were rocking out to their music and they did seem to win over most of the crowd judging by the reactions I saw.

https://www.facebook.com/markdalymusic

For me, it was all about the Geoff Tate on this night. The set was divided up between the two albums and up first was Rage For Order. I've seen QUEENSRYCHE a bunch of times over the years but some of these songs were either rarely played or never played live. So getting to see everything all at once was an exhilarating experience.

I was so hyped up for this show that I wrote about this particular album for the series of articles I write for another site in the week leading up to the show. I mean, how can you not love songs like "Walking In The Shadows", "I Dream In Infrared", "Surgical Strike", "Screaming In Digital" and my favorite song from the album "Chemical Youth (We Are Rebellion)"? They were all great to hear in a live setting.

Tate's stage presence had an emphasized sense of theatricality to it alongside the more expected rock strut. He was engaging in his stage banter with the audience. I loved the way he introduced "Surgical Strike" as a song about GPS, which gave me a chuckle.

I'm not going to sugarcoat this next thing though. Last year's show had a much better sound to it. I don't know what the exact problem was this time around but there were some audio issues that kept screwing with Geoff Tate's vocals throughout the show. They sounded great when they were in full effect so it wasn't consistent throughout the night but at times, his vocals would just drop out. I was situated front row stage left against the railing separating the audience from the band and the first line of a vocal would just suddenly drop out for some reason. It didn't destroy the show for me, but it is something that needs to be mentioned.

After Tate and his band finished with the Rage For Order set, they took a 20 minute break before returning for Empire. "Best I Can" was great and "The Thin Line" saw Tate break out and play the saxophone during the song.

Whatever audio issues cropped up, it didn't affect the crowd being very vocal when accompanying Tate on songs like "Jet City Woman", "Empire" and "Another Rainy Night (Without You)".

When I first heard the Empire album, it took me a bit to get into it because it was so thematically different from Operation:Mindcrime. One of the best examples of that difference was the song "Della Brown". I can't rightly say what I thought of the song back in the day but I do know that I loved the performance on this night.

Tate reminded people that the song "Resistance" was written on Earth Day 1990 and was about climate change. But for me, the slow water torture of this half of the show was the long drawn out intro to "Silent Lucidity". Ugh, that song just has not aged well.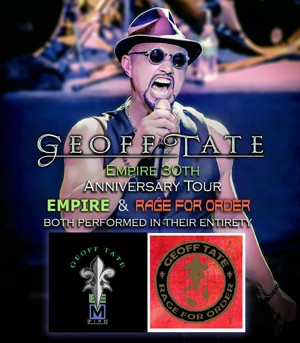 But on the other hand, I loved hearing "Hand on Heart" and "Anybody Listening?" as both songs had a renewed sense of urgency in their performances as I listened to them.
Instead of leaving the stage and coming back, Tate introduced the band before they launched into the encore. First up was "Last Time In Paris", which was a surprise that he'd include it in the show but I suppose it did fit with the theme of the night, plus it was a pretty good rendition. But closing out with a slamming version of "Eyes of A Stranger" really brought things to an ending crescendo.
Audio issues aside, this was a really good show. It's like Tate has gotten a second wind as a performer because he seems back on top form these days and celebrating the full albums that he was an integral part of creating has served him well!
Set List
Rage For Order
"Walk In The Shadows"
"I Dream In Infrared"
"The Whisper"
"Gonna Get Close To You"
"The Killing Words"
"Surgical Strike"
"Neue Regel"
"Chemical Youth (We Are Rebellion)"
"London"
"Screaming In Digital"
"I Will Remember"
Empire
"Best I Can"
"The Thin Line"
"Jet City Woman"
"Della Brown"
"Another Rainy Night (Without You)"
"Empire"
"Resistance"
"Silent Lucidity"
"Hand On Heart"
"One And Only"
"Anybody Listening"
Encore
"Last Time In Paris"
"Eyes Of A Stranger"
http://www.geofftate.com