INTRONAUT Fluid Existential Inversions


By Peter Atkinson, Contributor
Friday, March 13, 2020 @ 1:30 PM


| | | |
| --- | --- | --- |
| | | |
INTRONAUT
Fluid Existential Inversions
Metal Blade Records




Five years, a near split and one significant lineup change later, the L.A. prog-metal quartet INTRONAUT has returned with an expansive and energized sixth album that breathes some new life into the veteran band. Working with Alex Rüdinger (THE FACELESS, WHITECHAPEL, etc,) for the first time following the ouster of founding drummer Danny Walker in 2018 amid domestic abuse allegations, the band is more athletic, elastic and flat-out heavy than ever on Fluid Existential Inversions, which proves to be a rather welcome, umm, welcome back.

Not sure if Rüdinger is a permanent, or even long-term solution – given his other commitments, such as touring with the much higher-profile WHITECHAPEL – but he provides a nice kick in the ass here. And he makes his presence known pretty much from the start - after the whimsically titled short intro "Procurement of the Victuals" - with the polyrhythmic clatter and frisky fills that seem almost like a drum solo as they punctuate "Cubensis", but play nicely with its melange of jazzy shimmer, hulking riffs and heaving bass lines.

That mix and match approach sustains throughout the album, and for the most part works like a charm thanks to the daring and deft execution of guitarists Sasha Dunable (who also handles vocals) and David Timnick and ace bassist Joe Lester. Though the album's ample mellow passages can make tracks like "The Cull" drag a bit – despite it intriguing ALICE IN CHAINS-like vocal harmonies – the unorthodox structures the band navigate and the jarring heaviness and freewheeling jamminess of its delivery provide more than enough life to make up for it.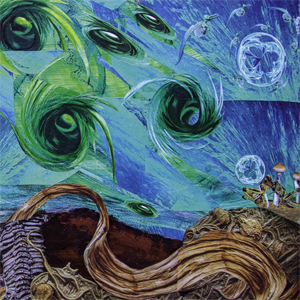 "Speaking of Orbs" is both trippy and tumultuous, echoing OPETH/PORCUPINE TREE in its lush vocal and guitar harmonies and Bay Area thrash in its resounding, catchy hooks. "Tripolar" is more consistently metallic until it veers into an ambient/jazz jaunt mid-song before finishing with a beefy flourish. "Check Your Misfortune" revisits thrash metal with its bracing pace and clean/gritty vocal back and forth before drifting off in an ethereal electronic haze.
"Pangloss" is half the speed but twice as heavy, boasting some of the album's burliest grooves while at the same time easing back on the dramatic contrasts that figure so prominently in many of the other tunes here. "Sour Everythings" wraps things with seemingly extemporaneous flair, throwing a bit of everything into the pool and weaving it into a twisty-turny arrangement that almost feels like it's being made up as it goes along.
Fluid Existential Inversions has the sound of band that feels liberated and unconstrained. Free from the baggage of Walker's travails, refreshed following a bit of a break and re-invigorated by the addition of Rüdinger – whose work here really is sensational – INTRONAUT doesn't merely get back in the swing here, it comes back at the top of its game. Sometimes with adversity comes strength, and Fluid Existential Inversions certainly bears witness to that.
4.0 Out Of 5.0

Please log in to view RANTS