DEF LEPPARD The Early Years 79-81 Box Set


By Andrew Depedro, Ottawa Corespondent
Wednesday, March 18, 2020 @ 9:36 AM


| | | |
| --- | --- | --- |
| | | |
DEF LEPPARD
The Early Years 79-81 (Box Set)
UMe/Virgin




Before their ascent into mega stardom by the mid-80's, esteemed British rock 'n' roll icons and Rock & Roll Hall of Fame inductees DEF LEPPARD were one of the progressively raw-sounding bands of the burgeoning New Wave Of British Heavy Metal movement, the riveting fury and driving energy of the band's first two albums On Through The Night and High 'N Dry released within a year of each other at the beginning of the decade. Debut album On Through The Night would indeed be the band's first opportunity to truly say "hello America!" as it charted at #15 in the UK and #51 in the U.S. It featured many of the band's live favorites, and was certified platinum in 1989. Its sophomore follow-up High 'N Dry, which was released in 1981, charted at #26 in the UK and #38 in the U.S., further cementing the band's status. To celebrate the fast-approaching 40-year milestone of their releases, frontman Joe Elliott and the band's long serving sound engineer Ronan McHugh have combined their respected executive production and sound mastering skills to create a bold and sizeable box set representing both albums.

The Early Years 79-81 is undoubtedly the most ambitiously-sized box set that DEF LEPPARD have easily released out of their entire career. Boasting a 5-CD deluxe set consisting of the original albums remastered, B-sides, rarities and re-mix versions, Radio One sessions, a live recording from the band's Reading Festival performance, and the first ever appearance of an unreleased and newly mixed show from Oxford in 1980, these remasters have been highly anticipated, and much requested, by DEF LEPPARD fans globally.

The album also features an instant grat track, the sought-after Nick Tauber produced version of "Rock Brigade". The song was originally intended as a single but was never released. Today, 40 years later, the track is finally released to the fans. It also includes a history of the band's first two albums, written by Mojo and Classic Rock writer Paul Elliott (no relation), featuring personal insights from the band on the making and releasing of these early records, as well as rare pictures of the band and photos of memorabilia from the era. Both albums have been remastered and available as a 1-CD version, 1 LP black vinyl, and limited-edition colored vinyl. But while the array of audible collectibles and copious amounts of Def Lep souvenirs from the early Bludgeon Riffola years would be understandably enough for most fans to quickly part with their money, the true value of this box set lies in its sonic history.

Both the remastered CD and LP versions of On Through The Night and High 'N Dry benefit immensely with the added volume intake on Rick Savage's bass and Rick Allen's drums, allowing for a more thick-sounding groove that doesn't overlap as much on the riffs and solos of original guitarists Steve Clark and Pete Willis; even the new mastered version of "Rock Brigade", while likely requiring at least a couple of listens before one gets to truly appreciate the rolling crashes from Rick Allen giving more room to Clark and Willis' coordinated riffs, has its core strengths of its driving grooves and Elliott's dynamic range untouched. The band's live show – dubbed When The Walls Come Tumbling Down which later became the title of one of their songs from High 'N Dry – from their set at the Oxford New Theater on April 26, 1980, is also a fine representation of their success as a cohesively tight unit as the classics such as "Rock Brigade" and "Wasted" are given a slightly more thrashier/punkier edge as does lesser-known material such as "Good Morning Freedom". From the Too Many Jitterbugs – B-Sides And Rarities CD collection largely comprised of initial recordings from the band's 1979 EP, the unreleased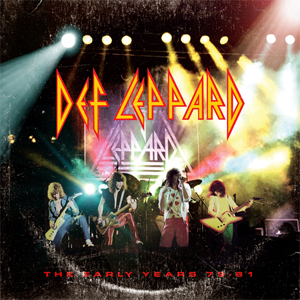 Nick Tauber versions of "Rock Brigade" and the lesser-known "Glad I'm Alive" make for some decent bangin', coupled with the latter remix of "Bringin' On The Heartbreak" and "Me And My Wine" with a more mainstream and keyboard-laden sound in parts. Finally, the band's authentic raw-sounding purity is well-defined on the Raw – Early BBC Recordings, in which their live studio performances portray the young quintet as driven and aspiring consummate professionals with the gift of swagger and tenacity, thanks in part once more to the skilled harmonic sounds of Elliott's vocals and Clark and Willis' riffs, and replicated again during the band's rousing performance at the 1980 Reading Festival.
Whether you're from the really old school of the band's NWOBHM era or solely familiar with their latter-day mainstream output from the Pyromania/Hysteria years, there's no denying the many years in which DEF LEPPARD's ever-adaptable sound have been inspired from a more hungrier place in time. The Early Years 79-81 box set is the bonafide collection for all DEF LEPPARD fans to bring the band's legacy full circle right on the heels of their much-anticipated US tour with POISON, JOAN JETT & THE BLACKHEARTS and headliners MOTLEY CRUE, and continuing to justify the mass hysteria from over the years and beyond.
5.0 Out Of 5.0
www.defleppard.com
www.facebook.com/defleppard
www.twitter.com/DefLeppard
www.instagram.com/DefLeppard
www.youtube.com/DefLeppard




Please log in to view RANTS

If you don't have a username, click here to create an account!