LYCANTHRO Four Horsemen Of The Apocalypse


By Andrew Depedro, Ottawa Corespondent
Monday, March 30, 2020 @ 9:27 AM


| | | |
| --- | --- | --- |
| | | |
LYCANTHRO
The Four Horsemen Of The Apocalypse
Alone Records




Like every other nimble-hoofed group of apocalyptic heavy metal riders, Ottawa's own LYCANTHRO have also been temporarily relegated to the stable due to the COVID-19 outbreak, their upcoming Tour Of The Wolf Canadian tour slated to start on April 7 now postponed. Luckily, the sudden bit of downtime has allowed the band to work on their first full-length album Mark Of The Wolf which is slated for release later this year. And, because I'm already well into the horse and apocalypse metaphors in this review so far, I'll stick with the long-overdue review of the band's EP Four Horsemen Of The Apocalypse from 2018.

COVID-19 and looking after family aside, why exactly did it take so long for a review on a four-song EP? For starters, the songs are all top-notch and well-performed that it's easy to get mesmerized by the music. That, and also the average length of the songs is between seven to nine minutes. Credit the talents of the then-lineup of James Delbridge (vocals/guitars), David Shute (guitars), Carlo Cote (bass) and Nathan Shuman (drums) and their love of bombastic power metal for shaping the album's driving power. Joe Comeau (LIEGE LORD, OVERKILL, ANNIHILATOR) even ended up providing background vocals on the nearly 14-minute long closing track "Pale Rider", though James Delbridge almost seems to one-up his octave range midway through the song. And while the wild-sounding vocals may take time for the first-time listener to fully appreciate its heartfelt authenticity in parts, there's the strong performance by all four members that have made LYCANTHRO one of Ottawa's most sought-out opening bands, as the likes of UDO, HAMMERFALL, RAZOR and ROSS THE BOSS among others will attest to their established time at the rodeo.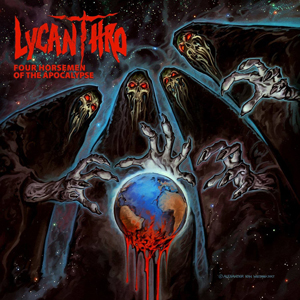 Delbridge's vocals on this album are brash and powerful and his lyrics are detailed, almost written from the wisdom and perspective of many centuries before his time – and he's only in his early 20's, as are the rest of the band. "Conquest" and "Fog Of War" are definitely the gateway songs from this album, but it's by far "Pale Rider" with its many time changes and rapid playing by both Delbridge and Shute that is the stand-out track here. Harkening to a combination of URIAH HEEP and YES' more progressively lengthier compositions and the more powerfully fast playing style of the likes of BLIND GUARDIAN, HELLOWEEN and especially early MANOWAR, "Pale Rider" starts off with a calm intro before detonating into a galloping riff, narrating the crusade of the apocalyptic equestrian quartet in full detail. It's such an eclectic performance that the band have rarely played it live; I've actually even heard James apologize for closing a concert with the song a few times as it limits their stage time to three songs.
So, hopefully once LYCANTHRO are ready to saddle up their steeds as soon as their upcoming disc Mark Of The Wolf is unleashed, the setlist starts to expand at future live shows and eventually leads the band to headlining status. Four Horsemen Of The Apocalypse is already proof that LYCANTHRO's drive can't be corralled.
4.5 Out 5.0
Lycanthro.ca
Facebook.com/Lycanthrokills
Instagram.com/lycanthro_metal




Please log in to view RANTS

If you don't have a username, click here to create an account!