MISS CRAZY Make America Crazy Again


By Alex Yarborough, Orlando Contributor
Thursday, April 2, 2020 @ 6:25 AM


| | | |
| --- | --- | --- |
| | | |
MISS CRAZY
Make America Crazy Again
2020 Perris Records




MISS CRAZY is hard rock band from San Jose, California, that combines heavy guitar grooves and a modern melodic flavor to create a very unique sound. Think of bands like DEF LEPPARD, ALICE COOPER, and KISS united with "newer" bands like MARILYN MANSON, NINE INCH NAILS and SLIPKNOT. On the other hand, I've also seen fans compare them to LED ZEPPELIN, CRIMSON GLORY, WASP, MOTLEY CRUE, and HEART. Truth is, this band does so many different things, what you hear is going to depend on you, the listener. There's a lot going on that will call to mind a passel of other artists. The band cites RATT, DAVID BOWIE, CINDERELLA and many others as influences. Visually, MISS CRAZY has utilized some theatrics including white face paint in the past, and also on this new album, Make America Crazy Again.

MISS CRAZY is led by bassist and singer Markus Allen Christopher (AK Ronnie Borchert), who is also in the band FREAKSHOW with Jeff LaBar of CINDERELLA. His voice largely defines MISS CRAZY. The band is rounded out by guitarists Jeff Jones and Eric Morrison, and drummer Tom Frost.

Intro "Six" (indicating the band's sixth album, I believe) segues the first proper track "My Disgrace". Not a bad opener, but next track "Work It Out" is even better and catchier. Single "Can't Be Without You" (video on KNAC.COM HERE) gets weirder and groovier. I love the chorus of this song. "Anger and Sin (Let Me Out)" certainly isn't a lightweight track by any means. This rocker is no holds barred! "My Heart Aches" slows things down to a mid-tempo pace, and the refrain is actually pretty palpable. The overflowing rhythm guitar and bass are essential to this track.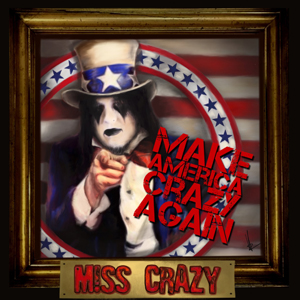 "You Turn Me On" is a smooth and short rocker. "Lies" gets a bit political, and shows off some double bass drums from Frost. "Lay Me Down" is a great example of the harmony and grooves that MISS CRAZY can muster. "His Love (Set Me Free)" is a head down rocker, while the title track "Make America Crazy Again" is an instrumental. Album closer "The Light" is the track I would play to introduce other people to this band, as I feel it represents everything I like about them: Up-tempo, chugging riffs, cool harmony vocals and blistering solo. I played most of the album for a friend who had never heard of the band, and he liked them immediately, particularly this song.
Make America Crazy Again is a set of 12 energetic tracks offering a genuine vibe of "energy". These songs are up-tempo and uplifting. The CD is available from Perris Records www.perrisrecords.com and the band's website: www.misscrazyrecords.com.
4.0 Out Of 5.0

Please log in to view RANTS