LOVEBITES Electric Pentagram


By Andrew Depedro, Ottawa Corespondent
Thursday, May 7, 2020 @ 7:31 AM


| | | |
| --- | --- | --- |
| | | |
LOVEBITES
Electric Pentagram
JPU Records/Red River Entertainment




Armed to the teeth with fiery riffs and operatic vocals since nibbling onto the scene in 2017 with their debut disc Awakening From Abyss, the insanely talented all-female Japanese quintet known as LOVEBITES have made a name for themselves in the power metal scene with their hybrid of flashy aggressiveness and neo-classical melody. Taking their name from a chance rehearsal of HALESTORM's "Love Bites (So Do I)" and realizing that their frontperson Asami had the perfect voice suited for the material they would write and record, LOVEBITES have gone from Tokyo road and beyond, first with their 2018 Wacken Open Air Festival performance after winning the "Best New Band" award at Metal Hammer's Golden Gods Awards and later landing co-headlining tour slots with ARCH ENEMY, DRAGONFORCE, and eventually HALESTORM among others. And while the band has cut their proverbial incisors on their key musical influences such as IRON MAIDEN and RAGE on their first two albums, it's their third offering Electric Pentagram where LOVEBITES have wolfed down the influential Scandinavian sounds of NIGHTWISH, STRATOVARIUS and CHILDREN OF BODOM with the help of their longtime production/mixing help of Mikko Karmila and Mika Jussila at Finnvox Studios in Helsinki, Finland – and the results are howlingly awesome.

Like their predecessor albums, Electric Pentagram – titled to represent the band members individually as five points brought together to protect heavy metal – boasts everything louder and faster than everything else, with tracks such as the opening Painkiller-era PRIEST-sounding monster "Thunder Vengeance", the fast street fighting "Holy War", the outright thrashy "Set The World On Fire", the anthemic "Raise Some Hell" and the album's breakthrough singles such as the heavily HELLOWEEN-inspired-sounding and NWOBHM-championing "Golden Destinations" and "Signs Of Deliverance", delivering the powerful riff magic of guitarists Midori and Miyako and the rapid-fire rhythmic tempos of bassist Miho and drummer Haruna to round out Asami's incendiary vocals. But elsewhere on the album, LOVEBITES also keep the beat to a mid-paced digestible level on songs such as "A Frozen Serenade", featuring some acoustic dulcet tones by Miyako and the bouncy-sounding "Dancing With The Devil", Asami's powerful pipes on the latter track closing out the song, giving it a bit of an R&B-sounding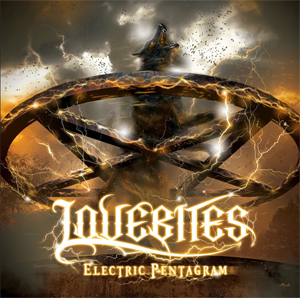 flourish. The closing number "Swan Song", inspired by fusing the elements of the classical works of Frédéric Chopin's "Revolutionary Étude" and Antonín Dvoøák's "New World Symphony", is the consummate neo-classical opus that also takes its inspiration from the popular ballet Swan Lake, with the closing piano fade-out reflecting the swan in the composition dying at the end, according to the song's musical arranger Miyako. And with the album's songs weighing in between 5 to 7 minutes long, Electric Pentagram runs a considerably-sized musical gamut that needs more than a quick listen to absorb.
With the combined heavy metal spirit and attitude of Kerrang!'s Pandora Peroxide and the stylin' high-heeled determination of The Office's Pam Beesly, LOVEBITES' 3-year hunt towards recognition amongst its peers is both jaw-droppingly quick and a marvel to behold as the quintet progress from the proverbial underdogs of the music industry to the true lone wolves they've always been meant to be on Electric Pentagram.
5.0 Out Of 5.0
http://lovebites.jp/
https://www.facebook.com/LovebitesTheBand/




Please log in to view RANTS

If you don't have a username, click here to create an account!