SORCERER Lamenting of The Innocent

By George Mihalovich, Pure Rock Patroller
Monday, June 1, 2020 @ 3:45 PM

| | | |
| --- | --- | --- |
| | | |
SORCERER
Lamenting of The Innocent
Metal Blade




SORCERER's Lamenting of The Innocent continues down a similar path as their previous release, The Crowning of the Fire King, and expands on it. "Epic doom metal" is still a fair description of their style, but they have also moved beyond the confines of this label through songcraft and the incorporation of elements from across the metal spectrum.

Anders Engberg (vocals), Peter Hallgren (guitars) and Kristian Niemann (guitars) are joined on Lamenting of The Innocent by the new rhythm section of Justin Biggs (bass) and Lars Skold (drums). Whatever the reason for the change, both fit into the lineup seamlessly. This continuity is also evident in the production department; Ronnie Bjornstrom mixed and mastered the album and Conny Welen assisted with the songwriting. Both have been on board for the last three releases, which has likely made a significant contribution to the consistent high-quality of SORCERER's output.

Lamenting of The Innocent is a brooding and menacing listen, and the semi-concept/theme on witches/witchcraft push it into the realm of sinister (for more on this subject, listen to the Classic Metal Show interview with Kristian). There is a mix of thoughtful instrumentation, dynamics and heavy riffing throughout to create this atmosphere on tracks such as "Deliverance". This song pairs Johan Langquist of CANDLEMASS alongside Anders, and the duet is accompanied by Swedish cellist Svante Henryson on top of a bed of acoustic guitars augmented with electric harmony lines.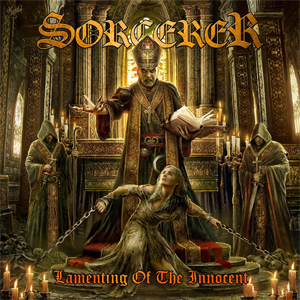 Speaking of guitar, Peter and Christian have to be one of the most intriguing duos active in metal (at least, in the "classic metal" realm). They display top-level playing in the best tradition of the classic guitar teams of Dave Murray/Adrian Smith of IRON MAIDEN and K.K. Downing/Glenn Tipton of JUDAS PRIEST as they take turns soloing and then come together for the harmony sections. It's inventive and technically impressive in the context of the songs without devolving into senseless noodling or instrumental excess (even considering the fair length of many of the tracks). All of this is on full display in the official videos for "Dance With The Devil" and "The Hammer of Witches" - with, of course, Anders' vocals as the focal point.
The crux of the matter is that is Lamenting of The Innocent is progressive doom/heavy metal that is essential listening for fans of CANDLEMASS, Tony Martin-era BLACK SABBATH and any other dark-yet-melodic heavy metal of note.
4.5 Out Of 5.0 Tolling Bells