LAMB OF GOD Lamb Of God


By Francisco Zamudio, Metal X Candy 2.0
Wednesday, June 24, 2020 @ 6:52 AM


| | | |
| --- | --- | --- |
| | | |
LAMB OF GOD
Lamb Of God
Nuclear Blast




In the hands of the wrong people, hate can be a terrible thing especially when the outcome is violent and unjust. Those same people are the ones giving in to the fear that the current world is trying to force on them. I want you to channel all your rage into something positive. Hate in the hands of someone who can be fueled by that anger and turn that into something meaningful, powerful, productive, positive and send a message – they are truly masters of their world. One band that has successfully channeled that rage into art is LAMB OF GOD who have been bring their version of the New Wave of American Heavy Metal to the masses since the late 90's. Under their former moniker BURN THE PRIEST before adopting the name LAMB OF GOD in '99, they busted into the scene just as grunge was being laid to rest. With what's considered a pandemic state of the world taking hold of society, LAMB OF GOD unleash their eighth album as their self-titled and brings a fury too fitting to fuel a fire.

A release that marks this as their second through Nuclear Blast, this is a monumental album that will carry so much meaning for years and possibly decades to come. Very much when SLAYER released GOD HATES US ALL, a soundtrack totally fitting for the time, LOG do the same with songs that are heavy hitting and lyrics that tell the story that never seems to change. This modern American Metal is filled with groove that breaks the concrete floor it stands on. A mixture of 'djenty' meets breakdown and wrapped in Thrash so as to never give an illusion of letting (you) up, this self-titled full length is full of raging song after raging song.

Leading out the charge with Momento Mori and the lyric "WAKE UP" mirrors our sentiments that sit in our minds these days. A title defined as the reminder that death, in whatever manner you view it, is inevitable. Checkmate, their first single and video off the record displays the unique guitar work by Mark Morton and Willie Adler, with a sweet solo by Morton starting off the track. The riffs that these two have made over the years are always so out-of-box and never typical cookie-cutter powerchords or scales, which is one of their primary traits that makes them stand out from American Metal bands. The rhythm section has been an important part of this dynamic with John Campbell's low-end providing a well-rounded groove to complete their whole sound. Making his debut on record is El Monte's (just on the outskirts of East Los Angeles, CA) own Art Cruz on drums to take over where Chris Adler left off. With absolute zero display of pressure having to fill the shoes of 1 of today's great modern Metal Drummers, Cruz throws down the lumber with grit showing why he's more than capable to take the drum-throne.

Once again, Randy Blythe's lyrics pull no punches. Song after song and the words screamed out are thought provoking and real. Song titles like "REALITY BATH" and "NEW COLOSSAL HATE" give you an idea of where this album is headed. In all, their self-titled release is heavily aggressive and quite dark. The track "RESURRECTION MAN" is shrouded in black with the opening lyric "I was born in a cemetery" and threat of "IM GONNA BURY YOU" will haunt you very well.

The one, if only drawback tune for me would be the track "BLOODSHOT EYES" whose commercial feel could have made it the radio friendly single casual fans would gravitate to. Those same who happened to enjoy the song "EMBER" featuring Chino Moreno from 2015's VII: Sturm Und Drang as Blythe gives another go at clean-singing, a vibe that I wouldn't mind got left behind but shows the bravery that LOG has always displayed.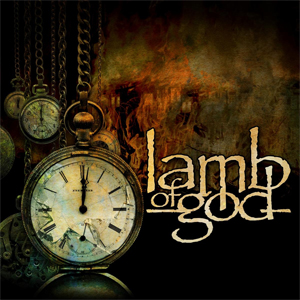 Conversely there are some great guest appearances on this one that will please die hard Thrash and Hardcore fans alike. HATEBREED's Jamey Jasta appears on what's probably the sickest tune on this album, "POISON DREAM", as song that will leave you anything but "dead inside" and a fitting breakdown that suits the modern day face of Hardcore. TESTAMENT's Chuck Billy makes an appearance on the song "ROUTES", a great example of honest and well written lyrics and music that make up LAMB OF GOD, and now with an album that demonstrates an excellent level of authority as one of the leading bands coming from the New Wave of American Heavy Metal.
Metal has and will always be the music we turn to in times of rage. The bands that speak the truth and unleash that anger, taking the words right out of your mouth, they are there for us day in and day out. It's what's going to get us through the dark days. It fuels us to stand up for ourselves and make a positive change in our world. Those afraid of the word "HATE" and afraid to see the world for what it is, shouldn't even look towards the direction of this album and should proceed to the blissfully ignorant Modern "Top 40" section. This current wave of American Heavy Metal doesn't lean that way or this way. This is the prime example of the angst that grabbed us in the first place. There are things that are certain in this world. One is DEATH, and another is that LAMB OF GOD will put out an album fueled with aggression. These 10 tracks of thought provoking Metal are the soundtrack for the New World Normal.
4.5 Out Of 5.0




Please log in to view RANTS

If you don't have a username, click here to create an account!