KREATOR London Apocalypticon - Live At The Roundhouse


By Francisco Zamudio, Metal X Candy 2.0
Tuesday, June 30, 2020 @ 9:36 AM


| | | |
| --- | --- | --- |
| | | |
KREATOR
London Apocalypticon - Live At The Roundhouse
Nuclear Blast




Now more likely than ever, many of us are turning to our memories, live bootlegs and concert ticket stubs to relive those moments when we got to go to live concerts (yes, you can go on YT too). Nothing beats the rush and sensation of a live music atmosphere, seeing your favorite bands giving it their all while you're in the crowd getting so pumped up either headbanging your head off or in the pit throwing your weight around. With the abundance of great new music and albums being released these days, I would say we are in good hands for the time being. While bands are releasing new stuff, some are going the way of the Live Album and providing us with a "Best of" in a live setting. Enter one of the world's best Thrash bands of the other "BIG FOUR", KREATOR and LONDON APOCALYPTICON – LIVE AT THE ROUNDHOUSE.

Released earlier this year just before the world got shut down, this reflection of the successful tour for the just recently released album GODS OF VIOLENCE"ENEMY OF GOD" from their 2005 album of the same name and from there on in, KREATOR leads the charge for the "Hordes" with "HAIL TO THE HORDES" and a blitzkrieg of their best material spanning their nearly 4 decades as a band. From there, you can feel the energy just go off from that alone as they take it all the way back to 1986 and the PLEASURE TO KILL album as you hear Vocalist/Guitarist Mille Petrozza scream to the London crowd "ARE YOU READY …. KILL EACH OTHER NOW!" From there they slowly make their way forward in time with a cut from 1990's COMA OF SOULS before arriving back to their latest release with the title track "GODS OF VIOLENCE" then grooving into "SATAN IS REAL".

KREATOR has always given that sense of community, and that which we always talk about, COMMUNITY is a real thing that only WE understand. An easy example is the inclusion of the song "FALLEN BROTHER" that pays homage to this and is a song that really hits home as Petrozza dedicates the song to Vinnie and Dimebag Darrell as well as the whole original MOTORHEAD trio that has passed on.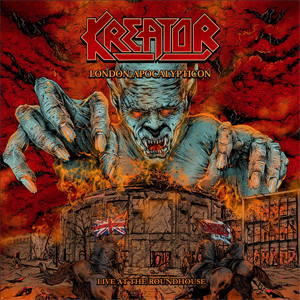 Before this release hit stores, KREATOR were in the midst of preparing for another tour where they were set to hit the road with Label mates LAMB OF GOD and Texas' POWER TRIP. Now as that has been put on hold indefinitely, the timing seemed right to put out a live album as Petrozza would point out in an interview through their label, Nuclear Blast. "We wanted something for the fans to remember the tour" and to capture a moment at a legendary venue with amazing fans is what KREATOR accomplished on this live album. It also serves as a good retainer until they complete their new album which will certainly be anticipated.
At just over an hour and 14 tracks of pure Classic Thrash, this is one die-hard KREATOR fans are going to enjoy and is a great example of one of today's long-standing Veteran Thrash bands that are still pummeling to the day and can bring a highly energetic crowd, reminding the rest of the world that as 1 of the faces of Germany's "Big Four", they should in no way be overlooked but highly respected and heard.
Not short of giving thanks as Petrozza would state "This release is a gift to our fans to celebrate unity of the global metal community!" We accept this gift Mille and look forward to showing you our gratitude once we can freely attend live concerts again.
4.0 Out Of 5.0

Please log in to view RANTS