VANDENBERG 2020

By George Mihalovich, Pure Rock Patroller
Thursday, July 2, 2020 @ 11:12 AM

| | | |
| --- | --- | --- |
| | | |
VANDENBERG
2020
Mascot Records




Adrian Vandenberg is a guitarist and songwriter of the highest caliber and should require no introduction. It's unfortunate that he doesn't get quite the level of acclaim as many of his contemporaries, and the same is true for the band that put him on the map. Nevertheless, VANDENBERG's first three records - Vandenberg (1982), Heading for a Storm (1983) and Alibi (1985) remain shining examples of European-styled melodic metal.

After moving on from VANDENBERG, Adrian spent about 13 years with WHITESNAKE (the "Here I Go Again" solo is likely his best-known reference point). During this time, he recorded one MANIC EDEN album in 1994 (alongside WHITESNAKE bandmates Rudy Sarzo (bass) and Tommy Aldridge (drums) with vocals by Ron Young of LITTLE CAESAR). This was his only work outside of WHITESNAKE until his three albums under the MOONKINGS banner (between 2014-2018) after a lengthy hiatus from the music business.

2020 marks Adrian's return to the VANDENBERG moniker; but what does this entity sound like nearly 40 years later? The approach is a hybrid of the melodic metal of the band's original incarnation and the straight blues rock of the MOONKINGS - albeit a harder-edged and more metallic interpretation of the latter. It's a very immediate listen with a sense of urgency and attitude; "Shadows of the Night" roars out of the starting gate, and the rest of the disc follows suit. The songs are the focus, and 2020 is a strong collection that includes "Freight Train" and "Skyfall" - all providing great hooks, vocals, riffs and solos. The entire affair is buoyed by Bob Marlette's (BLACK SABBATH, ALICE COOPER) impeccable production; it's modern yet retro enough to be appropriate for the genre without sounding stale or forced.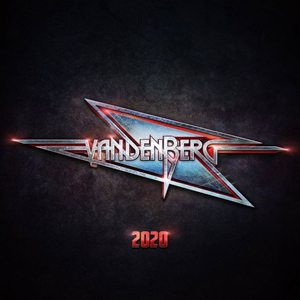 Ronnie Romero fronts numerous bands (RAINBOW, LORDS OF BLACK, THE FERRYMEN) but he's particularly effective and confident here; his vocals are similar to his work with CORELEONI but more aggressive. The rhythm section of Randy Van Der Elsen (bass, also of TANK) and Koen Herfst (drums, also BOBBY KIMBALL, EPICA and DORO) provide tasteful support and just the right amount of power when needed. Adrian Vandenberg proves the years have not diminished his abilities and that his strong melodic sense and technique remain intact. He comes from the school of classically-influenced lead guitarists (Michael Schenker, Uli Jon Roth and Randy Rhoads as examples) - and the similarities to these players are clear - but he stands as a unique stylist in his own right.
Lest the praise become too effusive, maybe another title could have been found for "Shitstorm" (which despite the unfortunate title is still a great rocker). This aside, the big question on 2020 is: "Was a remake of the classic "Burning Heart" really necessary?" Fairly, the composer has every right to try, but it always seems a difficult proposition at best. This interpretation doesn't take anything away from the original - but doesn't add anything to it either. Another new song in a similar vein would have served just as well. The guess is that this was intended as a bridge between the original VANDENBERG and the revamped lineup.
It's a welcome development to have Adrian back with his namesake band, and 2020 is probably the best of example of blues-based melodic metal that you'll hear in, well, 2020 ..."Shout!"
4.7 Out Of 5.0