DOKKEN The Lost Songs: 1978-1981


By Rob McNees, Vinyl Aficionado
Tuesday, August 4, 2020 @ 11:13 AM


| | | |
| --- | --- | --- |
| | | |
DOKKEN
The Lost Songs: 1978-1981
Silver Lining Music




I'll start this review off by stating that I am a full-on HATER of the bastard form of music known as Hair Rock. The music was horrid. And the pathetic look of fellows in drag was a joke at best. But seeing how it took over the world, and making record company execs take Metal bands and make them change their look and musical style to fit this abomination still makes me spit fire decades later.

But having said that, if you go back to the earliest bands and their DIY releases before the fad took hold, there were actually some fine moments of quality early 80's Metal. The first EPs from RATT, GREAT WHITE and even MOTLEY CRUE's Too Fast for Love (and yes, I have had the OG version on Leathur Records since it's release) had some kickass moments on them. The GREAT WHITE EP, Out of the Night from 1982 was produced by Don Dokken and Michael Wagener and Don even sang backing vocals on the track "On Your Knees".

Which is the perfect segway into talking about one Don Dokken. Because I was (and still am) always into looking for new bands to blast, I actually stumbled across the debut DOKKEN album (Breaking the Chains) in 1982 and even though I'd never heard the band at that time, looking at the song titles and the cover I made the decision to pull the trigger. (Note to my Vinyl fam: unknown to me 'til recently, Breaking The Chains was actually released under just Don Dokken in Germany in September 1981. The cover has Don wrapped in chains. Imagine that. Only 500 copies were made.) The album itself did not disappoint either. Rifftastic songs like "Nightrider", "Seven Thunders", and "Paris" kicked my ass but good! Those songs and a few others were showcased on many a Mixtape back in the day.

So the chance to get a taste of songs even earlier than B.T.C. was an exciting prospect to say the least. Unfortunately the promo material I got from the label had no real info as to the particulars (when, where, who played on it, etc.) which is a pity. But I'll give you as much info as I can.

"Back In the Streets", "Day After Day", "We're Going Wrong" and "Felony"B.T.C.Michael Wagener in Tennessee Studios, Hamburg West Germany in 1979. "Liar" and "Prisoner" were recorded Live during the "Working For Nothing" Tour in 1979 at Sounds Music Club, October 1979 by Michael Wagener. The band at that time was Don, George Lynch, Mick Brown and Juan Croucier on bass who went on to fame with RATT. "Back In the Street" is an uptempo track with those amazing melodic vocals from Don and a ripping solo from George. Surprising it didn't make it on anything else. The "We're Going Wrong" riff is eerily reminiscent of the UFO classic "Hot 'N' Ready" off their seminal Obsession album from 1978, possibly why the track went no further in DOKKEN history. Not a carbon copy mind you, but a solid track irregardless. "Day After Day" is a ballad in the classic DOKKEN tradition, but not a power ballad. It's mellow throughout and an ode to love lost. "Felony" as stated earlier is one of the only songs that made it further than demo stage, and it's a much rawer and different arrangement on display here. DOKKEN aficionados will dig seeing how this version differs from the B.T.C. release. The 2 Live tracks sound excellent, clean and crisp. "Liar" is an uptempo with superb harmony vocals and Don sounding top notch. George lays down his usual standout solo while Juan & Mick's rhythm section is rock solid. "Prisoner" has a slow "War Pigs" type of vibe with an extended Lynch showcase solo. Being that was '79 George was way ahead of most in VAN HALEN-ish guitar histrionics.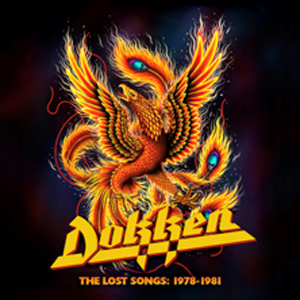 As I mentioned before, I have no other info on the remaining tracks sadly, but here's what they consist of: "Step Into the Light" has that unmistakable DOKKEN sound and hook. Could have easily made it onto the first couple of releases IMHO. "Rainbows" actually has a VAN HAGAR type guitar tone and intro, the song itself is a slower semi-ballad but quite heavy in parts. A real sleeper track that might surprise a few folks. "No Answer" is a mid-tempo rocker with some smooth vocals by Don and a tasty guitar solo. "Hit and Run" has that Sunset Strip vibe without being overtly glammy. Sounds like a Lynch-type ripping solo to these ears to boot. "Broken Heart" is an uptempo banger that sounds like it was directly taken from an ancient cassette tape. That being said considering the time frame that this album is celebrating it's a worthy addition and quite possibly a bit ahead of its time.
So there you have it. A time capsule of the formative years of DOKKEN the man and the band. And for the record I will add that even though they may have looked the part, I never lumped DOKKEN into that musical abortion called Hair Rock for the simple fact that they were much heavier than that fad and the songs were head and shoulders above 99% of the drivel associated with it. If you're a DOKKEN fan or someone looking for the roots of early 80's Hard Rock/Metal I think you'll quite enjoy this trip down memory lane. Grab your cheap sunglasses and your parachute pants and let 'er rip!
And for the Vinyl freeks, yes this is coming out on Wax! Pre-orders are currently running so get on it fast!
4.0 Out Of 5.0 Skulls

Please log in to view RANTS