ALEX TYLER Love Not War


By Alex Yarborough, Orlando Contributor
Thursday, August 6, 2020 @ 6:23 AM


| | | |
| --- | --- | --- |
| | | |
ALEX TYLER
Love Not War
2020 Independent




Love Not War is the solo debut from Alex Tyler, bassist and vocalist for Chicago's TEEZE. He enlists the talents of guitarist Jeff LaBar (CINDERELLA), bassist Chip Z'Nuff (ENUFF Z'NUFF) and drummer Cheney Brannon (COLLECTIVE SOUL).

Love Not War features a more commercial approach than the hard driving sound of TEEZE. What Alex offers here is powerful melodic rock with a whip smart edge. This album surprised me in a good way. In my opinion, this style is much more in Alex's wheelhouse, whose skill at writing catchy, melodic hard rock songs is undeniable. This collection feels personal, and he wears his heart on his sleeve much of the time. There is certainly some CHEAP TRICK, ENUFF Z'NUFF, and BEATLES influence to be heard on these tracks, and fans of these bands will find something to enjoy here.

The album opens with the mid-tempo "I Want It All", an infectious, acoustic-flavored sing-along. "This Time" introduces some rockabilly elements with hand claps, piano and saxophone. Alex knows how to write a memorable song, (and the reference to The Fonz is cool). "Can't Live Another Minute" will win you over with its upbeat yearning and the fantastic chorus. Jeff LaBar contributes a nice solo as well. "Luck Runs Out" features a shuffle beat and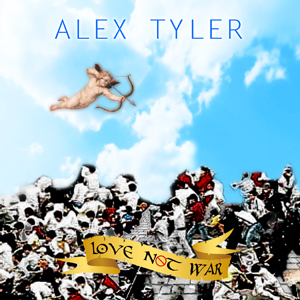 rocks a little harder than other songs, due to the subject matter of disagreements. The title track, "Love Not War", is mid-tempo and features a groove laid down by Cheney and Chip, while Jeff applies a solid riff for Alex to sing over. There's something hypnotic about this song for sure.
My favorite track is the infectious "Fools Don't Know". The power chords and harmonies will certainly remind you of CHEAP TRICK while you're singing along. "I Won't Be Missing You" brings out the funk. Man, what a cool song, which finds Chip and Cheney laying down a groove, while Jeff supplies some spacey riffs on top. The lead vocal from Alex is great here as well. "Love Day" is another winning track, possibly the most symbolic song to be found here. "So You Say" rocks hard, yet provides plenty of harmonious moments, especially in the defiant chorus. "Lexi Paige" is a heartfelt ballad written for Alex's daughter. The album closes with the tongue-in-cheek "Nick Lachay", a nod to that singer.
This album grew on me the more I listened to it. It's hard to deny the talent that is assembled here, and the appeal of these songs. Love Not War is a very solid debut!
4.0 Out Of 5.0




Please log in to view RANTS

If you don't have a username, click here to create an account!