ENSIFERUM Thalassic


By Francisco Zamudio, Metal X Candy 2.0
Sunday, August 9, 2020 @ 8:40 AM


| | | |
| --- | --- | --- |
| | | |
ENSIFERUM
Thalassic
Metal Blade




Admittedly I myself am only a bit of novice when it comes to my familiarity with Viking or any sort of Folk Metal. My only experiences have been a few concerts where the fan-base is an awesome and unique one. From the inspired outfits, right down to the drinking horns and as the fans stop in the middle of a song and all gather on the main floor and start rowing as if in a huge ship at sea, only to jump up and explode into a pit at a pinnacle moment when the band is about to erupt. It's all a wonderful and great experience and I was fortunate to see the Finnish Sword-Bearers ENSIFERUM a couple of times in the last handful of years when they hit Los Angeles, one time at the House Of Blues (RIP). Now the Folk-Metal group return in 2020 with their 8th album to date with THALASSIC.

After spending more of their career span with the Finnish label Spinefarm Records, the 3rd time with their new label Metal Blade Records will prove to be a charm for the high-sailing quintet with an album comprising around the theme that the Greek title holds. While they were more akin to blending in an aggressive style (some would call it a subgenre of Death Metal and Thrash), FROM AFAR, their 2009 release being a good example of this, as well as 2015's Metal Blade debut ONE MAN ARMY, and now on THALASSIC, have adapted more to a groove oriented style, yet not as laid back as 2012's UNSUNG HEROES.

Wherein around the time of 2007 and the release of VICTORY SONGS had brought on slightly rearranged lineup duties, on their latest the only new member is Pekka Montin on keyboards, who bassist/vocalist Sami states "really raised the new songs to another level". Collectively they all contribute something vocally and a large part of ENSIFERUM is the ability the guitars have to guide the songs with the folk-inspired melodies and blistering guitars. Duties manned by Petri Lindroos and Markus Toivonen, along with their vocals, it's a mixture of hard and heavy vocals, as well as "clean" vocals with lots of melody and harmonizing backing vocals to enhance their sound, and with Janne Parviainen sticking to his excellent drumwork every song sails through with ease.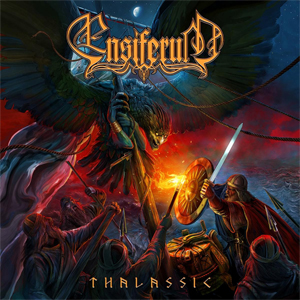 Continuing with tradition, an intro leads off THALASSIC and this is another epic song that prepares you for the rough waters ahead. "RUM, WOMEN, VICTORY" takes of right from the gate with blistering guitars and fast-paced drums and screeching vocals. With songs like "RUN FROM THE CRUSHING TIDE", which is one of the more driving songs that steers the ship towards the theme on the album, every song is a tale. "FOR SIRENS" is one of the more groove-oriented and slower songs and the ballad-like, slower track "ONE WITH THE SEA" continues with the theme both in title and lyrically. "MIDSUMMER MAGIC" is one of the fun, folky songs that keeps the lighthearted feel of the album going.
Many of the songs here carry their typical "gallop" style and if you're a fan of this style of music, you won't at all be bored, whereas a less-than-casual fan or listener could find things a bit redundant. This style of theirs is what makes their music fun though. And with an 8-minute closer like "COLD NORTHLAND", the 3rd part to the VÄINÄMÖINEN (the first 2 appeared on their 2001 self-titled debut), the entity from Finnish folklore – closes out the album in brilliant fashion. Additionally, 1 of the bonus tracks is another Finnish-jig titled "MERILLE LAHTEVA" along with "I'LL STAY BY YOUR SIDE" as another ballad giving ENSIFERUM fans 11 solid tracks on an album that stands on its own in terms of their writing style, in both music and lyrical theme. As Sami explains "I can't promise that this way of lyric-writing will be the future of Ensiferum, but at least we did this once."
4.0 Out Of 5.0




Please log in to view RANTS

If you don't have a username, click here to create an account!