BLACK CROWN INITIATE Violent Portraits of Doomed Escape


By Peter Atkinson, Contributor
Wednesday, August 12, 2020 @ 12:12 AM


| | | |
| --- | --- | --- |
| | | |
BLACK CROWN INITIATE
Violent Portraits of Doomed Escape
Century Media Records




I was beginning to wonder what happened to these guys. After an EP and two albums in fairly rapid succession from 2013-2016, things have been pretty quiet on the BLACK CROWN INITIATE (BCI) front. And though the Pennsylvania-based quintet didn't exactly fall off the progressive death metal radar screen, with sporadic tours during that time, compatriots like RIVERS OF NIHIL and ALLEGAEON were able to make considerable waves by staying more active – and productive.

Sure, there were lineup changes – which included the return of original BCI guitarist Ethan McKenna - and a change of labels from eOne to Century Media. But these days, four-plus years between albums for an underground band is a lifetime – or a death knell. Per the cliché, though, it is what it is, and there's no going back. And, in the end, the long stretch doesn't seem to have any adverse effects musically.

BCI's third full-length, Violent Portraits of Doomed Escape, is a pretty darn ambitious, involved and agile effort. And instead of focusing on mere technical dexterity, the album ably emphasizes dramatic shifts of mood and stark contrasts, something that is apparent from the start as the initial acoustic guitar strains and folksy clean vocals give way to crashing riffs and wolverine snarls on the epic "Invitation". Over its eight-minute sprawl, "Invitation" is punctuated by soaring choruses played against heaving, djenty verses and jammy lead breaks, and makes quite an opening statement.

"Trauma Bonds" offers a similar mashup, only with more of a jazzy feel during the quieter moments and another stirring chorus that showcases frontman James Dorton and guitarist/clean vocalist Andy Thomas' remarkable Jekyll & Hyde dynamics, - as do the almost QUEENSRYCHE-y highs on "Years of Frigid Light" or that blast-beat powered buoyancy of "Son Of War" and "Holy Silence". Each chorus is a money shot, yet done in such a way as to sound natural and not jammed in there just because, a pitfall of so many "extreme" bands. Here, they all sound glorious..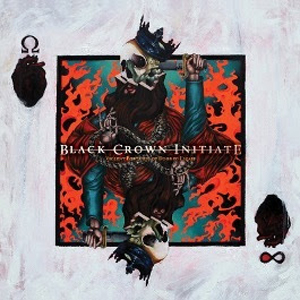 The throat singing that closes "Frigid Light" and makes up the entirety of the aptly titled a capella interlude "Bellow", on the other hand, not so much. I know THE HU has made Mongolian metal a hot commodity or sorts, but Reading, Pennsylvania, is a long fucking way from Ulaanbaatar. So dunno what purpose "Bellow" serves, other than making for a grating curiosity midway through. And while it is only 2:15, it is still 2:15 too long. Perhaps Dorton should have simply dropped the mic after wrapping "Frigid Light" instead of continuing on.
But it is a minor hiccup, and easily skipped over. And the backside of Violent Portraits is as strong as the front, especially the magnificent, malevolent epic tag-team of "Sun Of War" and "Holy Silence". The most technically inclined tracks here, they also offer some of the most fearsome moments, with Dorton's imposing growls building on McKenna and Thomas' crashing riffs and screeching sweeps. Both top seven minutes, but sound tight and well-honed, even with the extended, dramatic outro to "Silence", which would have served well as the album's finale.
Instead, BCI tack on "He Is The Path", two minutes of piano, cello and moaned vocals, and kinda limp over the finish line. IMHO, "Path" would have worked better as the mid-point interlude, substituting for the unlistenable "Bellow". Those two tactical issues aside, however, Violent Portraits is a welcome return for a band that is making up for a bit of lost time – at least new material-wise - in fine style.
3.5 Out Of 5.0

Please log in to view RANTS