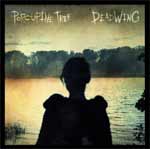 Ashamedly I must admit that I had never even heard of Porcupine Tree until In Absentia was released, and then probably only because of Steven Wilson's ties with Mikael Akerfeldt and Opeth. Since I started listening to them they have, however, become one of my favorite bands. Needless to say I was very excited when an advance copy of their latest album, Deadwing, showed up in my mailbox. I've tried several times to do this review in several paragraphs but it seems I have far too much to say to make it that simple, hence the song-by-song breakdown that follows.

"Deadwing" opens with the lengthy title track which nicely introduces the listener to the rocking, but at the same time ethereal, ride that they are about to embark on. The song features just about everything one would expect from PT: haunting keyboards, layered vocal melodies and the stellar vocals of Mr. Steven Wilson. I have one minor gripe with this track and that is the sections featuring monotone vocals; the vocal patterns remind me just a little too much of rap vocals and in my opinion that's probably the one thing that shouldn't ever make it's way into Porcupine Tree's experimental repertoire.

"Shallow" is the closest thing to a metal track on the album, it's very riff heavy and if it wasn't for the keyboard bits it would sound a lot like something Soundgarden would have done in their heyday. From what I understand this is *the* radio track from this album and although I'm not a music radio listener I can imagine it blows the doors off its competition.

"Lazarus" takes a step down from the previous track, unveiling the soothing and mellow sound of the band on this album. The key elements of this song are the ongoing piano melody and Mr. Wilson's vocals at their "nicest." There are also some slide guitar bits during the choruses which hint (just barely) at some country and western influences.

"Halo" is one of the trippier tracks on the album with some killer bass runs that remind the listener of the bands serious chops and a chorus that is very difficult to keep out of one's head, especially after repeated listenings. If it weren't for the 70's-ish parts and the odd timings this would also be a good candidate for a radio track.

"Arriving Somewhere But Not Here" is the albums opus, a 12+ minute epic that starts out sounding haunting and Pink Floyd like that gradually works it's way into a metallic frenzy at it's midpoint, only to then turn around and drop the listener back into the ether with a emotionally charged guitar solo courtesy or Mikael Akerfelt of Opeth fame. I can listen to this one over and over again and often do so; for me this is the single best track on the album.

"Mellotron Scratch" takes us into more familiar Porcupine Tree terrain, with acoustic/electric Zeppelin like riffs and rich vocal harmonies, which are for the most part absent from the other tracks on the album. The drum mix (or choice of percussion instruments) on this song is very unusual sounding and adds considerably to the groovy nature of the piece; it also rattles the heck out of the subwoofer in my car, which is not necessarily a bad thing.

"Open Car" begins with a simple riff and vocals that remind me of the sound of paranoia and chaos, followed by a HEAVY Sabbath-esque riff, then back to the paranoia riff vocals, then off to a mellower section that seems to explain the insane feelings of the previous parts. The lyrics and moods express (at least to me) memories, loss, and confusion, some of my favorite topics; however this opinion many change once I get the retail version with lyrics. This is another standout track for me that generally receives several plays before moving on to the next one.

"The Start of Something Beautiful" is another ethereal, trippy, 70's-ish rocker/ballad that is much more like the material that Porcupine Tree created in the pre-Lightbulb Sun era. Its interesting time signatures and creepy melodies create a song that is at the same time gloomy and uplifting.

"Glass Arm Shattering" escorts the listener off to another world with spacey slide guitar and a highly melancholic feeling; to me it seems as though they wanted to leave the listener on another planet to close the album. The vocal harmonies within are layered densely with at least 3 or 4 simultaneous harmony tracks. Like the previous track, this manages to create a feeling of dread and beauty, a canvas that would seem discordant yet the band manages to merge those feelings into a highly coherent closer.

"Shesmovedon" (bonus track) is a re-recorded version of what is probably the best-known song from the Lightbulb Sun album. I prefer the original; however this version is interesting for the different vocals and added distortion to some of the guitar parts. People who haven't hear the original will still love it because at its heart lies one of Porcupine Tree's classics.

After at least fifty listens (and still counting, this CD is what seems to be a permanent fixture in my car deck) I've come to the opinion that this is my favorite Porcupine Tree album to date. Like In Absentia, it's a little on the commercial side, especially when compared to early PT albums like Signify, but it doesn't erode into the stale sameness of the majority of today's music. One has to listen a bit more carefully but the virtuosity of the musicians is still there so the dedicated prog heads shouldn't be to disappointed. If I can think of one underground band that deserves hitting the big time with platinum album sales and arena show Porcupine Tree is that band and this is the album to take it there. Metalheads note that Michael Akerfeldt contributed heavily to the backing vocals on this album as well, yet another reason to rush to the shore and buy this album now. As it stands now Deadwing is easily my album of the year.