SMASH INTO PIECES Arcadia


By Halo, Heavenly Contributor
Wednesday, September 2, 2020 @ 7:33 AM


| | | |
| --- | --- | --- |
| | | |
SMASH INTO PIECES
Arcadia
Gain/Fifth Island Records




Arcadia is out! Arcadia is Swedish band SMASH INTO PIECES' 5th studio album. They've put out five albums since 2008. They have had top hits on iTunes, hundreds of thousands streams on Spotify, won Bandit breakthrough awards as well as the prestigious Millencolin music prize. This album is sure to score well on many charts. Considering the state of the world right now, the metaphoric album is easily a soundtrack of our lives currently. A genius concept, it's much more than just a game, much more than just an album.

SMASH INTO PIECES has been described as pop, rock, heavy metal and techno. I'm finding it difficult to say what genre they are. I'm very familiar with the past albums. Their music and sound is all over the place, crossing so many lines. Their music has something for just about anyone. Heavy Melodo-Tech Rock, yes that's my term. You heard it first here… just saying lol!

The band is fronted by Chris Adam Hedman Sorbye, who you may know from his time with AMARANTHE. His vocals are always phenomenal. Benjamin Jennebo is on guitar along with Per Bergquist on guitar, bass and vocals. On drums is The Apocalypse DJ, "The Super DJ". These four managed to put out a futuristic album that I am truly addicted to. I don't think I've ever reviewed an album that could be played on so many different music outlets that are genre specific. They could easily have hits in so many categories.

Arcadia is the name of the game, containing a world where there's no line between reality and virtual reality. When you enter this game you become Apoc. Apoc is the outsider that's been living off the grid, sets out on a mission to end the control of S4y and let people live freely making choices based on true information. Each song is considered an Episode that Apoc goes on a journey and has different experiences in, working his way through the Matrix. There's 13 tracks (episodes) on this album. The first is "The Siren", which could easily be an intro to a futuristic movie, something like War of The Worlds. It leads into "Wake Up'" with such badass beats, insane mixes of techno and rock. The title track "Arcadia" is a metaphor for life. With lyrics like "Better learn to play the simulation game" and "we're all asleep, someone please wake us up", it pretty much nailed our society as a whole right now.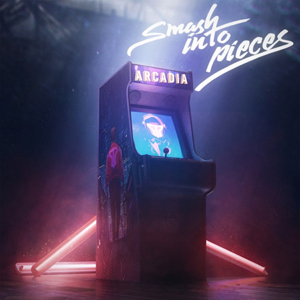 One of my favorites on this album is "Everything They S4y". Notice the spelling of Say/S4y. Gotta pay attention! This song talks about going back to a better time; "Don't believe in every story". Another one I keep replaying is "Big Bang". This could be the opener. I picture them in a big arena like the good ol' Rock arena shows, lights down and then "Bang Bang". This is one of the heavier tracks. Horns up on this one! "Forever Alone" is so reminescent of some of the 80's club techno hits. They add the rock element that breaks into the synthesizer sound. Clubs will have people dancing to this one. The live shows will have to make room for dancing not moshing. "Ego" is one I've listened to too many times to count. It makes me reflect on certain people, narcissism everywhere. I'll shut my mouth now. Ha! "The Chosen One" has one of my all time favorite quotes, "fake till you make it". I'm currently identifying with this entire song. Freaking love this one. Each song is unique. There's a different element, feel and sound to all of them.
I absolutely love this album. It's a true testament to the diverse sounds and creativity that the guys put into it. When I've played it in front of people of all ages and different backgrounds they have all said awesome things about it. Kids that normally only listen to rap, 80's fans, Heavy metal fans and club kids (well old club kids now) have all found songs they say they are hooked on now. I look forward to seeing this album done live at a show. Please, sooner than later!!! It's going to be a phenomenal show.
5.0 Out Of 5.0




Please log in to view RANTS

If you don't have a username, click here to create an account!