KAMELOT I Am The Empire – Live From The 013


By Peter Atkinson, Contributor
Thursday, September 3, 2020 @ 9:25 AM


| | | |
| --- | --- | --- |
| | | |
KAMELOT
I Am The Empire – Live From The 013
Napalm Records




Remember concerts? Yeah, me too. Miss 'em, because it has been quite a while, eh? Probably gonna be quite awhile longer too, unless you feel like risking your life to see GREAT WHITE - or fucking SMASH MOUTH, for Christ's sake - in the Dakotas or some way out of the way corner where they seem to care less about the pandemic.

So until bands can safely head back out on the road, and people can crowd together and rock out again without having to worry about ending up on a ventilator, concert DVDs like this one are pretty much the next best thing, or perhaps the least worst option – unless you want to pony up to stream someone playing live to no one (and deal with whatever technical difficulties will inevitably ensue), or go to a drive-in show and watch from your car!

I personally would rather have a bit of spectacle and some genuine interaction, and there is certainly no shortage of either on I Am The Empire – Live From the 013. Though the 013 concert hall in Tilburg, The Netherlands, holds about 3,000 people, multi-national symphonic rockers KAMELOT packed plenty of arena-sized aspirations into the show it filmed there back in the heady pre-COVID 19 days of September 2018. Pomp, pyro, fancy solos, frenetic light show, plenty of all-star guest singers, string quartets, a kids' choir and one majestic anthem after another ably led by ace frontman Tommy Karevik lift this from your average metal show into a genuine event that plays out with the precision of a Broadway production.

The nearly two-hour, 21-tune extravaganza doesn't waste any time getting right to the action as ONCE HUMAN's Lauren Hart duets with Karevik on the rousing opener "Phantom Divine", delivering soaring cleans and feral barks amid a curtain of flame. The parade continues with appearances by AMARANTHE's Elize Ryd, DELAIN's Charlotte Wessels on the ballad "Under Grey Skies", and Alissa White-Gluz, who guests on three tracks - including a threesome as it were, on "Sacrimony (Angel of Afterlife)" with Ryd and Karevik. She also gets to showcase the impressive clean singing she has seemingly left behind in her day job with ARCH ENEMY.

White-Gluz plays both Jekyll and Hyde with aplomb on show closer "Liar Liar (Wasteland Monarchy)" and the awesome "March of Mephisto", nailing the silky harmonies and the beastly growls that were supplied by DIMMU BORGIR frontman Shagrath on the studio original. It stands as one of KAMELOT's heaviest, most imposing tunes, and is one of the few here that predates Karevik's turn with the band that began in 2012.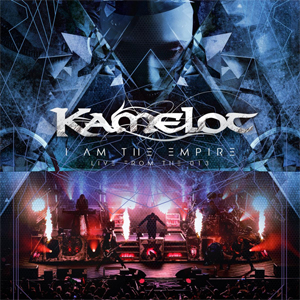 The German string quartet EKLIPSE takes the stage on "My Confession" to bring the real deal symphonics, otherwise doled out by keyboardist Oliver Palotai, while the children's choir - which includes founding guitarist Thomas Youngblood's son – adds it voices to "Burns to Embrace", just as it did for the studio version on 2018's The Shadow Theory. The family ties are something of a Youngblood tradition, as the guitarist's wife and daughter have performed with the band as well over the years.
Betwixt and between, KAMELOT delivers the symphonic/power/speed metal metal goods on its own with a mix of grandiosity, grace and slick, well-choreographed stage craft. The quintet doesn't miss a trick and guarantees the energy never wanes throughout – even during the drum and keyboard solo aptly titled "Drum And Keys Solo". The posturing and camp do get laid on a bit thick, but no one at The 013 seems to care as they are into it with gusto from the get-go, which definitely makes for a lively video presentation.
I Am The Empire – Live From the 013 is about all one could really ask for in a concert experience. And until the real thing becomes a thing again, it makes not being able to go to shows suck a little bit less – and is certainly less hassle than any other option. It also offers a taste of what we can probably look forward to when we come out on the other end and bands want to show us what we've all been missing when they get back out there – whenever that is. At least let's hope so.
4.0 Out Of 5.0

Please log in to view RANTS