DEAD LORD Surrender


By Andrew Depedro, Ottawa Corespondent
Tuesday, September 15, 2020 @ 12:29 AM


| | | |
| --- | --- | --- |
| | | |
DEAD LORD
Surrender
Century Media Records




They're gritty, they're authentic-sounding, and according to their bio, they're pretty popular in their native Sweden since forming about a decade ago. It would perhaps explain why we here in North America have been somewhat slow in our reception to the THIN LIZZY-inspired sounds of boogie rockers DEAD LORD as they've been touted as a new band on this side of the pond despite bearing four full-length studio albums including their latest opus titled Surrender. And perhaps the most surprising aspect of this album – other than that Century Media took a chance on a Swedish band that wasn't a death metal band – is that the album captures a lot of the harmonious riffs and colorful lyrics of their oft-compared musical forefathers.

Now, like any and every hard rock band inspired by THIN LIZZY, DEAD LORD sound abundantly clear of their musical leanings: To draw upon much of the themes of politics, religion and racism in their lyrics just as Phil Lynott had done, and to avoid sounding far too identical to THIN LIZZY. Frontman/guitarist Hakim Krim definitely encapsulates Lynott's songwriting skills through personal experience and can weave them into vivid imagery in songs such as "Letter From Allen Street" and "Messin' Up". He also plays guitar and some electric bass on most of Surrender after having taken on the role of bassist on their previous albums, with newcomer Ryan Kemp otherwise assuming most of his bass duties. And while other tracks such as "Bridges", "Authority", "Gonna Get Me" and "Distance Over Time" have an intimidatingly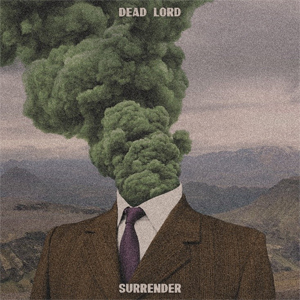 straightforward hybrid "Cold Sweat"/"Bad Reputation" vibe to them, there's a steady balance of heartfelt numbers such as "The Loner's Way""Evil Always Wins". The musicianship throughout the album is definitely high quality thanks to the mid-range-madness-guitar and angelic backing vocals of Martin Nordin and the insanely solid drumwork of Adam Lindmark.
As good of an album Surrender is, it's almost a shame to compare it and DEAD LORD's overall output to many of their own influences, particularly towards THIN LIZZY. The songs are more darker, the vibe is more frenetic and the bulk of the lyrics take on more of a deeper level from a life experience than even the bleakest of TL's own catalogue from its own era. Yet, the sounds of DEAD LORD's classic raw vibe, while drawing from its aforementioned influences, otherwise speak with a new voice for a new era. And while the album's title may imply the action of submission to some, it also can imply the yielding to the power of its music and words, ironically further implying its own fighting spirit.
4.5 Out Of 5.0
https://www.deadlord.com/
https://www.facebook.com/deadlordswe

Please log in to view RANTS




YNGWIE J. MALMSTEEN, GLENN HUGHES In Worcester, MA With Photos!

ALICE COOPER Road

RAT ROD Four On The Floor

GIRLSCHOOL WTFortyFive?

DANKO JONES Electric Sounds

AVATAR, ORBIT CULTURE, THE NATIVE HOWL In Houston, TX With Photos!

THE DEAD DAISIES In Hollywood, CA With Photos!

KILL DEVIL HILL Seas Of Oblivion

THE DEAD DAISIES In Ottawa, Canada

MAMMOTH WVH In Santa Ana, CA

UADA Crepuscule Natura

BARONESS Stone

KAMELOT, BATTLE BEAST, XANDRIA In Houston, TX With Photos!

CRYPTOPSY As Gomorrah Burns

RAY ALDER II

GHOST, AMON AMARTH In Houston, TX With Photos!

U.D.O. Touchdown

DETHKLOK Dethalbum IV

STEVE VAI In Ottawa, Canada

PANTERA, LAMB OF GOD In Houston, TX With Photos!