NAPALM DEATH Throes Of Joy In The Jaws Of Defeatism


By Peter Atkinson, Contributor
Friday, September 18, 2020 @ 11:20 AM


| | | |
| --- | --- | --- |
| | | |
NAPALM DEATH
Throes Of Joy In The Jaws Of Defeatism
Century Media Records




Holy shit! NAPALM DEATH is turning 40 years old next year. But time flies when you grind as hard as these guys have, in whatever shape or form the band has taken over the years - and its lineup changes were the stuff of legend back in the day. But while NAPALM is hitting middle age, so to speak, at a bit of a crossroads, the quartet is as vibrant and vital as ever.

NAPALM's 16th full-length, Throes Of Joy In The Jaws Of Defeatism is its most feral and inspired effort since 2000's Enemy Of The Music Business, when the band emerged from a period of sonic experimentation and creative strife and got back to making "noise for music's sake", to borrow the title of its 2003 compilation. With longtime guitarist Mitch Harris having largely removed himself from the band since 2015's Apex Predator – Easy Meat, songwriting duties have fallen almost exclusively on bassist Shane Embury, with frontman Mark "Barney" Greenway contributing lyrics. But the pair are more than up to the task here.

Throes is as varied as it is vicious, although it takes a few songs for said variety to reveal itself. The album opens in a veritable shitstorm of grind, with the breathless "Fuck the Factoid" giving way to the equally furious "Backlash Just Because", "That Curse of Being in Thrall" and "Contagion" (which is actually about greed and not Covid-19). Frantic riffs and heaving grooves – some of which are provided by Harris, who does play on the album along with live guitarist John Cooke, and even contributes a few of his signatures shrieks - Danny Herrera's jackhammer drumming and Greenway's wolverine growls power this especially fearsome foursome, pinning you right to your seat from the drag-race start to "Fuck The Factoid". It's as exhilarating an opening salvo as you could ever ask for.

The band then stray dramatically from that path with the eerie industrial drone of "Joie De Ne Pas Vivre". With its grinding bass lines and screechy, shaman-like vocalizations it sounds almost a hybrid of an amped up GODFLESH and MAYHEM at its weirdest. The more subdued and deliberate, but menacingly heavy "Invigorating Clutch" that follows offers a Monothiest-era CELTIC FROST crunch with its buzzing, mechanized riffing.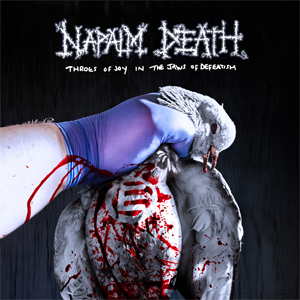 The vigorous "Zero Gravitas Chamber" kicks things back into overdrive with hardcore-tinged authority and Greenway's bug-eyed, vitriolic orations, something that carries over to the slightly less locomotive, but no less intense "Fluxing of the Muscle". Always forthright and impassioned, Greenway sounds close to losing it here, as he desperately barks "Our armaments don't slay, yes, we make them just to entertain, Yes, food not bombs, please, food not bombs," on "Zero Gravitas Chamber".
"Amoral" marks another dramatic contrast, as NAPALM shifts gears into KILLING JOKE/SONIC YOUTH industrial/noise rock mode and offers one of the most effortlessly catchy tunes the band has ever done. Here, Greenway is more dismissive than frantic, drolly offering that "In the end we're just food for the worms. Shit of the earth" on the ear-wormy chorus as his mates chug earnestly on.
After the title track and "Acting in Gouged Faith" get the band back to blasting and hammering, Throes closes the album by slamming on the brakes and taking a harrowing electronic/industrial turn a la SWANS or AUTHOR & PUNISHER with "A Bellyful of Salt and Spleen". The song seemingly harks back to "Discordance", the 90-second intro to 1992's Utopia Banished, only more fully formed, as Embury's quaking bass and Herrera's thunking drums are married with clattering effects and synths and Greenway's moaning vocals.
"Spleen" makes for a rather unexpected and unsettling, but ultimately fitting denouement. The utter assaultiveness of much of what comes before it will pretty much leave you spent by then. And while it is no less heady or heavy, the comparative calm is almost a relief.
4.5 Out Of 5.0




Please log in to view RANTS

If you don't have a username, click here to create an account!