Legendary Death Metal Pioneers BENEDICTION from Birmingham, UK release their second single "Stormcrow" today.

"In many cultures, the crow is seen as a harbinger of doom and a bad omen - this song deals with that", Dave Ingram comments.

The video was shot on abandoned wasteland somewhere in the outskirts of Sheffield, in the North of England. Directed by Dan Hart/Light Engine Films. Watch the video now on KNAC.COM HERE.

Darren Brookes says: ""Stormcrow" was a particularly difficult but enjoyable video to shoot. As anyone who's done one will know, it's take after take after take, and as you can see it was a blisteringly hot day too. We did have passers-by, joggers, dog walkers and they were stopping to check out what was going on and that's the closest we've managed to a live gig this year!"

Scriptures the first new album since 2008 (produced by Scott Atkins at Grindstone Studio in England) will be released on October 16, 2020, via Nuclear Blast. Pre-Order: http://www.nuclearblast.com/benediction-scriptures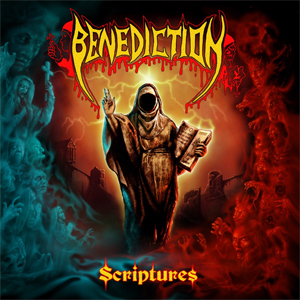 Pre-order your copy of Scriptures here:
www.nuclearblast.com/benediction-scriptures
BENEDICTION is BACK! And they are better than EVER!
Below is the tracklisting for Scriptures:
"Iterations Of I"
"Scriptures In Scarlet"
"The Crooked Man"
"Stormcrow"
"Progenitors Of A New Paradigm"
"Rabid Carnality"
"In Our Hands, The Scars"
"Tear Off These Wings"
"Embrace The Kill"
"Neverwhen"
"The Blight At The End"
"We Are Legion"