In Memory: A Fellow Guitarist Remembers The Impact Of EDDIE VAN HALEN

By George Mihalovich, Pittsburgh Contributor
Friday, October 9, 2020 @ 11:26 AM

| | | |
| --- | --- | --- |
| | | |
Photo By Junkman Photos
As I sit here looking at the latest issue of Guitar World with Eddie Van Halen on the cover, I'm kind of in shock. The feeling is similar to when Ronnie James Dio passed away; even though I never met either of them, they still felt like friends because their music and presence were such fixtures in my life. It wouldn't take much to find other images of both of them scattered around the house.
I have two early memories of being introduced to VAN HALEN. Some of the details are fuzzy, but I believe I discovered the debut when two childhood friends (Kevin Toth and Mike Touville) played it for me and were kind enough to let me borrow it for a few days. I do recall being blown away by Eddie's groundbreaking musicianship. My next memory is clearer; I was at my Aunt Peg's house and my cousin Bill — also a guitarist — asked me if I wanted a VAN HALEN album that he bought and didn't like (which I never understood after hearing it). It was VAN HALEN II, and it made a tremendous impact on me. To this day it's my favorite VH record; the songs are great from start to finish ("Somebody Get Me A Doctor" and "Outta Love Again") and Ed's playing and tone are just incredible. I would have to put Fair Warning a close second; it's a darker album, but in addition to the classics "Mean Street" and "Unchained", many would argue (myself included) that it displays the best lead playing and tone of his career.
Ed was a force of nature – he hit like a bolt of lightning and the worlds of popular music and guitar culture have never been the same since. He left behind a large catalog of hits — to the extent that most people with even a passing interest in rock can probably name a few VAN HALEN songs. Aficionados of hard rock and metal, however, are clear that their early records positioned them at the vanguard of the resurgence of rock music. Their style and Eddie's playing were the nexus of the southern California scene that yielded a host of classic bands and guitarists — including DOKKEN (George Lynch), RATT (Warren DeMartini) and OZZY OSBOURNE (Randy Rhoads) — just to name a few of the more obvious of the legions of amazing players influenced by his style and tone. He may not have invented two-handed tapping, but he certainly popularized and took it to a level and packaged it in such as way as to fundamentally redefine how people viewed what was possible with a guitar. Furthermore, many of his other techniques including his speed, approach to harmonics and tremolo (aka the "whammy bar") have become standard for rock guitarists. To this day, in all styles of music, people are exploring and expanding upon the foundation he created.
Eddie's impact extends even further; he also changed the musical instrument industry forever. I think it's pretty safe to say that he amongst the most significant marketing forces the industry has seen; everyone wanted to have his gear. The pickups, effects, amps and other products created to mimic his "brown sound" are ubiquitous, and the guitars that many of us play are a direct result of his original homemade axe. Before EVH, you didn't walk into a music store and see guitars with direct-mounted pickups (no pickguard) and outrageous colors and graphics. Now these are standards (particularly for harder-edged players), and it's all down to Eddie and "Frankie," the iconic original homemade Charvel/Mighty Mite parts guitar with the red, white and black-striped paint job. This visual imagery (along with the yellow and black version pictured on VH II) remains prevalent and immediately identifiable with EVH to this day. He also popularized the Floyd Rose locking tremolo and collaborated with Floyd himself to perfect the fine tuners. The original and licensed versions of this tremolo (and for better or worse, the accompanying "dive bombs") are standard equipment on untold guitars manufactured to the present.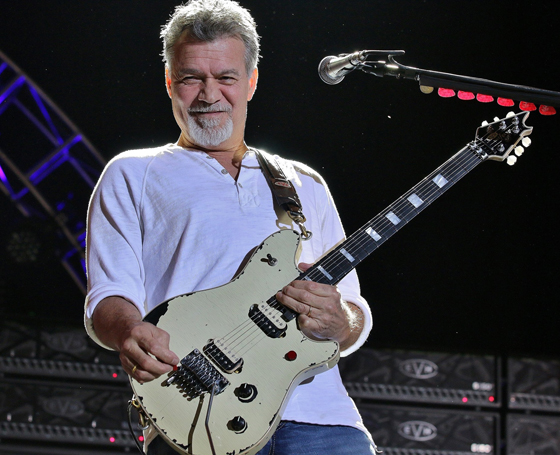 Speaking of manufacturing, his EVH brand has been wildly successful with both his signature guitars (which includes official versions of the "striped" graphic) and amps. The amps in particular have become a staple for many rock, hard rock and metal guitarists. It's easy to forget where it all started with many of these products because at this point his vast influence as a musician, designer and innovator is generations deep and so pervasive that it just seems normal. It's a testimony to his ears, creativity and relentless quest to push the envelope to get what he wanted that allowed his products to transcend styles. It seemed a natural progression for him to have his own company after many years of collaborating on and endorsing the products of others. From what I have read, he was very proud of this achievement and the EVH brand was an important part of the latter portion of his life.
All this said, none of us could ever really sound like Ed — he was too special and it was in his hands, head and heart. His tone, technique (lead and his amazing rhythm playing) and writing are the stuff of legend. He somehow managed to be ridiculously melodic and memorable, yet vicious in the best possible way. There are many stories of famous players who were excited to try his rig, only to be disappointed because they still sounded like themselves. This is one of the many reasons his tone, techniques and musical ideas continue to be gold standards of inspiration.
This just scratches the surface of his influence and legacy. Many others have already shared their thoughts and recollections on his music and life, and I'm sure much more will be said in tribute in the months and years to come. Eddie led the way, and guitarists followed in his path. It's hard to say goodbye, but his music and incalculable influence will always be with us. I'm sure that I echo the sentiments of the staff, readers of KNAC.COM and fans around the world when I say, "We love you Ed, thanks for the music and memories."