LEAVES' EYES The Last Viking


By Andrew Depedro, Ottawa Corespondent
Monday, October 12, 2020 @ 12:01 AM


| | | |
| --- | --- | --- |
| | | |
LEAVES' EYES
The Last Viking
AFM Records




He worked hard, played hard, ruled hard and was pretty much the reason the word "hard" was likely included in every and all global vocabularies since it was implied in his nickname as Hardrada ("the hard ruler"). Better known as King Harald III of Norway, he was one of the first and fiercest Viking conquerors that Britannia and beyond had ever known, pillaging and looting throughout every conquered land and was never one to shy away from a fight because he was strictly OG that way. His last battle at Stamford Bridge in 1066 brought forth the collapse of the Viking dynasty following eons of mercilessly cruel wars, fights over power, journeys to exotic worlds guiding to powerful women, emperors and kings falling into ruin.

And, really, who better to document Hardrada's legacy and put it to music better than German/Norwegian symphonic metal historians LEAVES' EYES by now? With their cult-albums Vinland Saga (2005) and King Of Kings (2015) they already turned Leif Eriksson's discovery of America and the life of Norway's first king into music. With their latest opus The Last Viking, LEAVES' EYES throw down the proverbial horns on Hardrada and the Viking era for the last time with a proper fiery send-off.

The band's second album with Finnish soprano-sensation Elina Siirala, The Last Viking sees LEAVES' EYES raising both their musical skills and Norse knowledge to unfathomed heights. Elina even gets a greater opportunity to radiate as both a headlining singer and contributing songwriter to the bulk of the material throughout the album. On the lead-off raging pagan-hymn "Chain Of The Golden Horn", chronicling Hardrada's dangerous escape from Byzantium, where a heavy iron chain was hidden in the Bosporus waters to wreck hostile ships, her powerful vocals and narration talents are captivating when coupled with the outer voice of Alexander Krull guiding Hardrada's rage and unbridled hunger for complete domination. Yet it is throughout the rest of the album that as the vengeful empress Zoë, Elina assumes control of the relationship, particularly on the haunting rock opus "Dark Love Empress" which sees the stalwart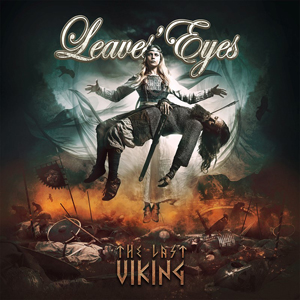 Viking hero taken down several notches when he refuses to be another of her lovers and ends up in locked in the Byzantine dungeons. In the speedy symphonic-smash hit "Serpents And Dragons" she joins a strong duet battle with Alex Krull, bringing Hardrada's naval combat for the Danish crown with hundreds of longships impressively to life. The ten-minute-epic title track is a spectacular ride through the variations of metal music. Being all bombastic, heavy, dark and atmospheric at the same time, it perfectly captures all aspects of the drama in Hardrada's life and death. Even the powerfully bombastic war cries such as "Night Of The Ravens" and "Flames In The Sky" can initially intimidate with Alex's sinister bark, it's Elina's eerily soothing dulcet tones which carry the momentum of the songs towards the climax, while the jovial-sounding "Varangians" is practically the hymn of Hardrada's literal last call at the tavern the night before the showdown at Stamford Bridge.
"Some TV dramas or blockbusters make me smirk when I see the Viking Sagas turned upside down. We don't mess around in mythology!" promises Alexander Krull throughout the course of The Last Viking. And both himself and LEAVES' EYES have definitely gone beyond merely acknowledging Hardrada's hardwiring to self-destruct but celebrating and hailing the Leif and all of what Viking mythology represented overall – hence why The Last Viking is worth raising the horns for as the band venture forward to conquer more of the Norse code.
5.0 Out Of 5.0
https://www.leaveseyes.de/
https://www.facebook.com/leaveseyesofficial
https://www.instagram.com/leaveseyesofficial/




Please log in to view RANTS

If you don't have a username, click here to create an account!