ARMORED SAINT Album Release Party Livestream


By Ruben Mosqueda, Contibutor
Tuesday, October 13, 2020 @ 11:41 AM


| | | |
| --- | --- | --- |
| | | At The Whisky In Hollywood, California, October 10th |
I discovered Los Angeles' ARMORED SAINT in 1987, when I had a friend play me a cassette of the band's third album Raising Fear. I heard the title track, followed by the cover of [LYNYRD] SKYNYRD's "Saturday Night Special" and I had heard enough. I NEEDED that album. Then of course, I worked my way back and picked up March Of The Saint and then Delirious Nomad. Around that time ARMORED SAINT toured with HELLOWEEN and GRIM REAPER for an MTV HEADBANGERS BALL sponsored tour, which was documented for air on MTV when they hit Minneapolis, Minnesota.

ARMORED SAINT have a new album Punching The Sky due on October 23rd, 2020 on Metal Blade Records. It's the follow up to their critically acclaimed 2015 effort titled Win Hands Down. The band toured extensively behind Win Hands Down, most notably their North American co-headlining tour which I caught In Portland, Oregon. I've alway been dumbfounded as to why this band didn't get to the level of some of their contemporaries, not that that level of 'success' proves whether or not a band is in fact a 'great' band or not. I mean, if you have followed ARMORED SAINT over the years you know they are a 'blue collar', hard working band that has put every ounce of energy in their being into their craft and the musicianship. That's not even throwing their incredible back catalog of songs into the discussion. In short, all the ingredients were there for ARMORED SAINT to break out. When I spoke with frontman JOHN BUSH in 2016 he reminisced about his Northwest shows, "I was trying to remember when the last time we played there. It doesn't seem that long ago but it was 2001 when we opened for DIO. It's great to finally get back to the Northwest and play Portland and Seattle. It's even better that we're co-headlining with a band like METAL CHURCH that's from the neighborhood. We had a legendary show in Portland which at the time it was METALLICA, W.A.S.P. and ARMORED SAINT, but by the time we got to Portland, it was just METALLICA and ARMORED SAINT at that point. It was the last show of the tour and I took my 'beastmaster' top and threw it out into the audience. It probably wasn't the greatest of ideas, but we were excited and we were acknowledging that it was the last night of the tour".

As you are fully aware, the world has come to a screeching halt due to COVID-19. North America was shut down in March and bands came off the road. If 2020 were an uneventful or 'typical' year ARMORED SAINT would have played this gig at THE WHISKY to a capacity crowd and they would have already had the rest of the year booked and would have resumed in the first quarter of 2021. As Bush said two tunes into the set, "2020, this is the tour" as he addressed the virtual audience during The Whisky show. Now you hope that there will be a touring cycle for Punching The Sky, but who knows when that will be exactly. So instead of sitting on the album for a few months--here it is. It's a gamble to or not release an album in the middle of this pandemic, but you hope a strong effort such as Punching The Sky will get it's due.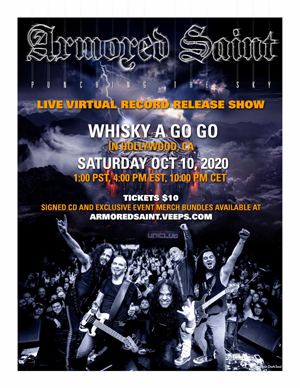 ARMORED SAINT included four new tunes in the set, "Never You Fret", "End Of The Attention Span", "Standing On The Shoulders Of Giants" and "Missile To Gun", all of which went over tremendously well in the set. The deep cut of the set was "Isolation" from the classic album Raising Fear, in which Bush made reference to the current pandemic. Injected into the set were "Mess", which represented Win Hands Down and "Pay Dirt" from Revelation. I find it hard to believe "Pay Dirt" and Revelation are 20 years old. Two classics closed out their 12 song set: "Reign Of Fire" and "Can U Deliver". I have two complaints if you can even call them that; the performance went by too quickly, a 90 minute set would have been even more wonderful and I really missed "Win Hands Down" in the set. The guys took a few minutes to towel off then they jumped back onto the screen and took part in a 30 minute Q & A, with questions submitted by the fans viewing the concert online. My take away from this: I love even more than I did when I was a 13 year old kid in 1987 growing up in rural Oregon when I discovered them and how much I miss seeing high calibur acts like ARMORED SAINT live and in the flesh. Fuck you 2020! If you missed out on this event don't fret, it's available through November 9th, 2020 via www.veeps.com. Also don't forget to pick up their magnificent new album when it's released on October 23rd.

https://armoredsaint.veeps.com/

Set list:
"Never Fret"
"Pay Dirt"
"Mess"
"For The Sake Of Heaviness"
"End Of The Attention Span"
"On The Way"
"Isolation"
"Standing On The Shoulders of Giants"
"Missile To Gun"
"Left Hook From Right Field"
"Reign Of Fire"
"Can U Deliver"




Please log in to view RANTS

If you don't have a username, click here to create an account!






CRADLE OF FILTH Existence Is Futile

BEAST IN BLACK Dark Connection

MASSACRE Resurgence

DREAM THEATER A View From The Top Of The World

JAY JAY FRENCH Twisted Business: Lessons from My Life in Rock 'N' Roll

BLACK LABEL SOCIETY, PRONG And OBITUARY In Portland, OR With Photos!

GEMINI SYNDROME 3rd Degree - The Raising

DORO/WARLOCK Triumph And Agony Live

BETWEEN WORLDS Between Worlds

ALCATRAZZ V

BEHEMOTH Sventevith (Storming Near the Baltic) Reissue

ALICE COOPER, ACE FREHLEY In Nashville, TN With Photos!

CARNIFEX Graveside Confessions

BLOOD RED THRONE Imperial Congregation

GUS G. Quantum Leap

BILLY IDOL The Roadside EP

AVATAR, MAGIC SWORD In Houston, TX With Photos!

APRIL WINE, MONKEYJUNK At The Ottawa Bluesfest

MINISTRY Moral Hygiene

CRYPTA Echoes Of The Soul

SKILLET In Houston, TX With Photos!

Immortal Axes: Guitars That Rock Book

IRON MAIDEN Senjutsu

GRINDER BLUES El Dos

GEORGE LYNCH Seamless Review #2

IN THIS MOMENT, BLACK VEIL BRIDES In Houston, TX With Photos!

WARLANDO Festival 2021 Photo Gallery

KISS In Ridgefield, WA With Photos!

LAURENNE/LOUHIMO The Reckoning

TREMONTI Marching In Time

ROCKLAHOMA 2021 Day 3 Photo Gallery

ROCKLAHOMA 2021 Day 2 Photo Gallery

ROCKLAHOMA 2021 Day 1 Photo Gallery

CARCASS Torn Arteries

SETH La Morsure de Christ