ARMORED SAINT Punching The Sky


By Andrew Depedro, Ottawa Corespondent
Tuesday, October 20, 2020 @ 8:31 AM


| | | |
| --- | --- | --- |
| | | |
ARMORED SAINT
Punching The Sky
Metal Blade Records




With the inevitable and possibly hopeful light at the end of easily one of the most paradoxical annus horribilis in many a living memory steadily approaching, as music fans, we've certainly earned ourselves a soundtrack to reflect the past few months of what's becoming increasingly known as "the new normal". And while plenty of those same soundtracks draw upon many facets of emotions throughout the past year, few have been able to capture these same emotions from a different perspective and tone as ARMORED SAINT's 8th studio album Punching The Sky. It's also an ARMORED SAINT album from which the long-standing members of the legendary El Sereno, California-based metal band have definitely grown musically and lyrically as well after close to four decades in the business.

Opening with a brief serenade of Uillean pipes played by Gonzo Sandoval before John Bush's own powerful pipes warm up, the album starts off with the near 7 minute-long driving opus "Standing On The Shoulder Of Giants", the unmistakeably recognizable rhythm magic of Gonzo's measured tubthumping and Joey Vera's bass providing the backbeat of the song throughout. The song, with the opening line of "punching the sky every day", is a virtual ode to the human spirit of persistence and tenacity, often at its most tested point at different points in our lives in which we fervently chip away at many boulders and barricades in front of us. And more often than not, we tend to be easily discouraged and distracted by many mediums at our availability, as so eloquently portrayed in our obsession with electronic gadgets and social media platforms in "End Of The Attention Span" and our consumption of current information through various media outlets without question as outlined in the melancholy bass riff-driven "My Jurisdiction". While both songs have an underlying message within, they merely reflect the current human condition; rather than enforce a message or agenda, the songs relate to the listener and allow them to decide on the feasible outcome for themselves. Even the driving speed frenzy of "Missile To Gun" has the fury and power of old-school AS but it also has the underlying social message of conflict resolution – pretty much in the same vein as when they'd chosen to cover SKYNYRD's "Saturday Night Special" many years ago, and that song was about careless use of firearms once you really read into the lyrics.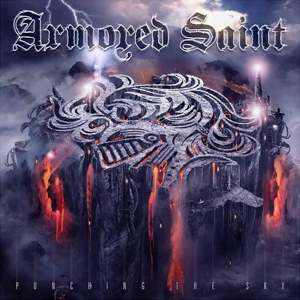 That said, while ARMORED SAINT convey their fair share of social messages in their music on Punching The Sky as well as the rest of their output, they've also never been a band to ever hold back on delivering the metal. And Punching The Sky is no exception, as it's a vast ceiling of the sounds of their influences throughout – MAIDEN, PRIEST, SAXON, MOTORHEAD, ACCEPT and even hints of THIN LIZZY. The dual guitar work of Jeff Duncan and Phil Sandoval remains deadly and dynamic as ever, whether it's on the high octane powerhouse of "Missile To Gun" or the straight-ahead bluntness of "End Of The Attention Span" or even the LIZZY-inspired rawness of //"Bark, No Bite". Even by the album's closer "Never You Fret" you have to side with John Bush who sums up the secret to AS's success with the line "we always bring the house down". And with the added talents of Dizzy Reed (ex-GUNS 'N ROSES, HOOKERS 'N BLOW) adding some notable keyboard flourishes throughout the album and the sharp dynamic ears of Bill Metoyer and Jay Ruston who, along with Joey Vera, shared production and mixing duties, Punching The Sky is an album from the SAINT's catalogue that's definitely above yelling at random clouds and knuckles down sonically and powerfully where it counts.
5.0 Out Of 5.0
http://www.armoredsaint.com
https://www.facebook.com/thearmoredsaint
https://twitter.com/thearmoredsaint
https://www.instagram.com/thearmoredsaint

Please log in to view RANTS




YNGWIE J. MALMSTEEN, GLENN HUGHES In Worcester, MA With Photos!

ALICE COOPER Road

RAT ROD Four On The Floor

GIRLSCHOOL WTFortyFive?

DANKO JONES Electric Sounds

AVATAR, ORBIT CULTURE, THE NATIVE HOWL In Houston, TX With Photos!

THE DEAD DAISIES In Hollywood, CA With Photos!

KILL DEVIL HILL Seas Of Oblivion

THE DEAD DAISIES In Ottawa, Canada

MAMMOTH WVH In Santa Ana, CA

UADA Crepuscule Natura

BARONESS Stone

KAMELOT, BATTLE BEAST, XANDRIA In Houston, TX With Photos!

CRYPTOPSY As Gomorrah Burns

RAY ALDER II

GHOST, AMON AMARTH In Houston, TX With Photos!

U.D.O. Touchdown

DETHKLOK Dethalbum IV